Hyde N Bar vs. Hyde Rebel, Which Do You Prefer?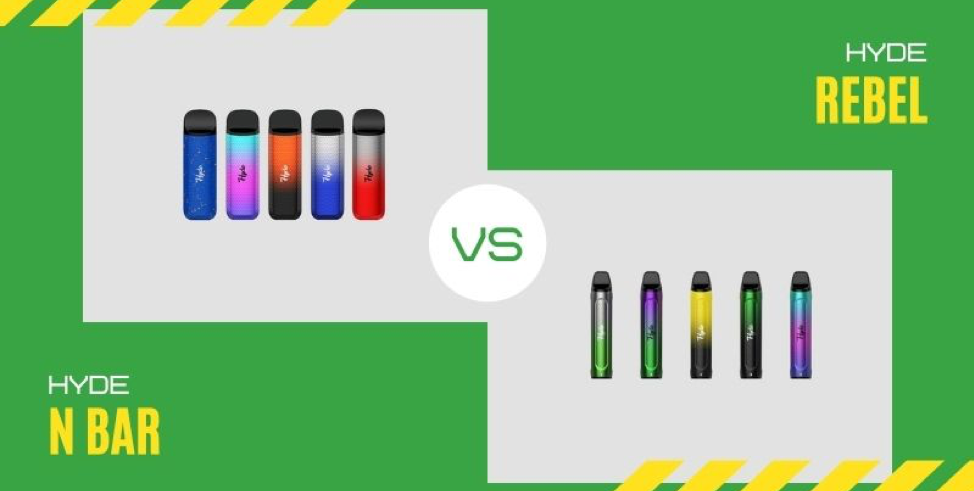 Hyde vape pens are creating a significant impression on vaping enthusiasts because of their advanced features and innovative design. They are portable, discreet, and deliver flavorsome rips. Plus, these days, Hyde's popular vape pens are Hyde N Bar and Hyde Rebel. These two products are similar but somewhat different.
Did you know these disposable vape pens are rechargeable? Yes, you read that right! Therefore, you can make the most out of these vape pens and can use them a few times before discarding them away.
Hence, if you wish to know what sets these two products apart and their similarities, you will find all the information here!
Hyde N Bar
The Hyde N bar embossed rechargeable vape pen comes in twenty-two different flavors, and each flavor tastes way better than the other. Its ten-milliliter e-juice possesses 5% or 50 milligrams of nicotine that will give you a perfect boost to enjoy your day.
Are you worried about the vape pen's limited puff count? Then don't! This device has got you covered with its 4500 puffs. These massive and delectable vapor clouds will help you leave your sluggish days behind and transport you to a realm full of sunshine and rainbows.
Not to mention, this device's true mouth-to-lung draws and big vapor clouds deliver the best experience to vaping connoisseurs. Plus, the good thing is that this device has a rechargeable 600mAh battery. Thus, providing utmost convenience.
What's more, these N Bars look aesthetically pleasing, their gradient colors beautifully merge, and their framework has an excellent finish. Moreover, the vape pen body is pretty grippy because of the textured or dimpled finish.
Hyde Rebel
You should take a gander at these marathon runners as these devices are pretty similar to an N-Bar. The only difference is that Hyde Rebel is available in sixteen luscious flavors, and its body is more cylindrical than bar-shaped.
Does it worry you how you are going to puff away 4500 puffs? These 600mAh devices have a rechargeable port to recharge the device via a micro USB charger. Thus, they provide long-lasting fun!
Moreover, its 5% or 50 milligrams nicotine content works as a marvelous refresher and invigorator. It delivers instant bliss to revive your dull day.
What else? These ergonomically designed vape pens are crafted from premium materials and have eye-catching and vibrant colors. Not to mention, Hyde Rebel delivers tasty and incredibly smooth hits that will take your vaping experience to an entirely different level.
Pro Tips to Use Hyde Vape Pens Correctly
These Hyde disposable vape pens are straightforward to use as they do not need any setup or maintenance. However, you should be aware of these pointers to have a safe vaping experience and ensure that your device runs smoothly.
These tips are as follows:
Scorching heat or a hot environment can ruin your device. It may either leak or cause an explosion.
Avoid hacking your device to refill. This may break your vape pen and can cause auto-fire.
Discard these vape pens in drop-off facilities or electronic waste take-back programs to recycle batteries.
Avoid covering the device's airflow holes. Although it is done unintentionally, covering the device's holes will cause e-liquid to leak.
Once the flavor diminishes, discard the device if you don't want to experience burnt or dry hits.
Store your vape pens in a clean and safe environment.
There is no need to count your puffs. These devices come with an automatic puff counter that will count accurately for you.
The Takeaway
These vape pens are almost similar - they offer great functionality, are convenient, and are lightweight.
However, if you want to experience different and more unique flavors, you can opt for Hyde N Bar. This product is available in various irresistible fruity flavors and mind-blowing combinations.
So which one is preferable? You can opt for any of these stellar devices. But if you want to try additional flavors, Hyde Rebel is the one.
In addition, these vape pens are rechargeable and pretty easy to use. You only have to take them out of the box to begin vaping. But it does not mean you misuse them. Go through the tips mentioned above to vape safely.