Sigelei Humvee Box Mod $38.00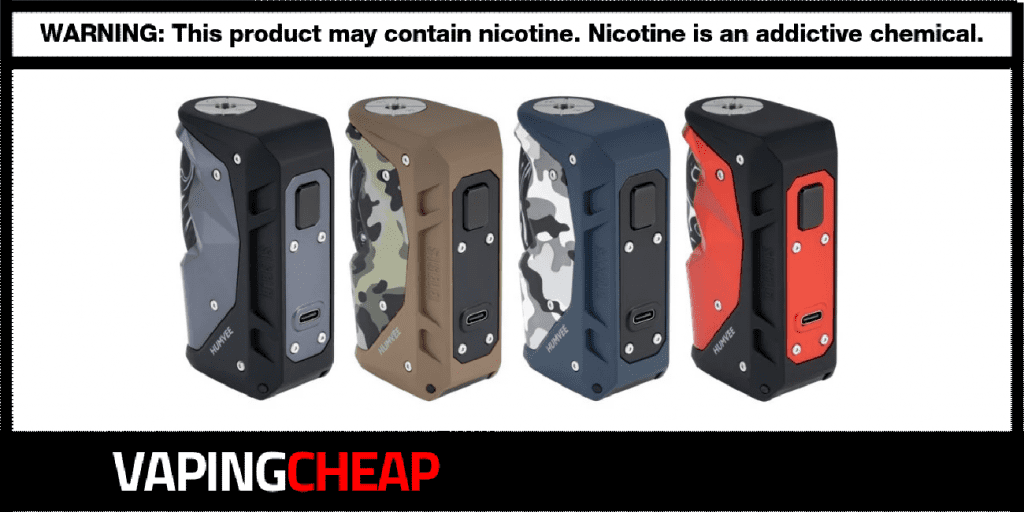 The Sigelei Humvee Box Mod is now in stock and on sale. Grab yours for only $38.00! No code is required for this discount. It's also available from a USA based store for only $47.99. There's multiple color options you can choose from which include Space Grey, Red Rum, Camo Blue and Camo Khaki.
The Sigelei Humvee 215w TC Box Mod will certainly remind you of mods such as the Geekvape Aegis X Mod, but offers a few differences. For one, it's primarily constructed of zinc aluminum alloy, but is reinforced by resin, allowing for a incredibly durable device.
It does require two high drain 18650 batteries, and can provide the vaper with up to 215w power. Additionally, it can fire all the way down to a 0.05 ohm resistance.
There is a 0.66 inch OLED display screen located on the side, making it easy to see all of your vaping information such as wattage setting, coil resistance, battery life and more. Some other great features of the Sigelei Humvee Box Mod is temperature control for various wire materials, and a TCR mode.
This specific mode allows you to fine tune your TC setting to ensure an accurate vape. By looking at this vape mod too, you can tell it'll fit comfortably in your hands, and is quite small considering its construction, and the fact it utilizes two batteries. Lastly, the Humvee Box Mod by Sigelei is packed with a bunch of safety features, and has a USB Type C port.
If you're looking for another great looking, and durable dual battery device, then you might wanna check out the Sigelei Humvee vape mod. Not only is it durable, but has many different features to personalize your vape.
Sigelei Humvee 215w TC Box Mod Features:
Requires 2 High Drain 18650 Batteries (Not Included)
Wattage Output Range: 5w - 215w
Maximum Voltage Output: 7.5v
Minimum Firing Resistance: 0.05 ohm
Zinc Aluminum Alloy Construction
Reinforced Resin for Extra Durability
Ergonomic Design
Temperature Control (Ni200, Ti, SS)
TCR Mode
0.66 Inch OLED Display Screen
Hinged Battery Door (At Bottom)
Multiple Safety Features Built In
USB Type-C Port
4 Color Options
What's Included
Sigelei Humvee 215w Box Mod
Bag of Spare Parts
USB Type-C Cable
User Manual
Warranty Card
Check Out The Sigelei Humvee Mod Review
More Great Vape Deals...
---
Vandy Vape Mato RDTA $22.40
Here are cheap deals and discounts on the new Vandy Vape Mato RDTA. Get this atomizer from only $30.36plus free[...]