Graham Slam Golden Slam EJuice 100ml $11.95 (USA)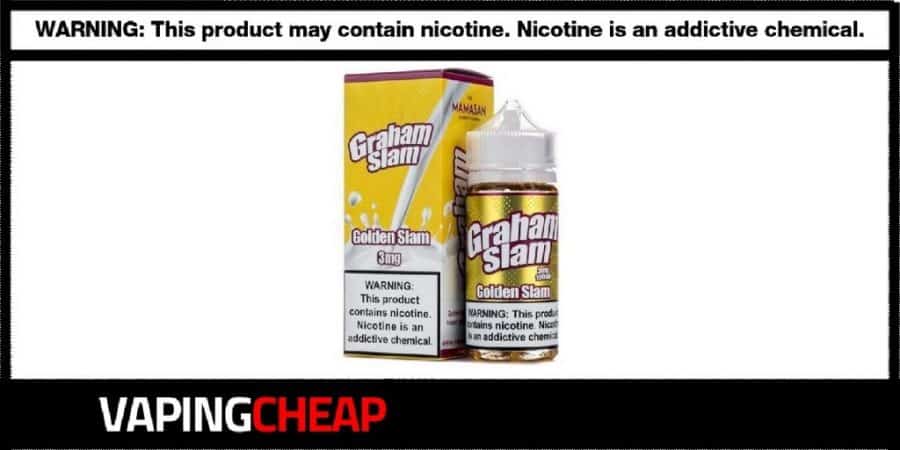 Here's a cheap deal and sale on Graham Slam Golden Slam EJuice by The Mamasan. Buy a large 100ml bottle for just $11.95. No code required for this discounted price.
The Mamasan Graham Slam Golden Slam comes in a large 100ml chubby gorilla bottle, so it's easy to carry with you, fill your tanks and drip with. Additionally, it's available in two freebase nicotine strengths which include 3mg and 6mg.
The actual flavor profile of this vape juice is Golden Graham Cracker and cold milk. However, the full description is crunchy brown cinnamon golden graham cracker dunked in fresh cold milk. Lastly, Graham Slam Golden Slam e-juice has a 70VG/30PG blend, ensuring the best of both flavor and clouds.
If you're a fan of dessert or cereal flavored vape juices, then you'll want to check out this e-juice deal for sure. It's a favorite among many vapers.
The Mamasan Graham Slam EJuice Details:
Buy 2 Get 1 Free
100ml Bottle Size
70VG/30PG Blend
Nicotine Strength Options (Freebase): 0mg, 3mg, 6mg
Flavor Profile: Golden Graham Cracker & Creamy Fresh Cold Milk
Check Out The Graham Slam E-Liquid Review