Golisi S11 18350 Battery 2 Pack $4.99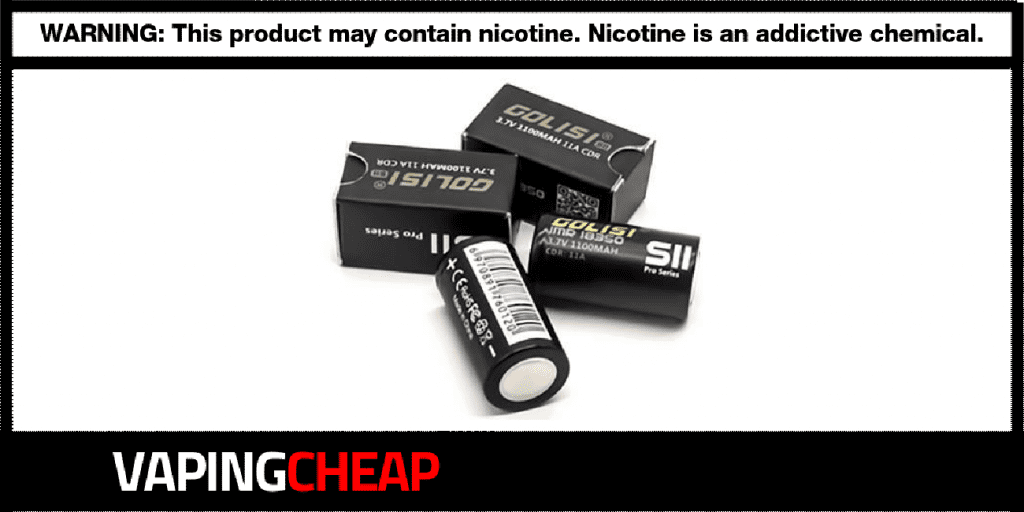 Here are cheap deals and discounts for the Golisi S11 18350 Battery. Grab a 2 pack of vape batteries for just $4.99. It's also in stock at a USA based store for only $14.39 plus free shipping over $50 with code "GET10".
The Golisi 18350 Battery comes in a pack of two. Additionally, each vape battery has a maximum CDR (continuous discharge rating) of 10A, which for a 18350 battery size is above the average.
Also, each Golisi S11 battery has a capacity of 1,100mAh. Although it's not a huge capacity (as expected), but it's ideal for those smaller setups that utilize this battery size. Devices such as the SXK Bantam Box Revision would work perfectly with a set up these Golisi S11 18350 batteries.
Now, do keep in mind battery safety and ohms law. For these style vape batteries, it's even more important since they do not have a high CDR. We'd recommend to use the Golisi S11 with lower power, and mouth to lung vaping.
If you've been looking for solid performing and cheap 18350 batteries, then you'll definitely want to grab a pair or more of these. They're well above the average in performance when it comes to 18350s, that's for sure.
Golisi S11 18350 Vape Batteries Features:
Comes in pack of 2
Can be used with devices compatible with 18350 battery size
Maximum CDR: 10A
Capacity: 1,100mAh
Ideal for low wattage vaping & MTL