Freemax M Pro 2 Tank $19.33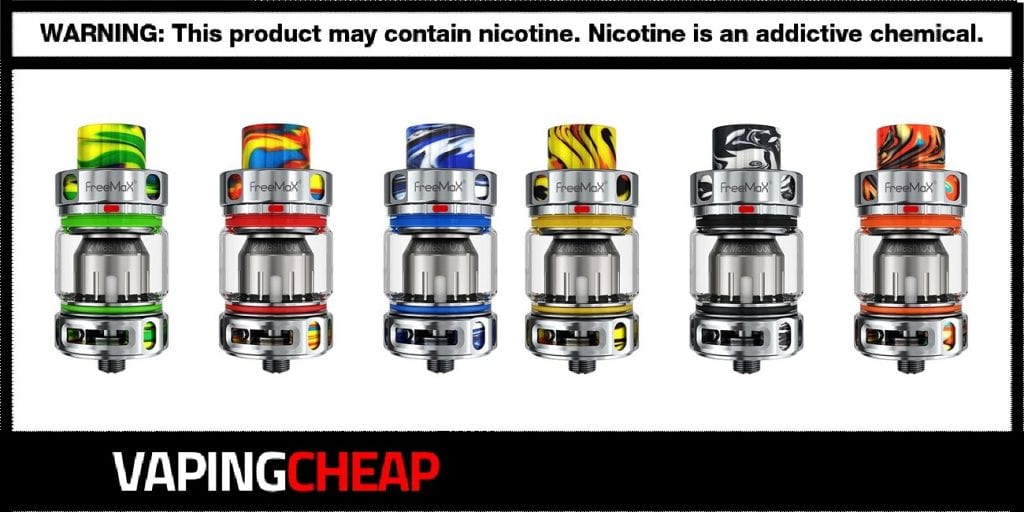 The new Freemax M Pro 2 Tank is now available for pre-order. Get yours as cheap as $19.33 using the code "FMT". It's also available from another China based store for only $20.99 using code "FMP2T". There are six different colors to choose from including Red, Green, Blue and others.
Freemax's new M Pro 2 Tank sports an overall diameter of 30mm. In addition, it has similar features to their other new release, the Fireluke 3 Tank. One of the similarities is the sliding top fill design. There's also three metal balls to create friction and keep it secured. What this means for us vapers is that there is a much less chance of this opening up on you while in your pocket and no leaking! When it comes to capacity, the M Pro 2 Sub Ohm Tank can hold 5ml.
Another great feature is definitely the coil heads. It comes with two of the new Freemax 904L coils and is compatible with the rest of the M Family coil heads. These coils are made from mesh material and are rated between 40w to 110w. For you vapers who enjoy high wattage vaping, you'll love these included coils.
The Freemax M Pro 2 Tank is constructed from stainless steel material and comes with a wide bore drip tip. The drip tip is removable so you can use your favorite drip tips, if you prefer. Lastly, it does have an adjustable bottom airflow design.
Not only does the Freemax M Pro 2 Sub Ohm Tank looks good, but comes with awesome coils that'll produce tons of clouds and flavor. For the current sale price, it's well worth a shot.
Freemax M Pro 2 Sub Ohm Tank Features:
Overall diameter: 30mm (from widest points)
Maximum e-juice capacity: 5ml
Sliding top fill design
Stainless steel construction
Resin finish
Compatible with entire Freemax 904L M coil family
Adjustable bottom airflow
What's Included:
Freemax M Pro 2 Tank (Freemax 904L M2 0.2 ohm mesh coil installed)
Spare 5ml Glass
Freemax 904L M1 0.15 ohm Mesh Coil
O-Rings
User Manual
More Great Vape Deals...
---
Hellvape MD RTA $16.19
Here's a few cheap deals for the Hellvape MD RTA. Get yours for a limited time only from only $16.19![...]