Freemax Fireluke 3 Sub Ohm Tank $14.50 (USA)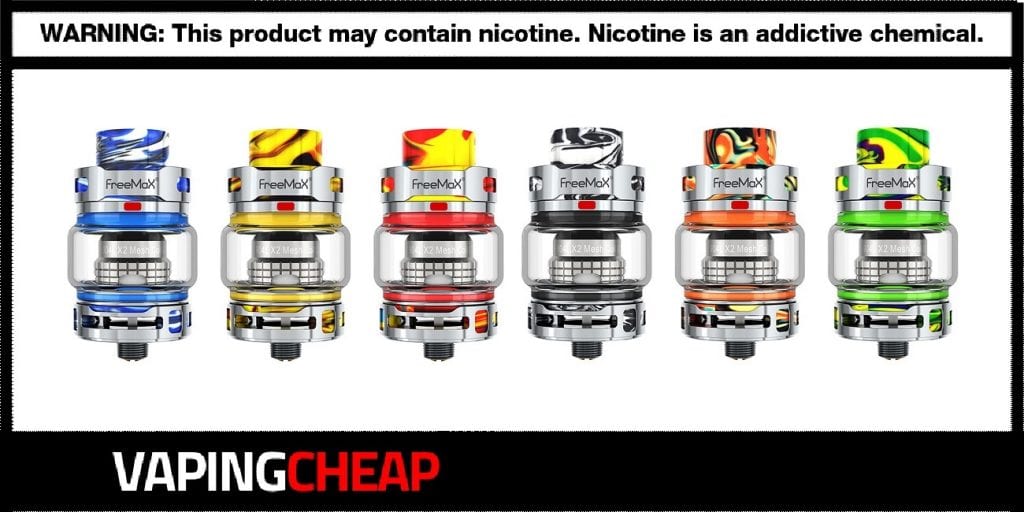 Here are cheap prices on the Freemax Fireluke 3 Sub Ohm Tank! Buy yours from a USA based shipper for only $14.50 with free shipping over $100 using the code "Ship4Free". It's also available from a China based store from just $17.85 with coupon "FFT". There are five color options you can choose from including Blue, Yellow, Green and more.
Freemax's tank atomizer, the Fireluke 3, is an improved and updated version of the previous Freemax Fireluke 2 Tank. The first upgrade is the actual size of the tank, boasting a large 28mm overall diameter at its widest point. You still have that large 5ml maximum e-juice capacity, but the sliding top fill has been fixed! With this design, you've now got 3 metal balls to the top cap, which makes it harder to push open and helps reduce leaking, which was a much needed improvement.
The Freemax Fireluke 3 Tank uses the new FM Coiltech 4.0 SS coils. Inside the packaging, you do get two coil heads. Firstly, there's the 904L X2 0.2 ohm mesh coil and secondly, the 904L X1 0.15 ohm mesh coil head. Both are rated up to 80w. Either coil head you use, you'll get some pretty intense flavor alongside massive vapor production. Now the best part has to be that the Fireluke 3 is also compatible with the rest of the coils in the family!
This sub ohm tank features a smooth bottom airflow design. You can easily adjust it by twisting the base. Lastly, at the top, it does come pre-installed with a matching wide bore drip tip.
Freemax does release some pretty awesome sub ohm tanks, and this looks to be like another one to add to that growing list. It adds improvements that was wanted in the previous version plus new coil heads to deliver a flavorful vape experience. For under $20, you can't go wrong with the Fireluke 3 by Freemax.
Freemax Fireluke 3 Tank Features:
Overall diameter: 28mm (at widest point)
Maximum e-juice capacity: 5ml
Sliding top fill design
3 Metal balls in the top cap to help seal the top fill ports
Stainless steel construction
Uses the new Freemax Coiltech 4.0 coil technology
Compatible with the new Freemax SS904 X coil family
Adjustable bottom airflow
What's Included:
Freemax Fireluke 3 Tank
Extra Tank Section (5ml)
SS904L X2 0.2 ohm Mesh Coil
O-Rings
SS904L X1 0.15 ohm Mesh Coil
User Manual
Check Out The Freemax Fireluke 3 Tank Review