Dovpo MVV Review: Maximum Output and Divine Satisfaction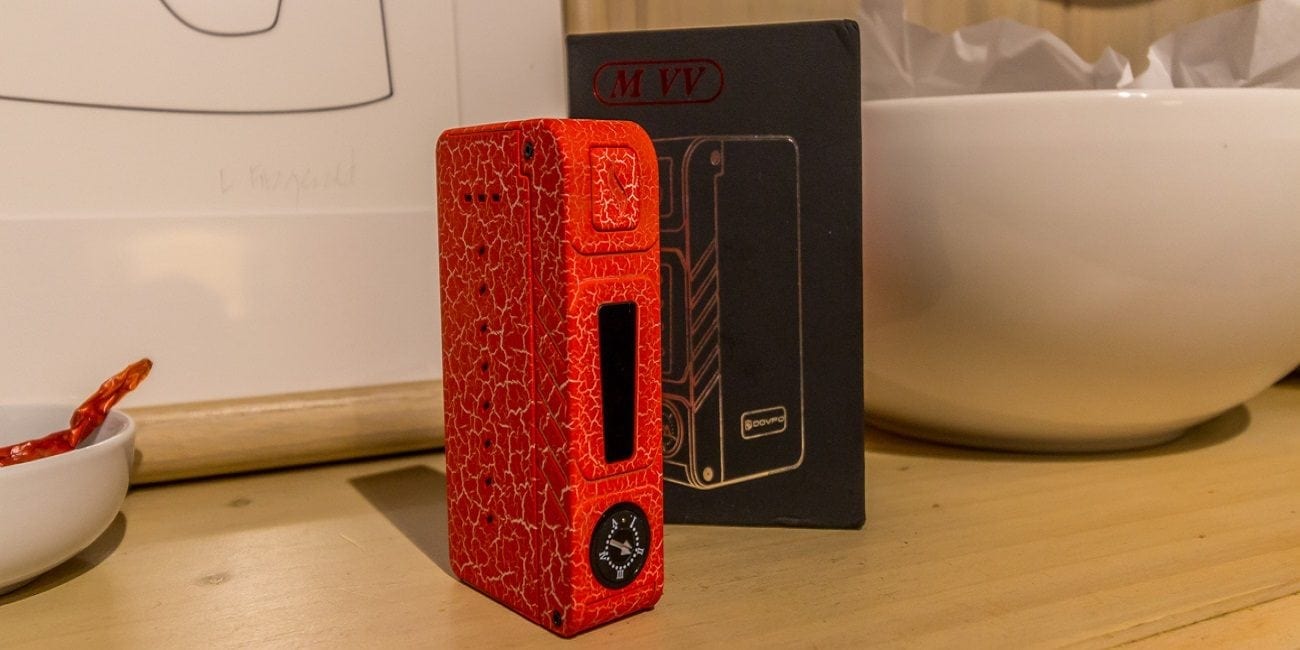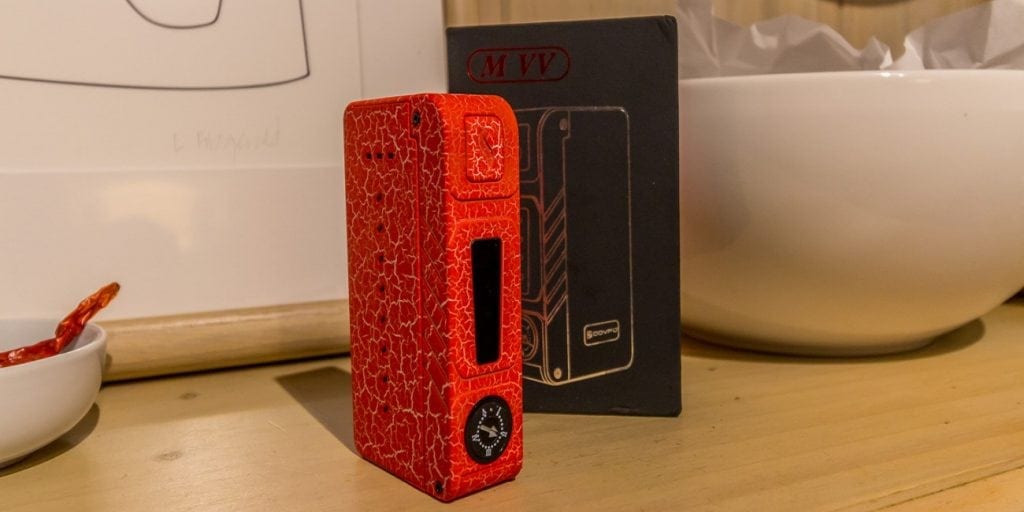 Dovpo is a manufacturer out of Shenzhen and have been producing, mainly mods, for quite some time now. Their most recent offering is a dual 18650 mechanical box mod called the MVV. It boasts a maximum output of up to 280 watts and has a slew of safety mechanisms incorporated. With a color scheme and aesthetics that help it stand out from the crowd, the MVV is designed to accommodate atomizers up to 24mm. I would like to thank GearBest for sending us the MVV for the purposes of this article.
What's in the box?
1x Dovpo MVV Mod
Dovpo MVV Review
Out of the box
The Dovpo MVV box mod comes in a fairly simple and straightforward black box with a red underside. It has a silver product outline on the front with the Dovpo logo and the standard warnings across the box. The mod is held in securely with enough padding to ensure that there is no damage that can be done in transit. Upon opening the box we find the mod wrapped in a protective sleeve and a user manual with an extra warning card.
The MVV mod itself is quite eye-catching. The finish is that of a cracked paint type appearance and has a slight rubbery feel to it. Not overly soft in terms of being fully rubber, but a slightly rubbery finish to it – enough to feel that it's not all just paint. Overall the mod feels really nice to hold and quite grippy – this thing certainly is not going to slip out of your hand easily. The build quality feels solid and ergonomically it is quite comfortable. This mod is quite light without batteries installed and seems to have fairly even weight distribution throughout.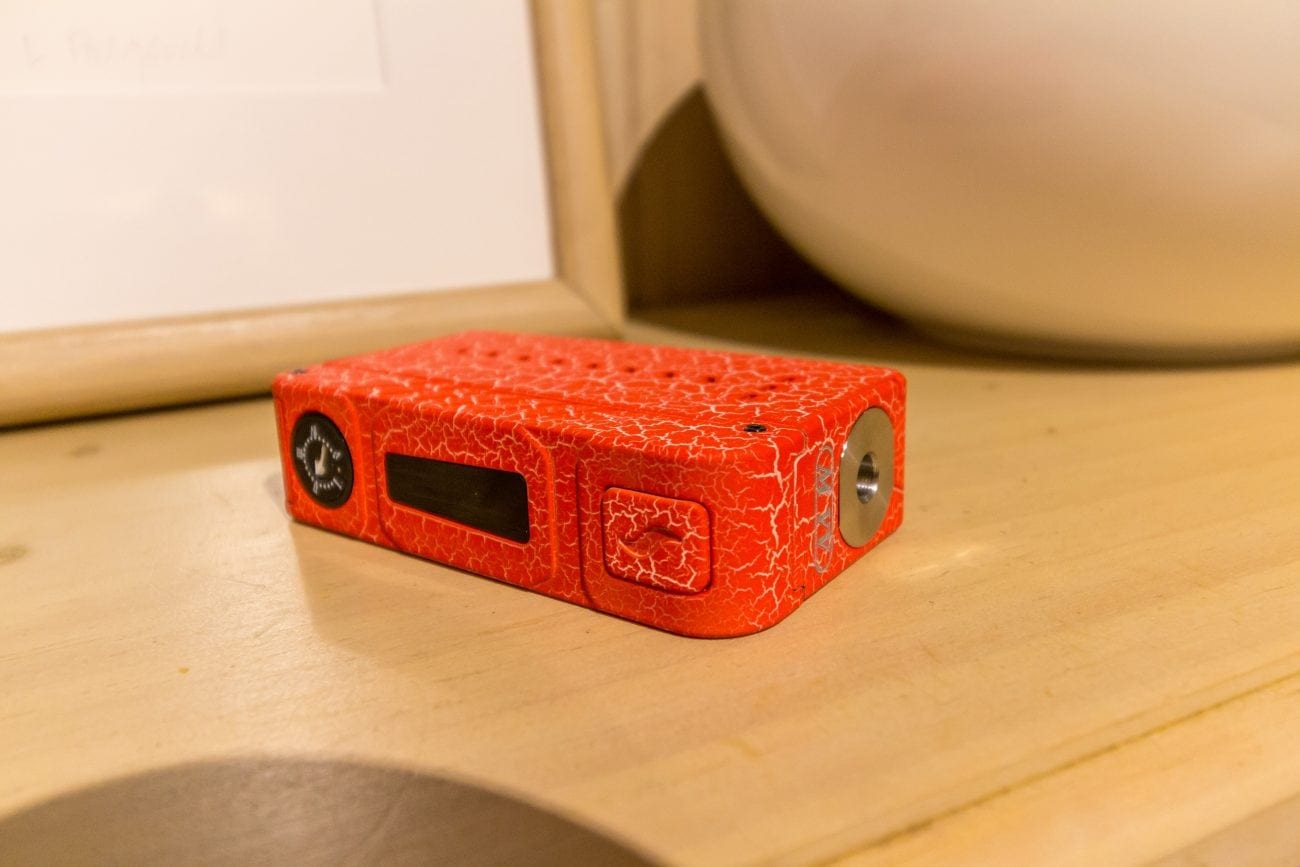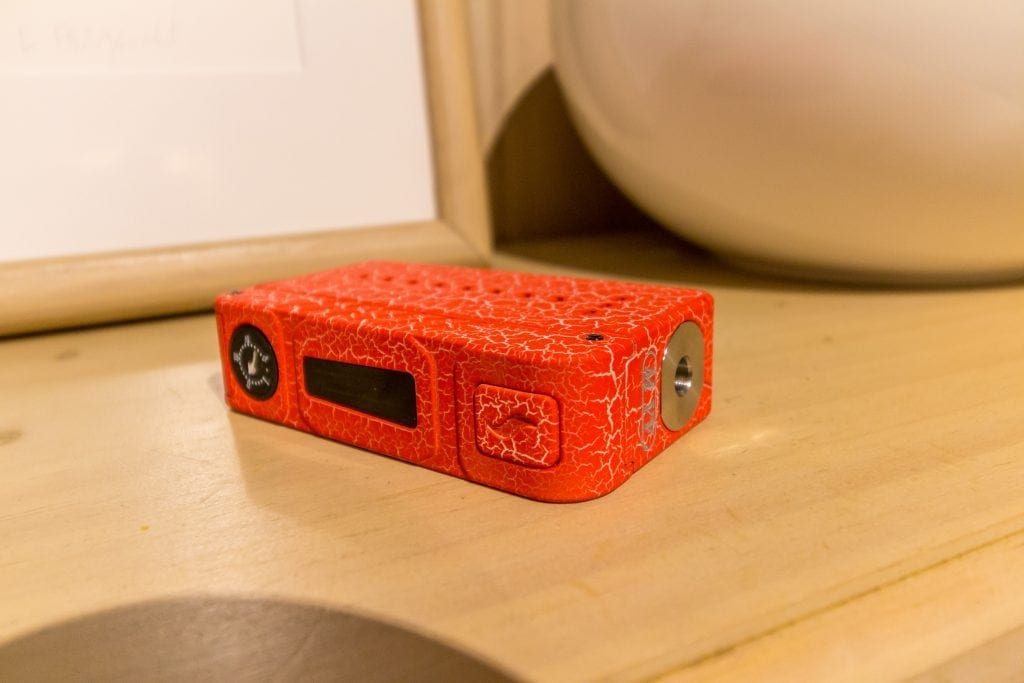 The face of the mod has a fire button with the Dovpo logo shaped into it, a screen and an adjustable wattage dial. The fire button feels nice and clicky and doesn't have any rattle to it. A magnetic battery door takes up one side, which has plenty of battery vents visible. There are four magnets that hold the door nice and snug over the battery tray. The battery tray has gold plated contacts, a ribbon to assist in battery removal and clear battery orientation guides. The 510 connection pin is fairly straightforward – nothing fancy here. And the gold-plated pin is spring loaded with a nice amount of tension on it.
Overall the MVV is a pleasant looking mod with high build quality. It certainly stands out from the rest of the mods on the market and hopefully it stands up performance wise too!
Usage
Installing batteries into the Dovpo MVV is very straightforward. You need to slide off the battery door side of the mod to expose the battery tray. Insert the batteries according to the directions shown on the tray. Make sure you put the ribbon underneath both of them, so it's easier to remove them when you need to charge.
Replacing the side door can be a bit tricky the first few times, you kind of need to slide it back under the locators on the body to have it fit back in. Once the batteries are installed correctly, the 4 LED lights on the screen will flash. Remember to use a married pair of high drain batteries in this device and if you need to brush up on battery safety, please refer to our article here.
To turn the device on you click the fire button five times and the LED will flash twice. Do the same to turn it off and the LED will blink three times. Press the fire button to start vaping and the LED lights will be on and indicate the voltage level. The device will force shut down by itself with all four LED flashing five times after 10 seconds of continuous firing.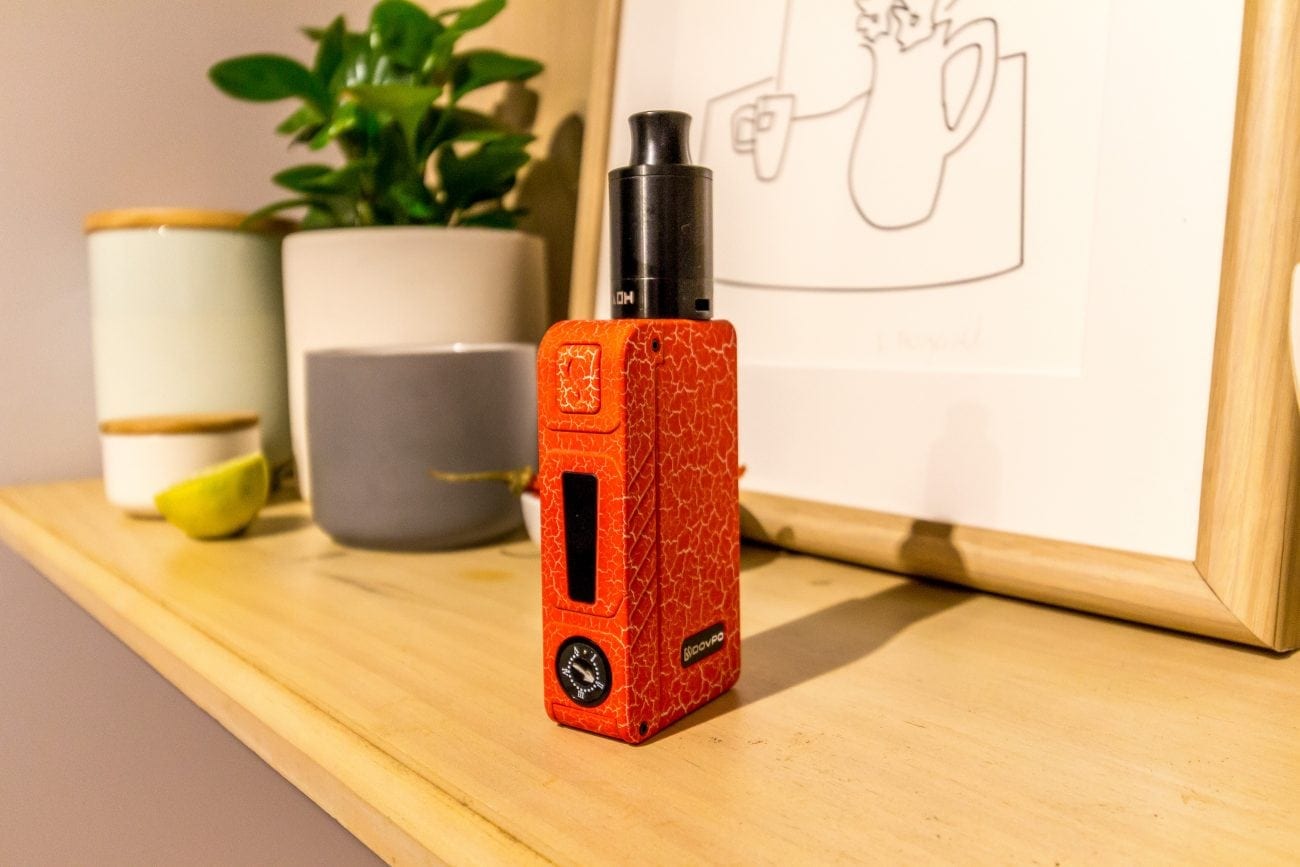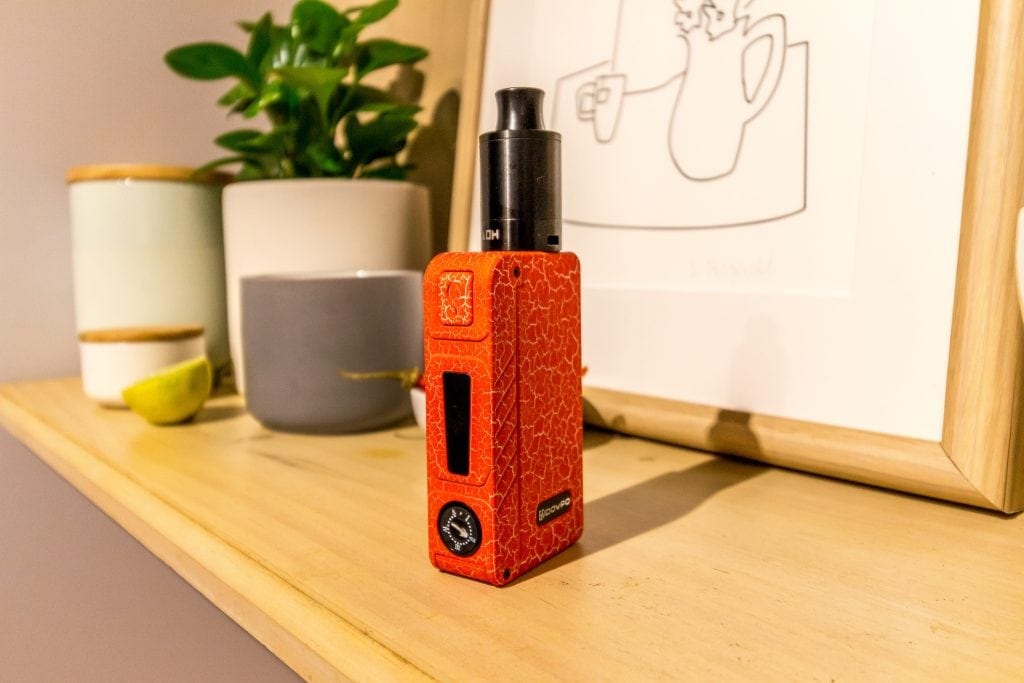 If the atomizer has a short, the device will also shut itself off and flash five times. The MVV will stop working when the battery voltage drops below 6.1 volts. At this stage, only the last LED will be illuminated and it will flash five times while pressing the fire button. When the main board's temperature is too high, the device will force stop and all four LED will flash 10 times.
The vaping wattage can be changed by turning the dial on the face of the unit. It has a potentiometer style dial that can be turned with a flat head screwdriver or your fingernail at a pinch. The dial has an arrow pointing to five corresponding numerals, which incrementally up the wattage delivered to your atomizer.
Performance
The Dovpo MVV is a real joy to use and provides a very satisfying vaping experience. The mod really packs a punch and lives up to what you would expect from a high powered variable voltage mod. In my testing, I mainly used an RDA with dual SS316L claptons at around 0.1 ohms and I found that I only needed to have the dial set to the numeral II.
This is only around 2/5 of what it can go up to and I was getting a nice warm vape with plenty of flavor and cloud production. For me personally, anything higher was just getting too hot. The good news here is that the MVV certainly has a lot more power in reserve to throw at your builds and would obviously vary with the type and build you require.
The MVV really delivers the power to the atty instantaneously without any delay from hitting the fire button. It does what is advertised and it does it very well. Once the batteries are installed, they are held in nice and tight. There are no rattles or loose moving parts to the mod which is a huge pro in my book.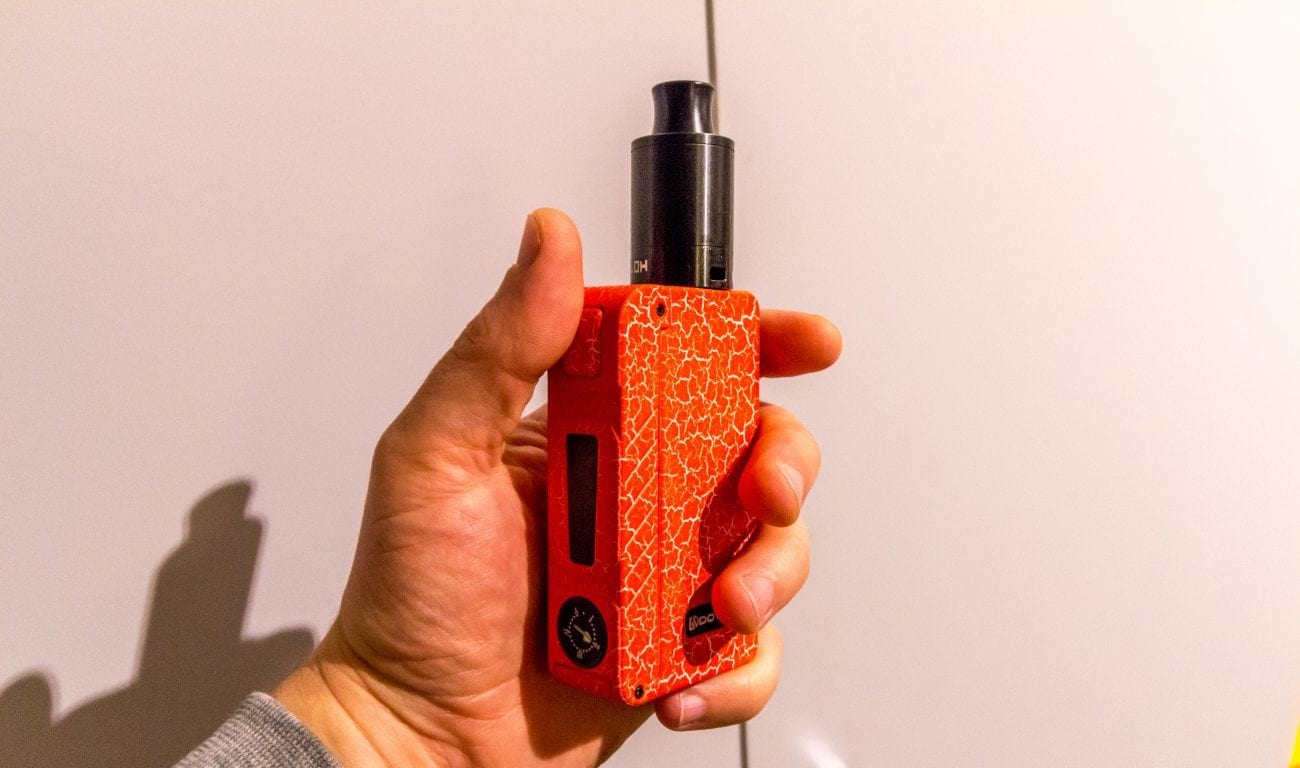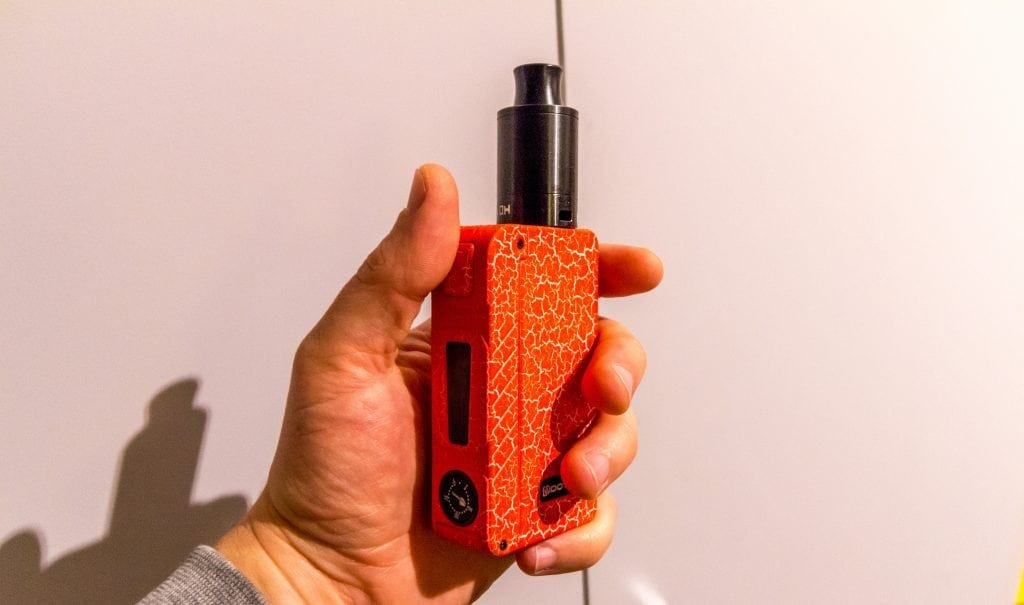 I like how you can turn the mod to fully off for safe transit and pocket carry. This means you have peace of mind that your mod will not fire in your pocket or your bag. The MVV is quite a good size for a dual 18650 mod, it certainly is able to fit in your pocket and the ease of that would depend on what atty you are running at the time.
All of my tanks and RDAs fit onto the Dovpo MVV with ease and thanks to the spring loaded 510 connector, there were no gaps with any of them. Being 24mm wide, obviously the 24mm atty's looked the best however it will accommodate an atomizer of any size.
In regards to battery life, obviously being a variable voltage mod the performance of the batteries will depend on how much you use it and the build you are firing. The screen will indicate where your batteries are at by the four LED that light up showing you battery life. I found the mod to be quite good for the specific build I mentioned earlier. I got a solid day out of vaping on that build before I needed to charge the batteries. Obviously, you will need to use an external charger for this mod as there are no charging capabilities on board.
Here's a video worth checking out:
Specifications
Operating Voltage: 6.2 – 8.4v
Output Voltage: 1 – 8v
Max Output Wattage: 280w
Supports 2pcs 18650 batteries (Not Included)
Multiple Protections
Magnetic Cover
Thread: 510
Material: Zinc Alloy
Product Weight: 0.1870 kg
Package Weight 0.2650 kg
Product size (L x W x H): 9.30 x 5.00 x 2.40 cm / 3.66 x 1.97 x 0.94 inches
Pros
Great performance
Good looking
Loads of safety
Cons
Wrap Up
If you are new to these style of mods, please ensure that you do some research on them before using this or any mechanical devices, as there is a learning curve and safety precautions that you need to take. Even though this mod has a heap of safety mechanisms built in, you really do need to check your builds and understand how Ohm's law is calculated, just to be on the safe side. And please be reminded to go back and read our guide to battery safety, as mentioned earlier in the article.
Now having said all that, can I recommend the Dovpo MVV mod for you? Heck yes! It's a great performing variable voltage mod that really hits hard and packs a punch where you need it to. There is plenty of power available to fire any fancy build you want to try and holds enough battery life for the average RDA vaper to get plenty of use out of it between charges.
The MVV provides peace of mind with all of the safety features on board and it looks really cool to boot. So if this is something that has sparked your interest, I would certainly recommend you give it a go – especially for the price you really cannot go wrong. It provides plenty of bang for the buck and you won't be disappointed with this mod. I hope this has helped you on your quest for your next box mod. If you have any questions or comments, please leave them below – we love hearing from you here.