Cigpet Eco12 & Eco RDA Review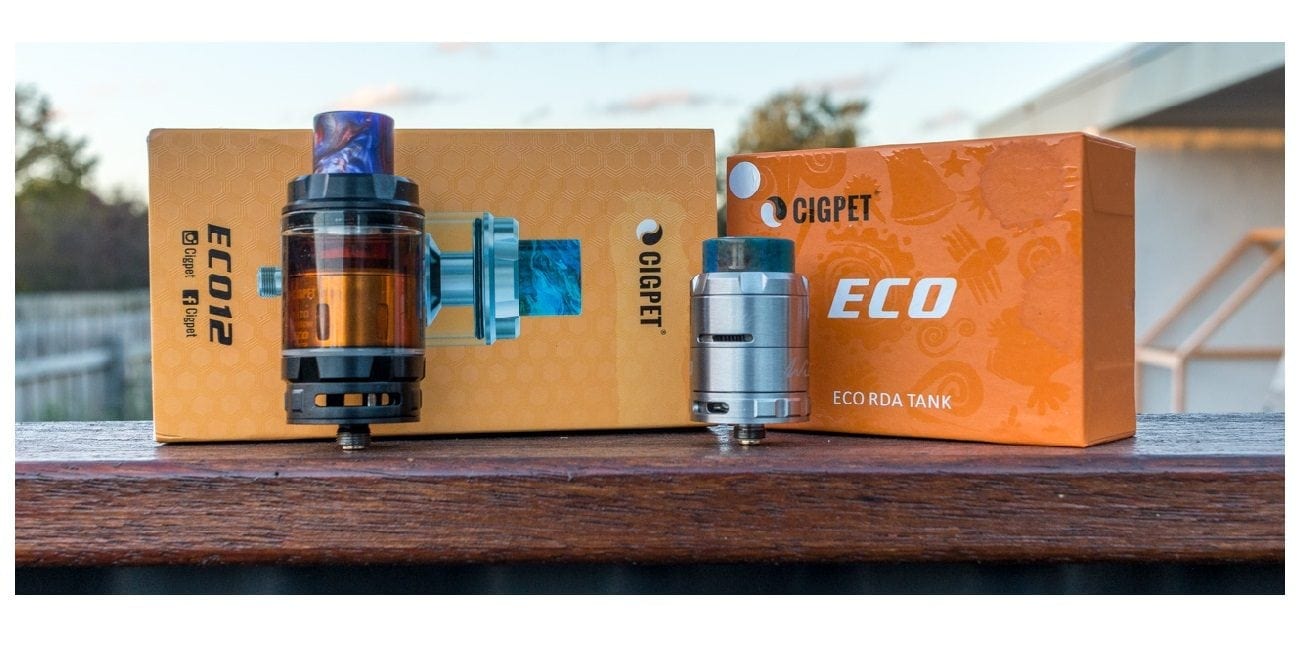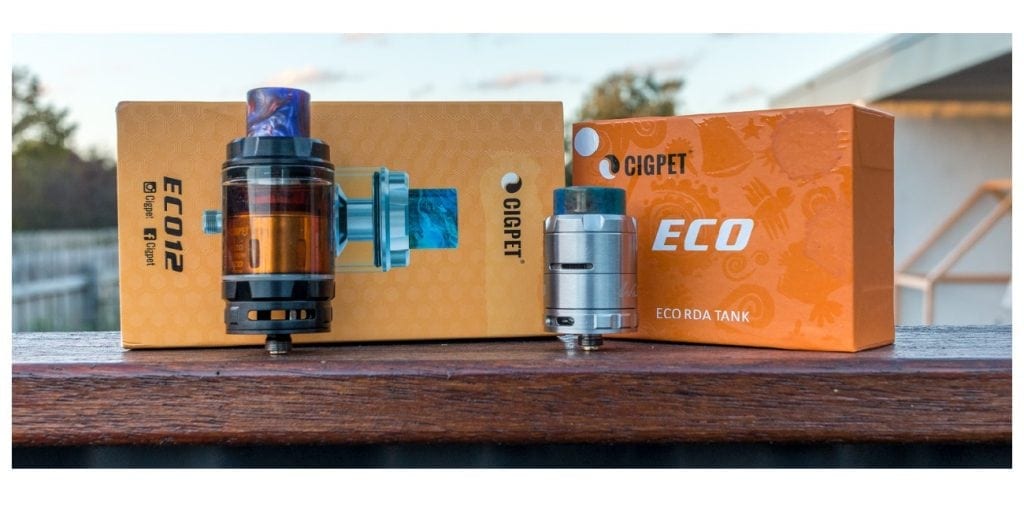 Cigpet Eco12 & Eco RDA Review
For the last seven years IJOY has been bringing several products to the vaping scene, since their inception in 2010. No doubt the biggest claim to fame was the collaboration with the Limitless Mod Company which brought us the IJOY Limitless RDTA, one of the most popular and well known tanks over the past few years.
The latest IJOY backed brand to hit the market is called CIGPET. The two new models from the CIGPET line are the ECO12 and ECO RDA. The ECO12 is a large 28mm sub ohm tank that is taking on the likes of the SMOK TFV12 and has a broad range of multi-coil coil heads available. The ECO RDA is a 24mm atty that boasts both bottom and side airflow and the ability to cater for some crazy coil builds. I would like to thank HeavenGifts for sending these through for the purposes of this article.
The packaging on the CIGPET products is fairly plain, with nothing fancy to be seen. Although the packaging is relatively simple, there is ample protection to ensure that the goods do not get damaged in transit. The foam inserts hold each atty nice and snug in their box. The no frills presentation extends to the fact that there are no manuals included with each item, however both come with a spares bag.
Starting with the Eco12
What's in the box?
1x Eco12 Tank
1x Eco-T12 Coil 0.12 ohm (60w – 350w)
1x Eco-Q4 Coil 0.15 ohm (60w – 180w)
1x Resin Drip Tip
1x Extra Glass
1x O-Rings
Use Coupon Code ACHEAP15 for 15% Off!
The tank certainly looks good and is built well. You can tell just by looking at it, that this is not for the feint hearted vaper. It's a huge tank, coming in at 28mm, being fat in the middle and tapering down to the top and the bottom. The first thing you notice is the lovely resin drip tip, which is definitely something that will help this stand out from the competition. This would usually be an upgrade that you buy for your favorite tank, so this is a huge pro for CIGPET and a smart move to include this as standard issue.
They claim that, due to the manufacturing process, no resin drip tip will look the same – each one is unique in it's own right. The o-rings on the drip tip could be thicker as there is minimal resistance keeping it in and can be removed very easily. A tighter tolerance would be desired here most definitely.
The knurling on the tank really stands out and enables you to get a very good grip on it when you need to take it apart, adjust the airflow or fill it up. The included coils look huge and there certainly is quite a variety of them available for this tank. They are available in four options being a Q4, 12, 14 or 16 coil head, sounds huge right? And there is also an RBA coil head available, to enable you to build your own coils and wick to your liking. This is not included as standard issue and can be ordered separately – which is a con in my book.
The chimney section screws straight into the top of the coil, which looks as if it will miniseries the travel needed for the vapor to condense and maintain a good saturation. The tank is made from Pyrex and thankfully there is a spare included as well as a vape band to help minimize any cracks along with way.
The adjustable airflow holes at the bottom are huge as are the fill ports at the top, I can tell so far that this thing is going to be hungry for juice. When taking the tank apart, it breaks down Into 4 parts for ease of cleaning. Each part is carefully machined and I did not detect any sharp threads or janky connections anywhere. I did detect a slight smell of machine oil, so I would recommend cleaning this tank before use, as I would with pretty much any atty on the market.
Usage
The tank already comes installed with the T16 coil head, however I took it out when performing my obligatory clean. On close inspection of the seals on the bottom of the coils, I could see that they were poorly seated. I am used to checking this out on all coils after the initial SMOK TFV8 coils used to leak due to poor finishing on the ends of the coils at the edges of the seals.
The ECO12 was no exception to this and I had to fiddle with the ends of the coils to make sure they sat flush and did not interfere with the seals in anyway. If the seals do not make proper contact and are compromised with the coil ends, the tank will leak like a sieve. Once I was happy with this, the coils are dead easy to install – you simply need to screw them into the base. As with any factory coils, I gave them a good priming before screwing the rest of the tank back together.
To fill, simply remove the top part of the atty which is a breeze due to the deep channels of the knurling at the top of the tank. There are two massive fill ports on the top which will accommodate anything you throw at it, even an over-sized juice bottle that your too lazy to decant down. The tank holds an outstanding 6.5ml of juice, so be ready to churn through some serious e-liquid when using this bad boy!
The airflow is super smooth to adjust. It is adjusted with a free flowing ring at the bottom of the tank, that also has a nice amount of knurling to find your grip well. The airflow holes are massive and are mirrored on each side to be the same. The airflow is smooth and doesn't feel restricted at all, definitely enough to keep the biggest lung hitters happy.
Mouth to lung vapers, do not even think for one second you could be satisfied with this tank. Even with the airflow closed off to a bare fraction – you don't get a restricted hit what so ever. Plus with the ratings these coils put out, you'd need to have a fairly wide open airflow anyway to cool down the coils at these high wattages.
Specs
Capacity: 6.5ml
Diameter: 28mm
Resin Drip Tip
Optional ECO-RTA Deck features in 4 different fun builds
Optional Eco-T14 Coil (0.12 ohm, 60w-360w)
Optional Eco-T16 Coil (0.11 ohm, 60w-400w)
Use Coupon Code ACHEAP15 for 15% Off!
Performance
I started with the T12 coil at around 40 watts as I do with most high-rated sub ohm coils and planned to work my way up form there. This barely even raised the pin, I could taste the cotton and a hint of my juice. Slowly making my way up to 60watts, the flavor began to come through and the vapor increased slightly. The cotton taste was wearing off by now and I was intrigued to take this thing higher. Going through 70 to 80watts the flavor was increasing as was the vapor.
The vape was still relatively cool at this point and I was still keen to take it higher. Heading passed 90 and then to 100watts, the ECO12 was starting to take shape. The flavor was decent and the vapor was getting thick and plentiful. The temperature of the vape was getting slightly hotter and the tank was most definitely heating up to the touch. Still determined to see how far I could take this coil, I pushed through to 120watts.
For me this was the sweet spot. Heaps of flavor and kick ass clouds here, while maintaining a relatively cool vape – which is what I like. The airflow was almost wide open, just shut off slightly to preserve that flavor coming through. I kept going up to 140watts and through to 160watts. Here I personally found that the flavor dropped off a little, while the temperature and vapor production were still ramping up.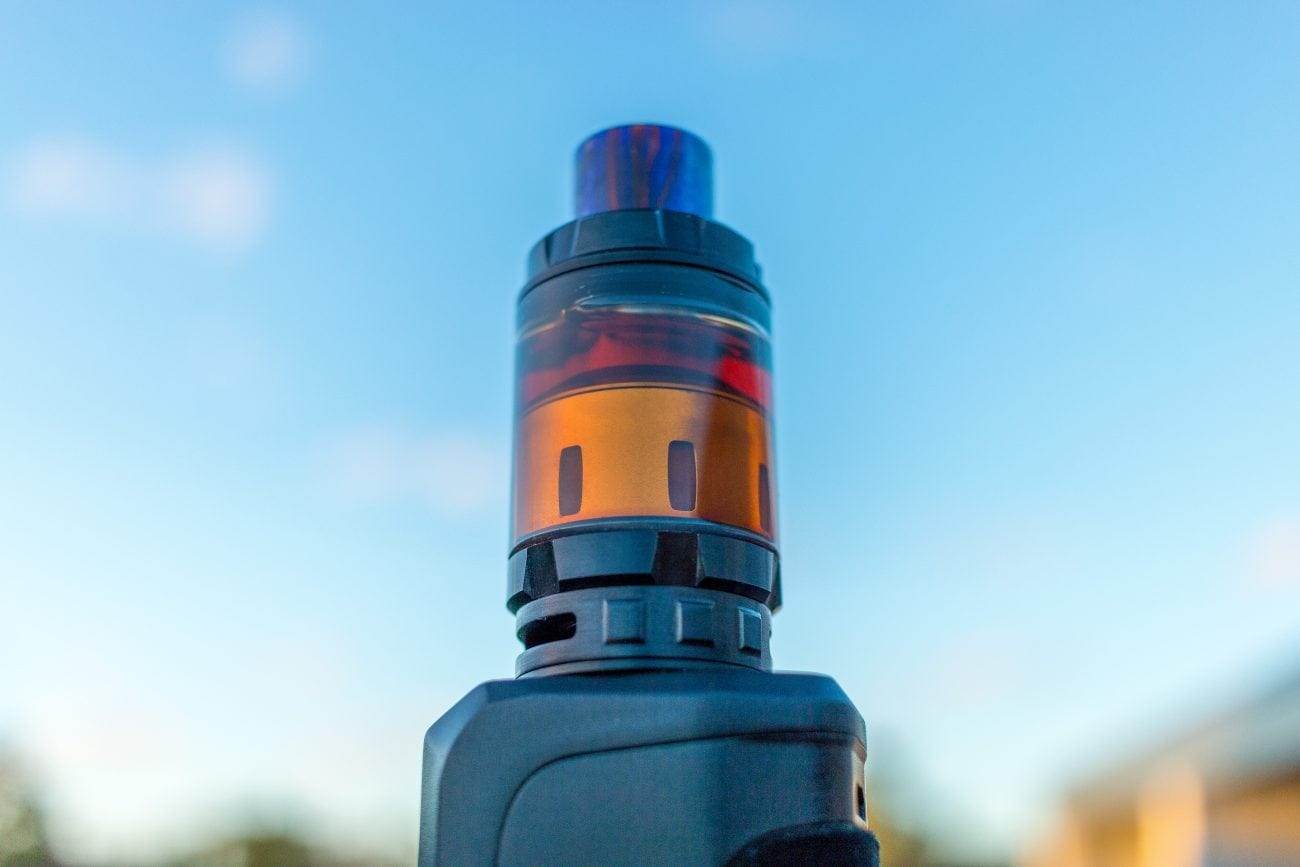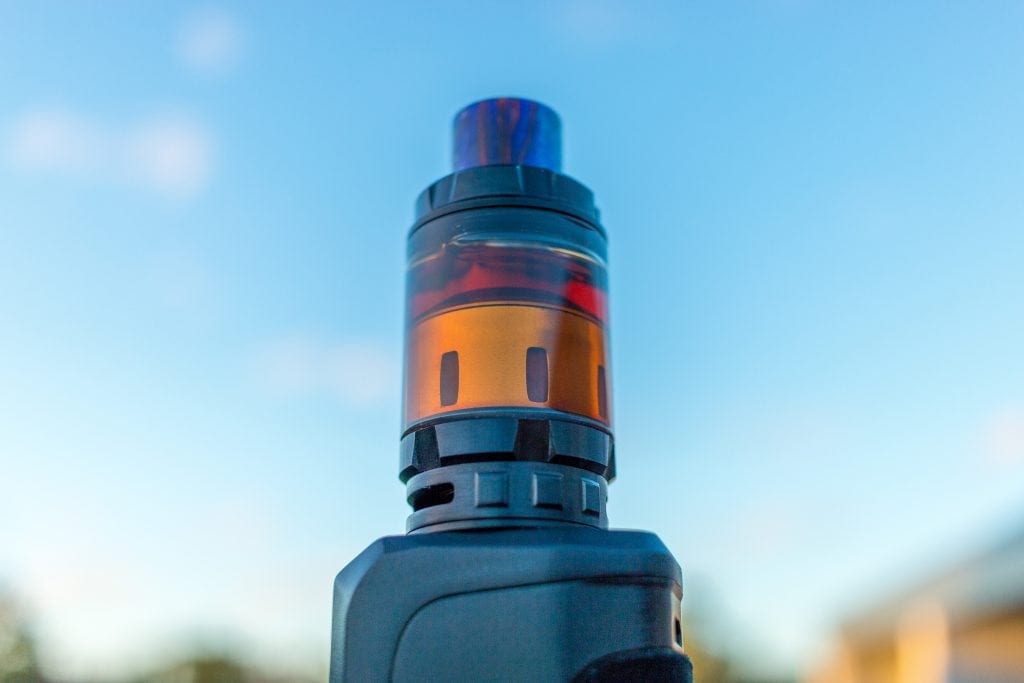 I eventually made my way up to 200watts, which is where I called it quits. The vape was just uncomfortably hot for me at this range and for the amount of flavor I was getting it was not worth it. The clouds though, were out of this world! A fog machine at this wattage and there was no stopping it. After reaching that point, I took her back down to 120watts and I was back in my sweet spot.
The wicking kept up well throughout the testing phase and I did not experience any dry hits. You would have to be careful to monitor your tank when you are out and about, as it will guzzle your tank dry and leave you with a scorching dry hit at some of these crazy wattages we are talking about here.
The ECO12 will fit coils from the SMOK TFV12, so it will be interesting to do a comparison on the same coil while vaping both tanks and see how they perform. I would guess that there shouldn't be too much different between to two, so the ECO12 could be a slightly cheaper way to get into the market and then just stock up on the SMOK coils.
The other coil that was included was the Q4 and I instantly found this to taste very dry. At first I thought it wasn't bedded in properly so I persisted with it for some time. Before too long it started tasting burnt and I had to stop using it, although I wanted to give it a fair go. Hopefully this was just a faulty coil and they aren't all like this, maybe I was just unlucky.
I found the ECO12 to make good connection with all of my high powered mods it would be capable of running on. And it was at home on every one of them in terms of looks. The size of the tank, is a consideration when you want to transport it as well. As it needs a high powered mod, the combination of this and the tank makes for a bulky item to carry around. So although you can definitely use it on the go, I find this to be a stay at home kind of tank. I also wouldn't be super keen to have this in my pocket after a decent toke session due to the residual heat still left in the tank.
Pros
Unique Resin Drip Tip
Good flavor and cloud production
Compatible with Smok TFV12 Coils
Cons
RBA Section is not included
Juice Hungry
Power Hungry
To wrap up the ECO12 performs well and looks great. It comes in Black, Silver and Rainbow finishes along with a wide variety of coils available. I have no hesitation to recommend the ECO12 if this is something that interests you and could meet your needs. It may even save you some money if you have your eye on the TFV12 and I personally think it looks better too.
Use Coupon Code ACHEAP15 for 15% Off!
Now Let's Look at the Eco RDA
What's in the box?
1x Eco RDA
1x Resin Drip Tip
1x Screwdriver
1x Accessories Pack
Use Coupon Code ACHEAP15 for 15% Off!
Out of the box
Again, the first thing that strikes me when taking the ECO RDA out of it's box is that lovely resin drip tip. It is a very low profile drip tip and the finish on the resin looks great, this is a nice touch for sure. The atty itself, looks well made and sturdy with clean lines and a very simple design.
Nothing over the top stands out and it looks like its here to just do business, nothing more nothing less. There is branding present on one side of the atty with the word ECO standing out, then onto other side there is the name "William" engraved on it. Kind of weird if you ask me, but hey you'd be stoked if your name was William I'm sure!
The ECO RDA breaks down into five pieces for ease of building and cleaning. It has an overall diameter of 24mm and comes in at 40.9mm tall. The top cap has some beautiful knurling on it, nice and deep so you can sink your grip into it. The ECO RDA features both bottom and side airflow and these are both adjustable independently.
The bottom airflow control ring also has the same knurling on it, so it is easy to adjust. The side airflow is adjustable via the top cap, as it moves within the chamber section to your preferred setting. The o-rings definitely need some juice on them to lube them up prior to usage and they are a little tight. Again, I detected some machine oil smell and it was gone after a quick bath.
At the bottom of the ECO RDA we find a non-adjustable gold plated 510 pin. In addition there is a Phillips screw that is connected to the negative block. The deck section is made up of two inverted L shaped posts, which house three post screws each. There are two post holes on the top row and one at the bottom, which is a very unique presentation and looks like it can cater for some very creative builds. The post holes measure 2.5mm each, so you are going to be able to fit some large gauge wire in this puppy if you so desire!
The post screws are held in place with Phillips heads, which is a huge plus in my book as I find them easier to manoeuvre. There are only two spare post screws that come with the RDA, I would have liked to see a whole set – a subjective con here. CIGPET market the ECO RDA as having a 2ml juice capacity, so you can certainly get enough juice in there to feed the most exotic coil builds.
The drip tip I found to be a little on the loose side, so CIGPET could do with increasing the tolerance slightly on their o-rings here. The ECO RDA also does not ship with a 510 adapter, so your going to have to either find something else that will fit or make so with one it comes with.
Usage
Installing the included Clapton coils was a breeze, as the ECO RDA breaks down to fully expose the deck section and there is nothing to get in the way. So many options to configure your coil ends, I chose to use the bottom holes and the closest top hole on the other side, however I could have used both top holes easily. You could most easily fit two coils horizontally on either side of the deck if you wanted to get that creative with your build.
There is no way to block off the airflow on one side, making this RDA operational only in dual coil mode. Wicking was a dream, with the ends of my cotton fluffed out and folded down into the reservoir. With the coil entered over the air flow holes, the wick doesn't get in the way at all and can gently be pushed to each side without fouling the airflow.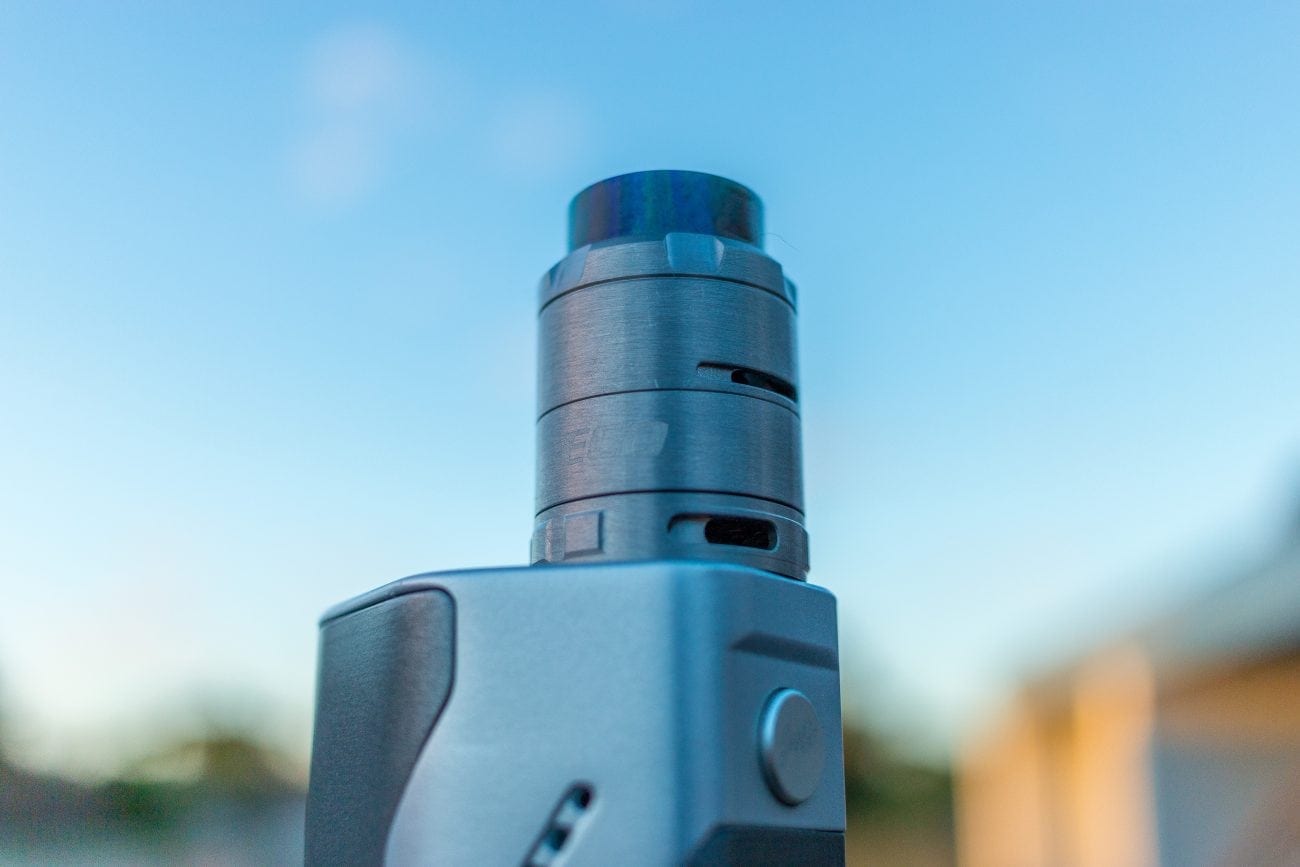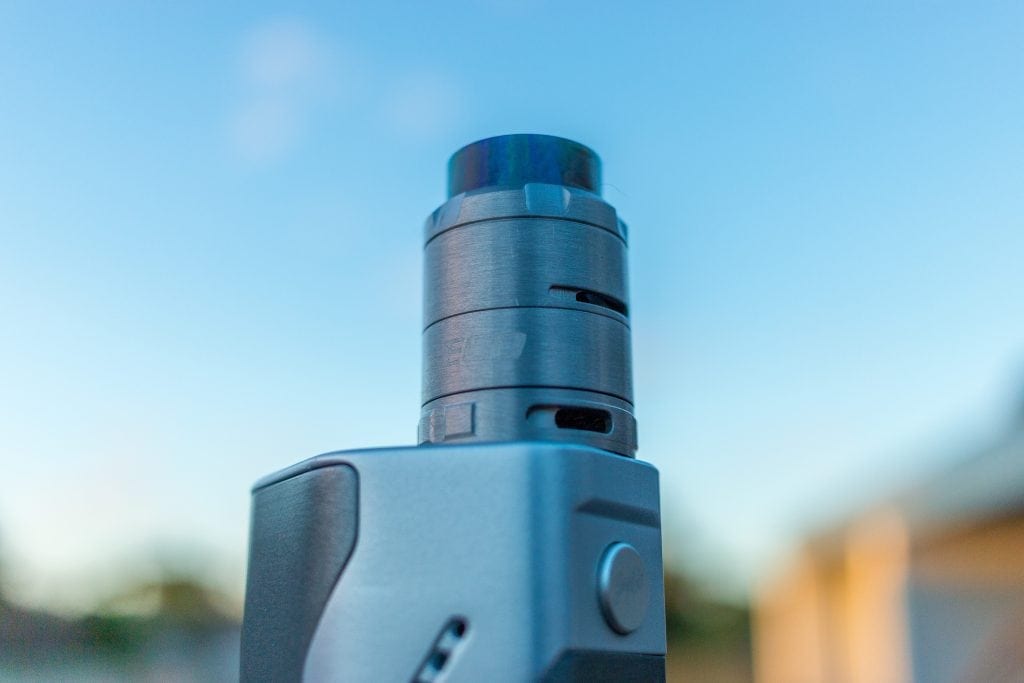 The drip tip is definitely wide enough to drip through without having to remove the top cap, which is a huge pro in my book. I am a lazy dripper and avoid taking off the top cap on an RDA where possible and if I can avoid it I will. Adjusting the airflow to your desired setting is easy. Just turn the bottom airflow ring to where you want it and turn the topcap to adjust the side airflow until you are happy. I'd recommend leaving it wide open to start with and then adjust accordingly from there.
Use Coupon Code ACHEAP15 for 15% Off!
Specs
Diameter: 24mm
Height: 40.9mm
Side & Bottom Airflow Control
Resin Drip Tip
Round Coils, Staple Helix Coils Compatible
Adjustable Airflow
Gold Plated 510 Pin
2ml Capacity
Performance
The dual Clapton build came in at 0.3 ohm and I found the sweet spot to be about 80 watts for me. Both the flavor and the vapor production are absolutely on point with the ECO RDA. With the bottom airflow fully open and the side airflow backed off about half way, I am getting an awesome vape.
It's thick, lush, flavorful and just the right temperature for how I like to operate. The low profile drip tip takes a bit to get used to, but once you use it for a while it seems to grow on you. I'd be interested to see how it goes on a super hot, exotic coil build as it is mighty close to the top of the atty and I could potentially foresee some burnt lips.
From the unique build deck, which can cater for some crazy builds, to the plentiful side and bottom airflow which can support those crazy builds – I really like how versatile this clever atty can be. I found this atty to look good upon all of the mods I tried it on and there were no connection issues at all or inconsistencies found during testing.
Pros
Great performance
Total of 6 post holes
Phillips head post screws
Dripping through the drip tip
Cons
No 510 drip tip adapter
Only 2 spare screws
Wrap Up
I definitely have no hesitation in recommending the ECO RDA to anyone who finds it of interest. It will cater for such a wide range of RDA users and support your future creativity if you ever chose to branch out and go with some crazy exotic builds in the future. It is very customizable and most of all performs very well in all aspects of a dripping RDA. The ECO RDA is available in black, stainless, gold and silver. For the cost, you definitely cannot go wrong on the ECO RDA.
I hope this has helped you on your journey to find your next atomizer! If you have any questions or comments, please feel free to leave them below. We always love hearing from our avid audience here at Vaping Cheap.
Use Coupon Code ACHEAP15 for 15% Off!