Asvape Cobra Sub Ohm Tank Review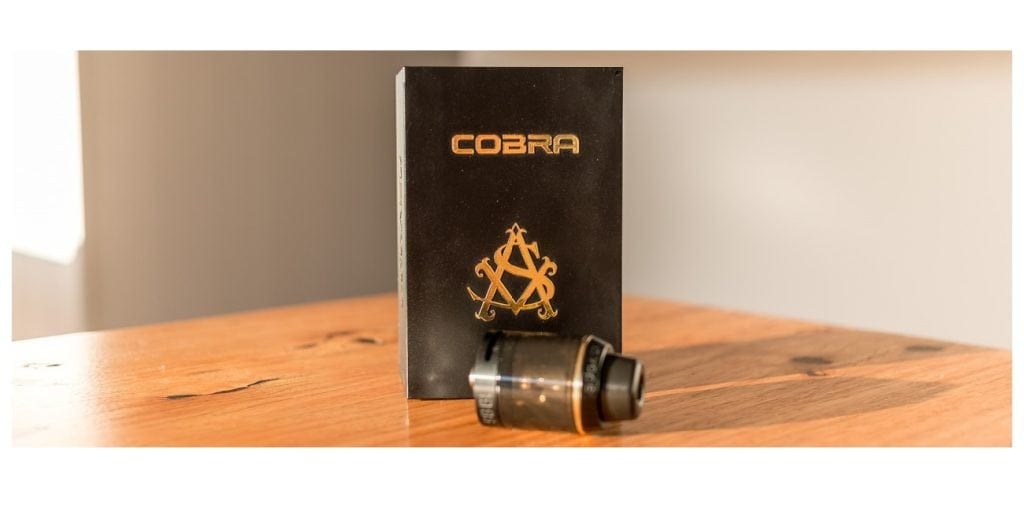 Asvape Cobra Sub Ohm Tank Review
I have to admit that I had not heard of Asvape before, however after doing some quick research I found that they are a Shenzhen based manufacturer that have released a couple different attys and mods. The Asvape Cobra is a 3.8ml 24mm tank which supports 0.5ohm Ni80 coils. The coils are marketed to take juice in 360 degrees around the coil and work with 100% VG e-liquid. I would like to thank Heaven Gifts for sending us the Asvape Cobra for the purposes of this review.
Heaven Gifts Coupon Code: ACHEAP15 for 15% Off!
What's in the box?
Asvape Cobra (0.5 ohm coil pre-installed)
1x Extra 0.5 ohm Ni80 Cobra Coil
1x Extra Glass Tube
1x Spare Parts
1x User Manual
Out of the Box
The packaging on the Asvape Cobra is very simple and straight to the point. A nice little black box with gold logos on the front and embossed text on the rear. One problem, how do I open it? I finally figured out that it is hinged at the bottom left corner and the tray hinges out. Neat! I haven't seen that one before. Neatly tucked away inside was the tank, a spare glass, a spare coil, instruction card and a generous set of spare o-rings. Safe to say that this tank and it's accompaniments will not get damaged in transit due to a well constructed box and ample foam padding.
I received the black finish, however the Asvape Cobra is also available in silver and now gold finishes. The tank itself looks very neat with an all black appearance helped out by a smoked black glass reservoir. A nice gold accent ring at the top of the tank near the top cap gives it a classy appearance. A nice thick drip tip up top along with a very smooth, easily adjustable airflow on the bottom.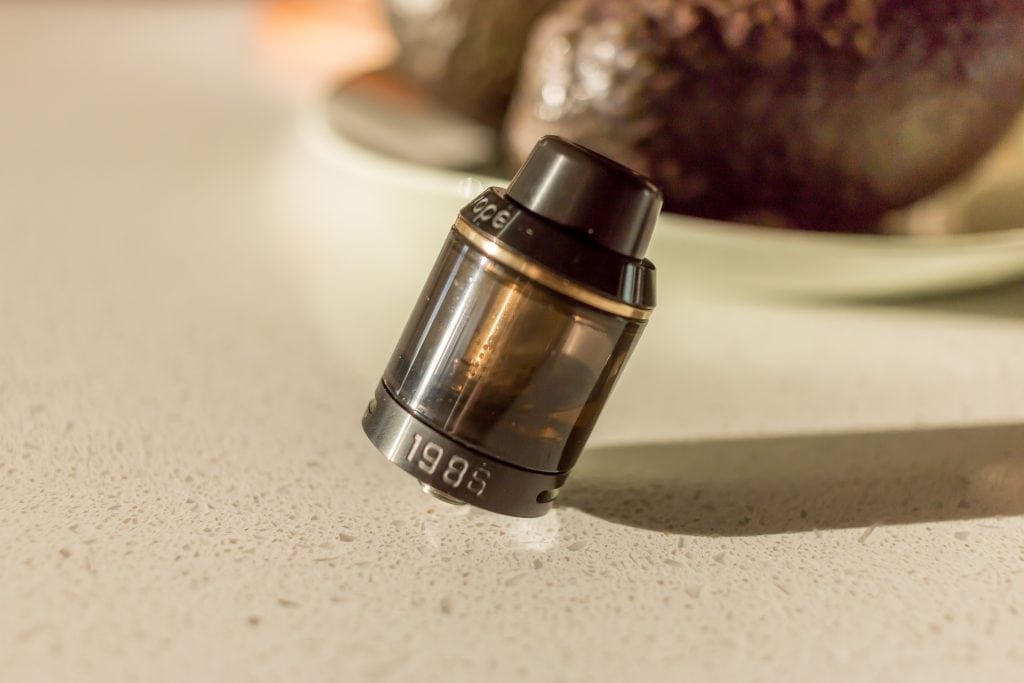 The build quality is top notch, with all threads being super smooth and all parts fitting together with good tolerance. The drip tip can be swapped out with a 510 tip of your choice, so that is a huge pro. The top cap has the Asvape logo engraved on one side and the number 1986 on the other.
I was unsure of the meaning of this number and inquisitive minds tend to enquire. First I thought 1986 could mean the year of the Cobra, but I was wrong – it was the year of the Tiger. I did however find a link to something interesting. Cobra was a film made 1986 which was written and directed by Sylvester Stallone. There you go, at least I my curious mind is now satisfied that I found some kind of weird link.
I didn't find any remnants of machine oil in the Asvape Cobra or on the pre-installed coil or the spare coil. This is very re-assuring as it means that the Quality Control process is up to scratch. The coils are gold in color and appear very well made. They have an array of tiny juice holes all the way around the coil, which makes sense of the "360 degree" juice ports. The coils are vertical and made from Ni80 with organic cotton for the wicking material. The coils are 0.5 ohm and are rated between 30 – 45 watts. The spare coils come in a bullet shaped case for protection which look pretty cool.
All in all a really well made, good looking tank which appears to be a promising performer. I am excited to give it a whirl!
Usage
The tank comes apart into six separate pieces for ease of cleaning and maintenance of the coil heads. The replacement coils are screwed into the base of the tank with ease, no issues here if you've done that before.
To fill up the tank, unscrew the top cap. This is easy to grip due to the engraved writing on both sides. Once the top cap is removed, there will be two juice fill ports exposed that easily fit a bottle nose or dripper style application. The reservoir is marketed to hold 3.8ml of juice, however upon filling it with a syringe, I found it to be closer to 4ml – which is a sneaky little bonus.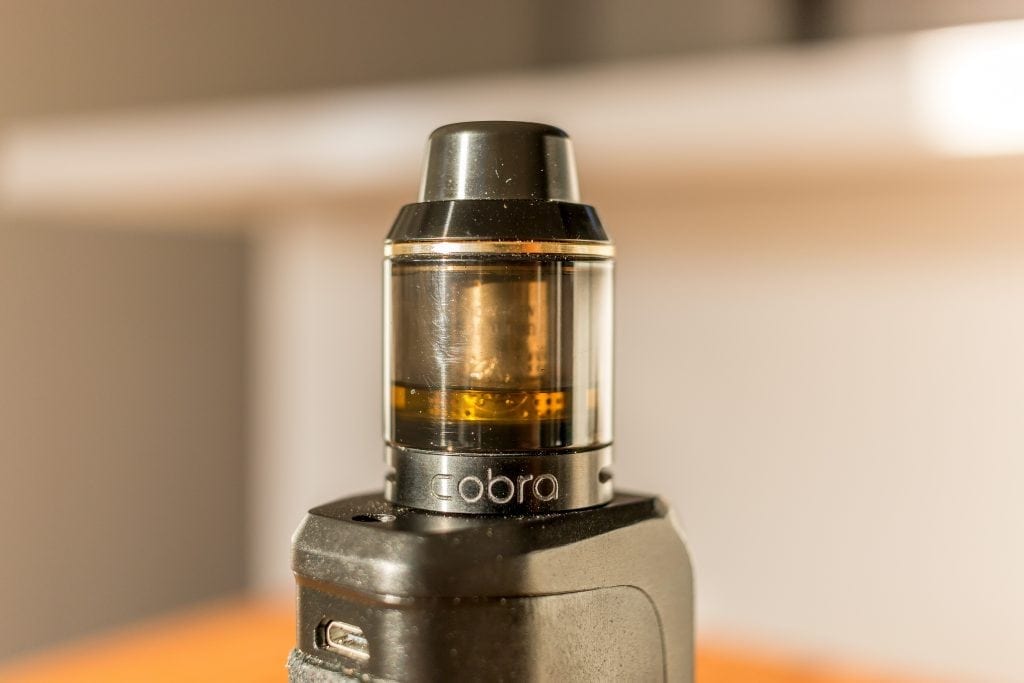 Airflow is provided to the coil by two airflow intakes at the bottom of the tank, one on each side. The airflow is adjusted by simply turning the control ring at the bottom. It will adjust from fully closed to fully open and does not spin freely around the rest of the diameter. The airflow can easily be adjusted whilst on top of a mod. That is about all there is to using the Asvape Cobra, it doesn't get very complex. Everything is kept nice and simple.
Heaven Gifts Coupon Code: ACHEAP15 for 15% Off!
Performance
There was probably about 2 – 3 tanks of break in period when using the Asvape Cobra before I got a really pure taste. The break in period certainly isn't as bad as some tanks I have used in the past, but it was noticeably better afterwards. After the break in period, I was getting a really nice tasty vape off this. Not RDA level, but up there with some of the best tanks that are available currently on the market. For a low wattage tank, the clouds are very respectable. This is not marketed as a cloud chucker, but I find it provides a really good balance between flavor and vapor production.
Although being rated up to 45 watts, the tank did still perform above this level. I found that the flavor did back off above 40 watts though. I find the sweet spot for this tank to be around 35 watts, with either a medium setting or a small ramp preheat dialed in. At this wattage setting I find the Asvape Cobra to be very efficient on both juice and battery.
It certainly doesn't chew through e-liquid like a lot of other sub ohm tanks on the market. During the few weeks I have been testing the Asvape Cobra and using between 4 – 8 mls per day. The coil is still delivering the same taste and performance throughout this time and I have not had to change out the coil. It keeps up with wicking high VG liquid very well and I have not experienced any dry hits what so ever. The coil reading was accurate at around 0.52 on my DNA and other high end mods, so that is another good sign of craftsmanship – they deliver what they advertise.
In regards to airflow, I would describe the Asvape Cobra as a semi-restricted lung hitter. It can be backed off accordingly to get a more restrictive or mouth to lung vape without any hassles at all. At its widest setting, I would compare the Asvape Cobra to be about as airy as the CoilArt Mage at half open. I would say that it is airy enough to satisfy most people, however if your looking for an airflow monster, this isn't the tank for you. Given the fact that the coils are not rated over 45 watts, this airflow setting is more than adequate.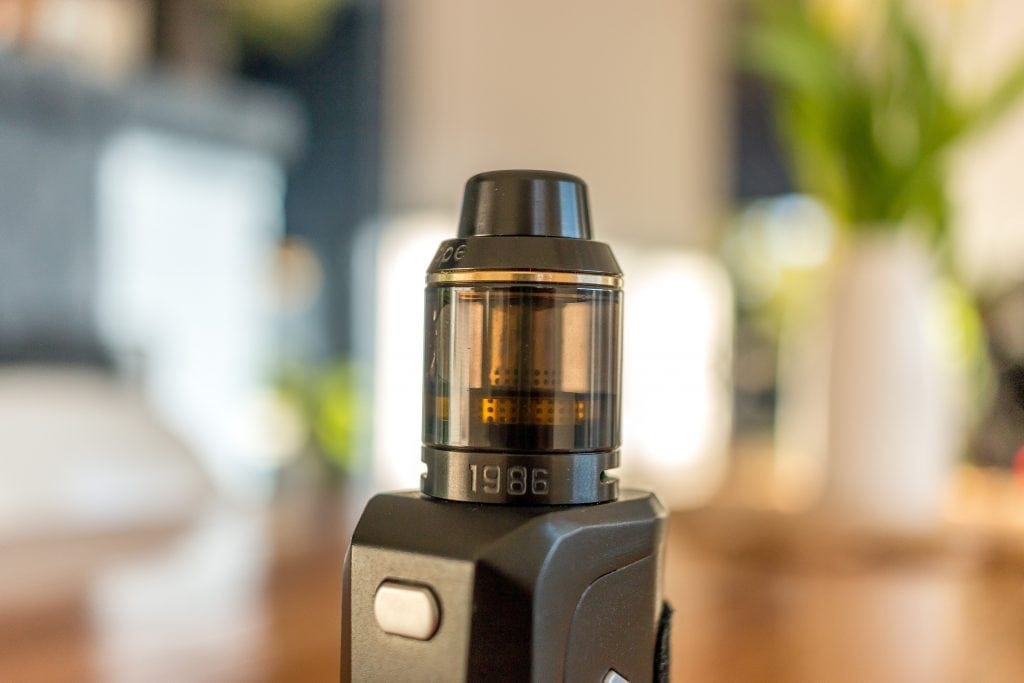 The drip tip actually grew on me the more I used the Asvape Cobra. I was initially thinking I would want to swap it out for another favorite tip, however I really have come to like it now and would only consider swapping it out purely for aesthetic reasons if I wanted to go matchy matchy with a particular mod. The ability to do so however is a pro in my book. Another pro about the Asvape Cobra is that it doesn't leak at all. Leaking is something I am always watching out for in a new tank, however I have not seen a drop out of place here.
I would have liked to have seen an RBA section or a variety of different coils offered. I think some temperature controlled coils or the option to install your own would have been a smart move. Hopefully we will see some of these offered in the future to accompany this tank.
Specifications
24mm x 42.5mm
Capacity: 3.8ml
Thread: 510
Airflow Hole: 2 Parts
Coil: 0.5 ohm Ni80 Coil (35w-45w)
Material: Food Grade 22304+ Pyrex Glass + Import Black POM Drip Tip
Colors: Black/SS
Pros
Great performance
Good looking
Efficient
Cons
Wrap Up
I have to say that the Asvape Cobra is a really fun little tank to use. There are no complex operations and it just does what it advertises. Simple, good looking, well performing and affordable are the terms I would use to sum up this tank. It looks premium already, with it's smoked black glass and gold ring around the top cap. So there is no need to spend any extra to doll up this tank.
Apart form the lack of coil options, I believe Asvape have delivered well with the Cobra. For the cost, I would highly recommend this tank if it is something that takes your interest. Don't underestimate this little guy, he really does pack a punch in all aspects. I hope this article has helped you in your quest to find a new tank. If you have any questions or comments, please leave them down below – we always love hearing from you.
Heaven Gifts Coupon Code: ACHEAP15 for 15% Off!