Vandy Vape Berserker MTL RTA Review: Incredible Mouth to Lung Performance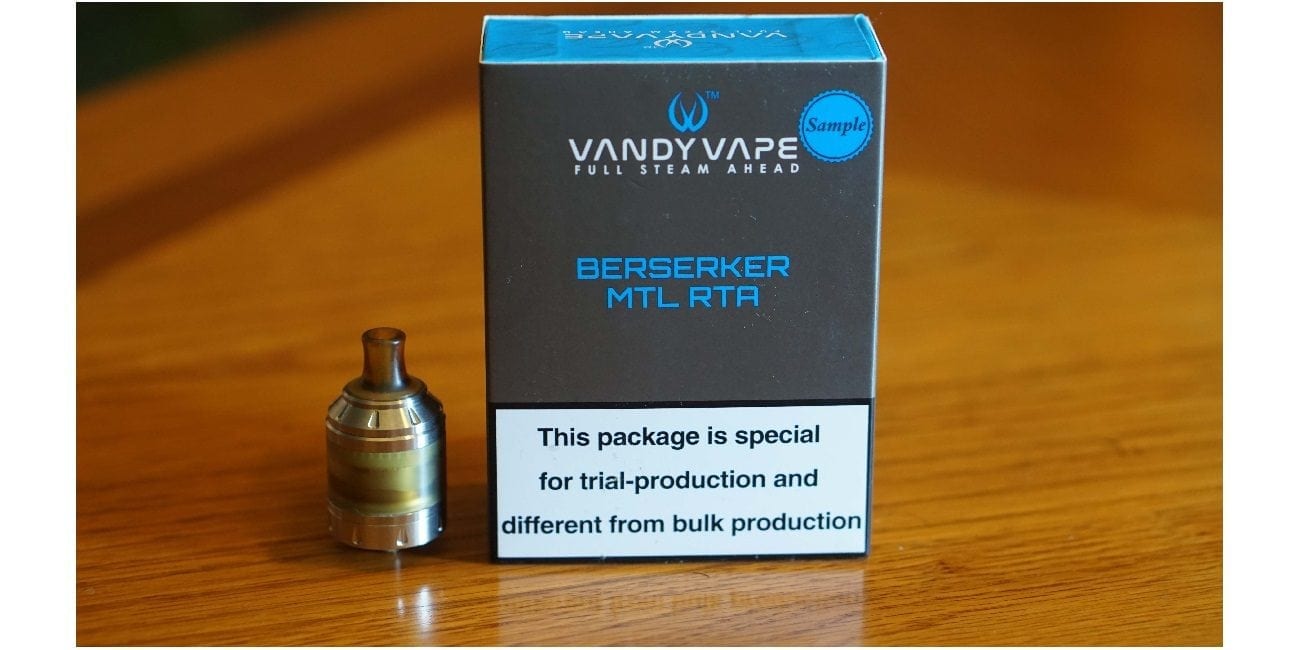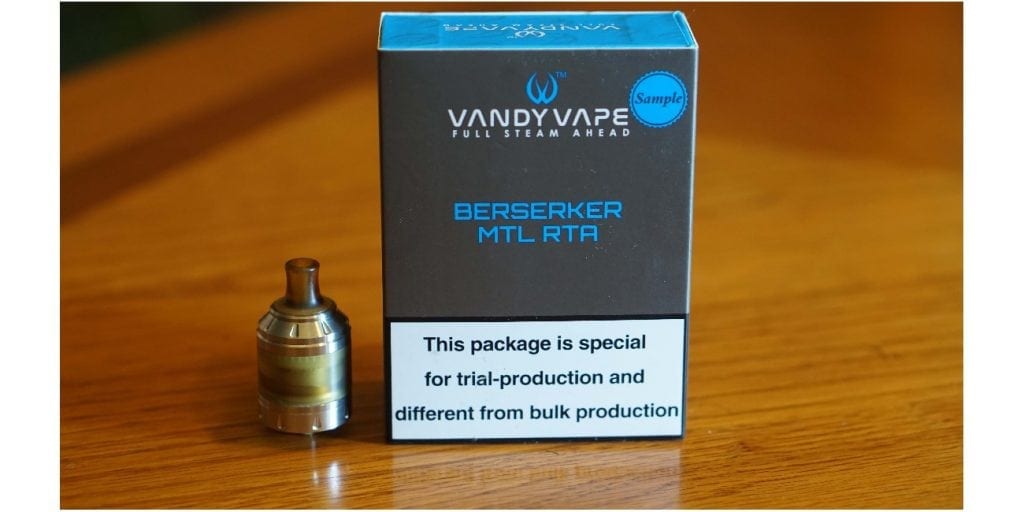 There hasn't been many mouth to lung RTAs released recently, and most of them that are great performers are quite costly. Vandy Vape has stepped into this niche market and has released their own vape tank in collaboration with Alex from Vapers MD, the Berserker MTL RTA. This RTA sports an overall base diameter of 24mm, and has a 2ml or 4.5ml e-liquid capacity, so this means it is TPD compliant. Aside from that it does feature a rather unique design and includes tons of extras.
Before getting any further, we'd like to thank Vandy Vape for sending this atomizer our way for the purposes of this review. We will give you our first impressions, building, and wicking, performance, pros and cons, and conclude with whether or not we recommend the Berserker MTL RTA!
Vandy Vape Berserker MTL RTA Review
First Impressions
Like the other Vandy Vape atomizers we've reviewed in the past, this RTA does come in a similar packaging with the Vandy Vape Logo right at the front and some information on the back. Do keep in mind that this is the sample packaging, and the final retail packaging might be different. Even if it was the same, it's definitely a good thing as VandyVape does package their products really well, so there are no worries whatsoever when this product is in transit.
Once you slide open the packaging, you're immediately met with the Berserker MTL RTA and most of the extras. This atomizer does come pre-installed with the 2ml Ultem Tank section and Ultem Drip Tip. Alongside of it, you do receive the 4ml glass tank variant and a black delrin drip tip. Both of the included drip tips are 510, which means you can use your own preferred 510 drip tip if you like. I actually liked how these drip tips looked and how they felt on the lips.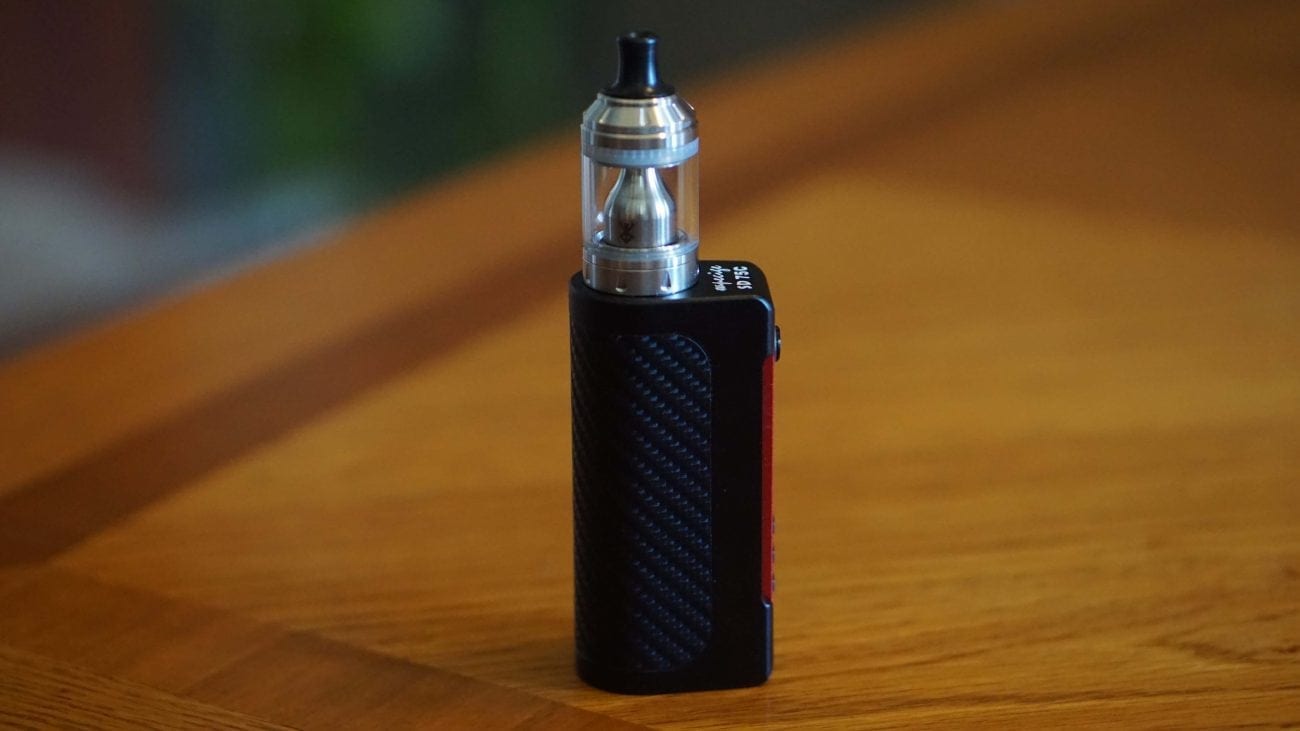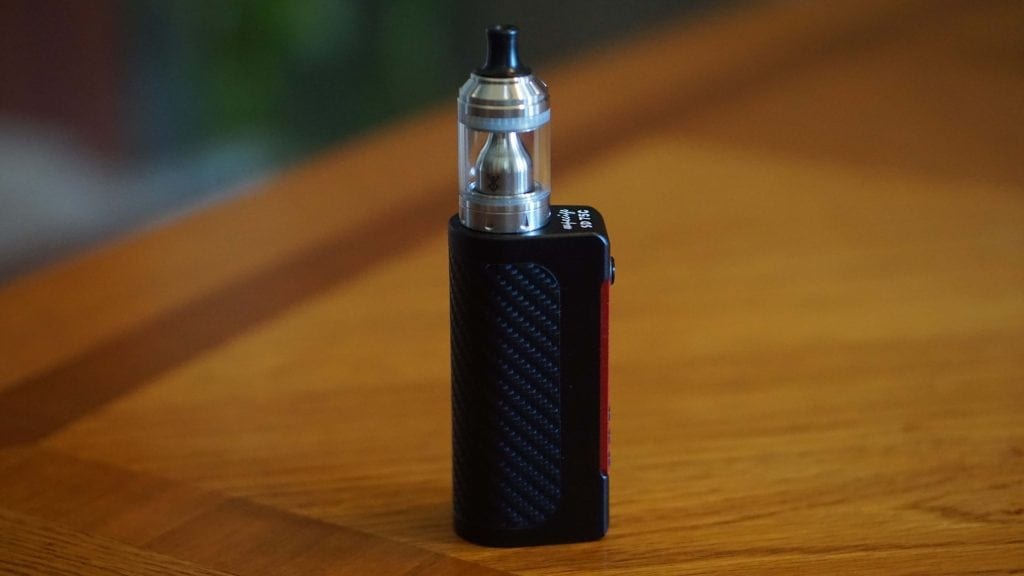 Now I will say that not everyone likes an Ultem tank section, but I think it looks great whether it's on the stainless steel version like the one I received, or the other color available, Black. Even if you didn't like Ultem, you can always use the 4.5ml glass tank section which gives you more e-juice capacity and suits your preferences better. It does include a taller chimney section as well, which is to be used with this tank section.
Included in the packaging you also receive an accessory bag which has spare o-rings and screws, and a tool which allows you to switch the chimney sections (this is something I'll get into later on into the review). Just like other Vandy Vape products, the Berserker MTL RTA does come with a ton of extras, which is always a pro in my book!
Getting onto the overall looks of the atomizer, I really liked how it was designed. Honestly, it looks like it would cost more than what it actually does, especially when you consider all the extras included. The airflow is easily adjustable by simply holding the airflow control ring and turning it. All of the threading is really smooth, and the overall quality is superb.
Something else to mention is that this RTA came clean with no machine oil whatsoever. One simple wash with warm water and this atomizer was ready to be built and vaped!
All in all, my first impressions of the Vandy Vape Berserker MTL RTA were great! I liked the overall design and loved the fact that it included many extras.
Building & Wicking
The Berserker MTL RTA does feature a build deck pretty similar to a Kayfun, where you trap the wire under or around the screw itself and then tighten down. In addition, it supports single coil builds only. This type of build deck is easy to work with, especially if you're an advanced user, but new builders may have minor issues with it. I don't think beginners will have that much of an issue when building on this RTA since it is pretty straightforward and easy once you get the hang of it.
Now, you do have a decent amount of room to put smaller Clapton coils in there, but don't expect to install a thick gauge wire or Fused Clapton as it's not really meant for that. I was easily able to fit a simple 26GA Kanthal round wire build and a smaller Fused Clapton (28GA/36GA). Once you install your coil, be sure that you snip the excess wire flush to the build deck to ensure there are no shorts once you screw on the chimney section. Also, be sure that your coil is right above the airflow hole as this will give you the best flavor.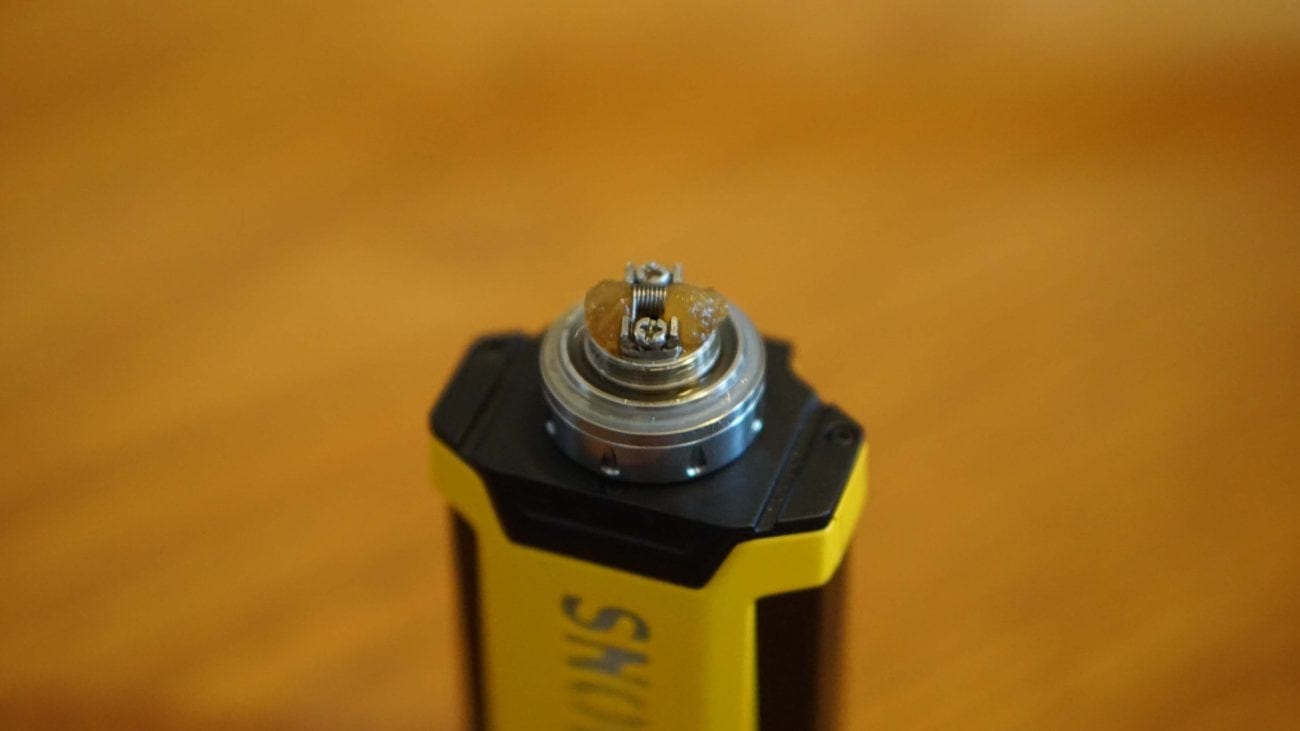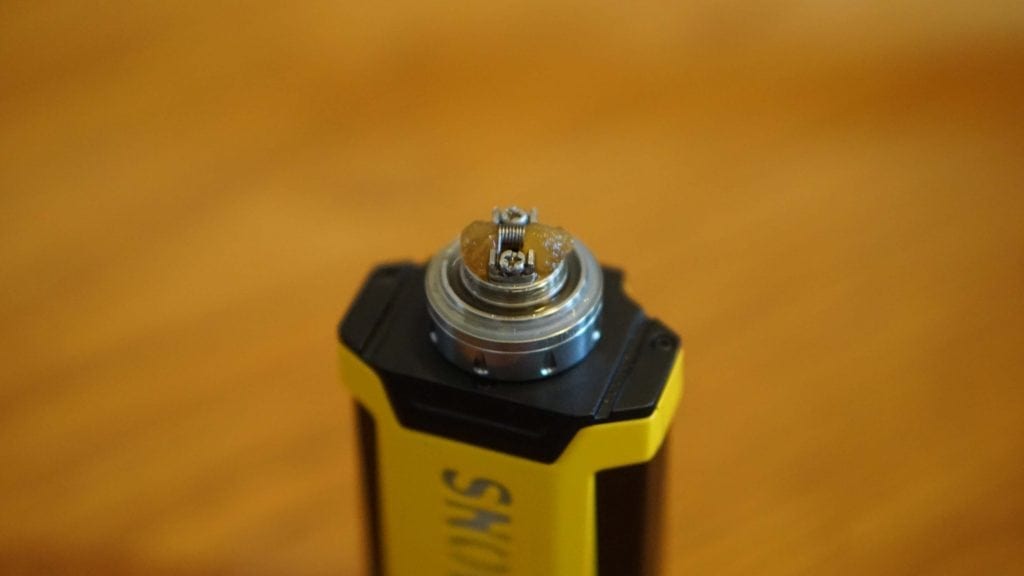 Wicking is also very easy and straightforward. Simply cut your cotton towards the edge of the build deck, fluff it out with a tweezer or any tool you normally do this with, and then gently tuck your cotton into the wicking channels. Now, you do not want to stuff your cotton in there as this can cause inefficient wicking which then leads to dry hits. Depending on the VG/PG of your e-juice, it will determine how much cotton you want in there. If you have, say a 70VG/30PG e-liquid, then you want a little bit less cotton, but still have the cotton take up the entire wicking channel.
Here's an awesome build tutorial video
Overall, building and wicking the Berserker MTL RTA is simple and easy. Like mentioned previously, beginners may have some minor issues at first if they're not used to building, but as with any RTA after a few attempts, I'm sure they'll have no issues at all.
Performance
How does the Vandy Vape Berserker MTL RTA perform?
I can easily say this mouth to lung RTA has incredible performance, and I was quite surprised by how good it performs. Firstly, my preferred coil build was a simple 26GA Kanthal round wire build, which had a resistance of around 0.8 ohm. This type of build is perfect for this type of setup, and doesn't require much wattage to get a satisfying vape experience.
Now I do want to mention that if you're new to mouth to lung vaping, be sure to have a higher nicotine strength e-juice to put in here. I typically vape 1.5mg, so 6mg or 9mg was good for me and gave me a satisfying throat hit. Now if you're used to vaping say 3mg, then you might want 6mg, 9mg or even 12mg to give you what you would want. Also, I do recommend 70VG or lower e-liquids as I found that wicking was not as great with 80VG and higher juices.
With that being said, I would vape this tank with my preferred coil build between 14w and 19w. At higher wattages, I got a much warmer vape, and at lower wattages, it would cool down just a bit, but it was still on the warm side. I do prefer a warmer vape, so I found myself vaping more often between 17w and 19w. The flavor out of this tank is incredible, and a lot better than what you would think a mouth to lung tank could offer, which is what sets this RTA apart for me. The vapor production is also satisfying, but don't expect to blow massive clouds with this as it's not meant for that.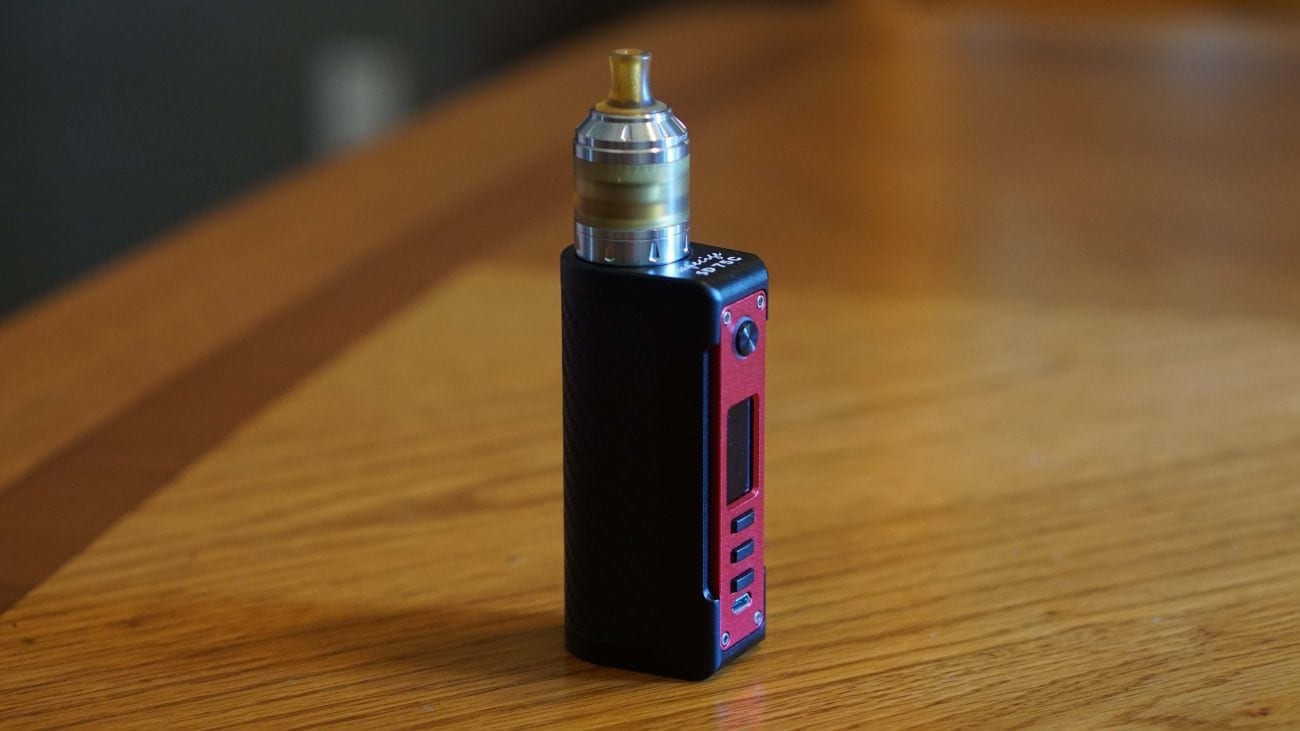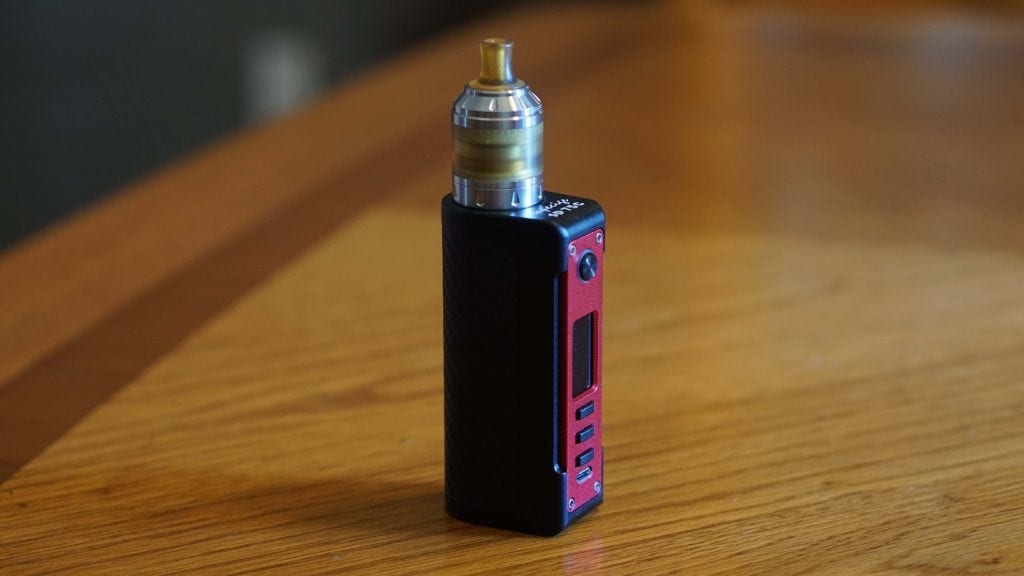 The airflow for this RTA is pretty tight even at its widest opening, so vapers who like a looser mouth to lung vape might not be satisfied. I did prefer it at it's widest opening, and for me, it was the perfect mouth to lung draw as I do prefer a tighter draw for when vaping mouth to lung. When you do close it off, it becomes even tighter and while I was satisfied with the performance, it was just a little too tight for my liking. If you wanted a very tight draw, then this tank has got you covered with its smaller airflow settings.
Something else I want to mention is that if you want to install the 4.5ml glass tank section, you do have to use the included tool to unscrew the locking mechanism in order to detach the chimney section. While some vapers may not like this feature, I actually do since you know this chimney section isn't going anywhere when you're taking it apart to change your build or rewick. The process of changing the tank section is fairly quick, so it's not that big of an issue in my opinion.
Filling this tank is quick and easy thanks to its top fill design. The top-fill ports are fairly large, so you won't have any issues filling whatsoever. I did notice sometimes that when you do fill it and you take a vape there is some gurgling, but it does go away after a couple vapes. Also, since you're not vaping at higher wattages, 2ml or 4.5ml will last you quite sometime before needing to refill which is always a good thing.
All in all, the performance of the Vandy Vape Berserker MTL RTA is top notch, and it really brought me back to mouth to lung vaping after leaving it for quite some time.
Pros
Superb build quality
Amazing flavor
Easy to build and wick
Includes 2ml/4.5ml Tank Sections
Cons
Draw might be too tight for some vapers
Product Features:
24mm Base Diameter
30mm/40mm Length
2ml/4.5ml E-Juice Capacity
Top Fill Design
Includes Ultem (2ml) Tank Section & Glass Tank Section (4.5ml)
Single Coil Build Deck
Easy to Wick
Adjustable Airflow
Includes Ultem & Delrin 510 Drip Tip
Locking Chimney Section (Tool Included)
Gold Plated 510 Connection
Accessory Bag Included (Spare O-Rings & Screws)
Colors Available: Stainless Steel & Black
Conclusion
In conclusion, the Vandy Vape Berserker MTL RTA is an excellent performing mouth to lung tank. Like mentioned previously, I really love the fact that Vandy Vape always includes a ton of extras with the products they offer, and it's just one of the things that really set them apart when it comes down to choosing which atomizer to purchase. The flavor off of this tank is amazing, especially when considering it's a mouth to lung tank.
Now there was one con to be mentioned, and it was the only real con I could've thought of, which is the fact that the draw is quite tight even at its widest airflow opening. I enjoyed this tank at its widest opening as this was the perfect draw for me, but some vapers who prefer a looser draw probably won't be too happy with it.
Regardless, it still is an incredible mouth to lung vape, and I'm sure many vapers who enjoy this type of vape experience would agree. So, if you're in the market for a new mouth to lung tank that's affordable, offers a ton of extras and has top-notch performance, then I can highly recommend checking out the Vandy Vape Berserker MTL RTA!
I hope this review helps you with choosing the best atomizer to fit your vaping needs! If you have any questions or comments, feel free to leave them down below! Thanks for reading!