510Vape Spas-12 Kit $15.55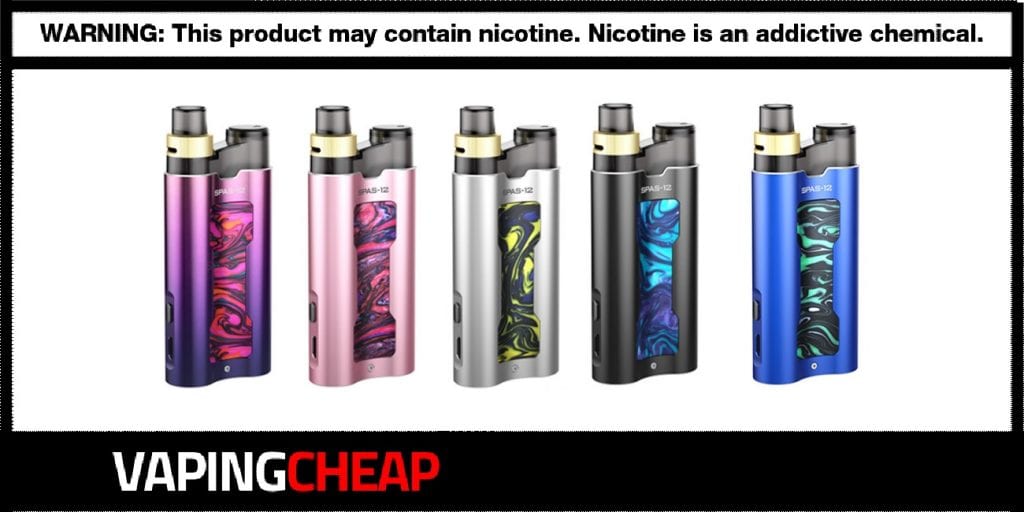 The new 510Vape Spas-12 Kit is now in stock and on sale for only $15.55! No code is required for this discount. It is also available at another China based store for only $24.99. There's 5 unique color options that's currently available for purchase.
The Spas-12 Vape Kit by 510Vape features a large internal 950mAh battery alongside a unique form factor, making it super comfortable in the hands. It also has a special surface design with a resin panel, and each piece of resin has a different pattern than the other, so not one is alike. Aside from its unique aesthetics, and gorgeous resin, it does offer three different voltage levels. Depending on which setting you have this pod mod on will determine the wattage output, from 8w to 16w.
The replacement pod cartridge has an e-liquid capacity of 2ml, which is pretty much standard, and TPD compliant. There's an adjustable airflow ring under the drip tip, and it's something we've seen before with some of the best pod vapes as it's convenient and quick to adjust. It does snap into place via 2 large magnets, which not only allow you to quickly pull it on or off, but keeps it sturdy in place while vaping.
You can install one of three coils into the Spas-12 cartridge which include a 0.4 ohm Mesh, a 0.8 ohm regular, and a 1.2 ohm ceramic. The 0.4 ohm is best for regular e-liquids, while the 0.8 ohm and 1.2 ohm are better for your nicotine salt vape juices. Another great feature is the vibration function which reminds you of how much you're vaping. For example, if you vape 15 puffs within a 30 minute time span, it'll vibrate to let you know. Some vapers may not care for this feature, but those who want to keep track of how much they're actually vaping may prefer it. Lastly, there is an LED battery light indicator.
If you're in the market for a new vape kit that's not only ergonomic, but offers multiple voltage levels, and various coil heads for different vaping styles, then definitely check out the new 510Vape Spas-12 Kit. Just keep in mind that this deal is for a limited time only!
510Vape Spas-12 Vape Kit Features:
Aluminum Alloy & Resin Construction
950mAh Internal Battery
Wattage Output Range: 8w - 16w
Voltage Range: 3.3v - 4.2v
3 Output Levels
Ergonomic Shape
LED Battery Indicator Light
Vibration Effect
Refillable Cartridge

2ml Capacity
Easy Fill System
Adjustable Airflow Control Ring
Magnetic Connection

510Vape Spas-12 Coils

0.4 ohm Mesh
0.8 ohm Regular
1.2 ohm Ceramic

5 Colors Available
What's Included
510Vape Spas-12 Mod Battery
Pod Cartridge (Refillable)
0.4 ohm Mesh Coil
0.8 ohm Regular Coil
USB Charging Cable
User Manual
Warranty Card