Quit Smoking with Vaping: 5 Reasons Vapes Crush NRT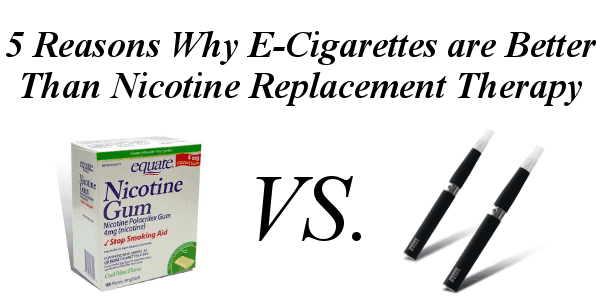 E-Cigarettes VS. Nicotine Replacement Therapy
For one of my college classes I was assigned to write a summary paper on a peer reviewed journal article. Since I love e-cigarettes, I found an interesting article titled 'Perceived efficiency of e-cigarettes versus nicotine replacement therapy among successful e-cigarette users'.
In it they studied people who had quit smoking with e-cigarettes but had previously been unsuccessful with other Nicotine Replacement Therapy (NRT) methods including Varenicline, nicotine gum, and the nicotine patch.
The Study
The study consisted of 11 people, 9 men and 2 women between 18 and 64 years old. They all had been smokers for 1 to 40 years, and all of them had failed to quit smoking with a NRT method. The study was based on survey responses and study groups.
The participants reported little success in previous attempts to quit with traditional NRT methods. They still craved cigarettes and most would usually end up relapsing. They all had bad experiences with the NRTs because a number of negative side effects. Some reported that the NRTs fulfilled the physical need for nicotine but not the psychological desire to smoke.
After talking to participants and going over their records, the researchers found 5 main themes or benefits of e-cigarette use. These may explain why users have been able to quit with e-cigarettes while failing with other NRT methods.
1. Bio-Behavioral Feedback
Users said that e-cigarettes closely mimic smoking. This includes the feeling of the vapor hitting you throat and exhaling a vapor cloud. They also reported that they were able to keep some of their smoking routine, such as vaping (instead of smoking) with their morning coffee.
2. Social Benefits
Users talked about the significance of having a community of vapers through online forums where people can talk and ask questions about vaping. There are a ton of people online that will help get you started and help keep you vaping rather than smoking.
3. Hobby Elements
Many e-cigarette users reported that it's become a hobby for them. They spend time looking for new e-liquid flavors and different devices to use. Others like to collect the different types of vaping devices.
4. Personal Identity
The majority of e-cigarettes users now call themselves "vapers" when previously they had been called "smokers". The e-cigarette gave them another identity instead of just being somewhere between "smoker" and "ex-smoker".
5. Difference between Smoking Cessation and Nicotine Cessation
E-cigarettes allowed them to quit smoking, but some were not ready to quit nicotine. Since users see e-cigarettes as safer than smoking, some are not in a hurry to quit nicotine completely.
This demonstrates that e-cigarettes can be very useful in helping smokers, however more research is needed. There are 5 main reasons why smokers perceive e-cigarettes as a better option than other NRT methods. This shows that there is a need for health practitioners and policy makers to not think of smoking as just a physical addiction to nicotine but a complex addiction with physical, behavioral, and social aspects. I hope researchers will continue to study e-cigarettes and all of their potential benefits.
You can read the full e-cigarette VS NRT study here.