VooPoo Drag Mini Kit Refresh Edition $27.16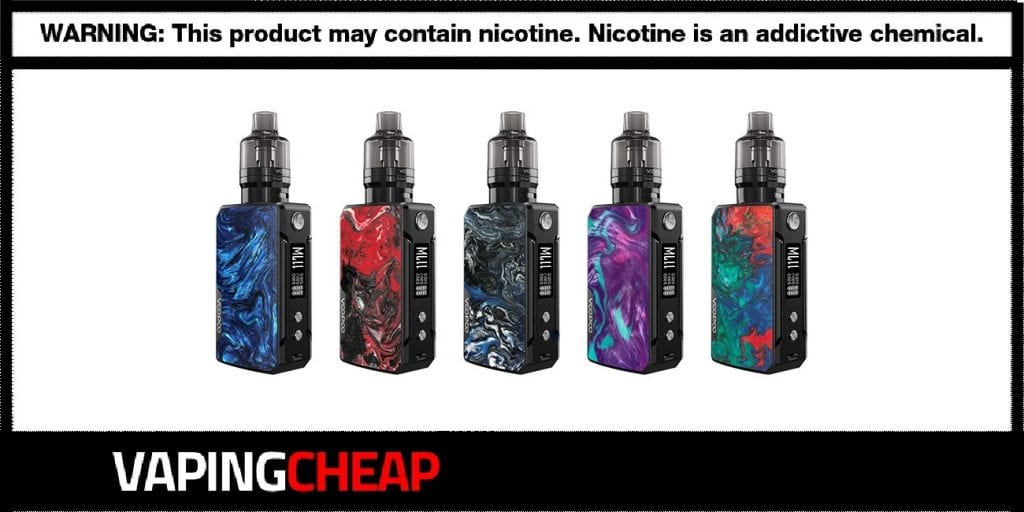 The new VooPoo Drag Mini Kit Refresh Edition is now in stock and on sale for only $27.16 after using the code "6TH10". It's also available from a USA based store for only $39.99 with free shipping over $75. There are five different color options to choose from.
The new Drag Mini Refresh Edition Kit from VooPoo features a large internal 4400mAh battery. Charging this device can be done via its micro-USB port. Additionally, it's powered by the Gene.Fit chipset, not only providing you with a great vape experience, but allows the Drag Mini to deliver 117w of power. That's quite a punch from such a small mod.
Besides all the safety features included, this chip provides a unique Fit Mode. This specific mode offers three different settings you can choose from. You've got a battery saver, flavor enhance and the last is to produce clouds. You have temperature control as well. One amazing feature is that the intelligent coil detector. This allows the chip to set the wattage to an output based on which coil you use, perfect for you beginners.
On the front of the Voopoo Drag Mini Refresh Edition, you'll see it's crystal clear OLED display screen alongside your firing, and wattage adjustment buttons.
VooPoo's Drag Mini Refresh Kit comes with the new VooPoo PNP Pod Tank in the box. This unique atomizer can swap from a pod or a sub ohm tank by adding and removing a few pieces. It also holds a large e-juice capacity of 4.5ml.
When it comes to the coils, you've got two different options to choose from. The first is a 0.2 ohm coil and the second is a 0.15 ohm coil. However, it gets even better because you can use the entire PNP coil line with this atomizer. Lastly, it does offer adjustable bottom airflow control.
If you're looking for a new vape kit that has a built-in battery, then you'll definitely want to check out the Drag Mini Refresh Edition by Voopoo. It's got a bunch of excellent features packed inside a tiny form factor, and packs a punch with its higher wattage output. Now, If you prefer something that can use external batteries, then take a look at the VooPoo Drag 2 Kit Refresh Edition.
VooPoo Drag Mini Refresh Edition Kit Features:
VooPoo Drag Mini Refresh Edition Mod

Internal 4400mAh battery
Maximum wattage output: 117w
Powered by the

Gene.Fit

Chip
User Modes: Fit Mode, TC Mode and VW Mode
Small OLED display screen
Multiple safety features
Three button design

VooPoo PNP Pod Tank

Maximum e-juice capacity: 4.5ml
Easy fill design
Can turn into a pod or tank (depending on attachment)
Compatible with the PNP Coil family
Adjustable bottom airflow
What's Included:
VooPoo Drag Mini Refresh Edition Mod
PNP Pod Tank
0.15 ohm coil
User Manual
0.2 ohm coil head
Warranty Card
USB Cable
Chip Card