Vaperz Cloud Asgard Mini RDA $40.50 (USA)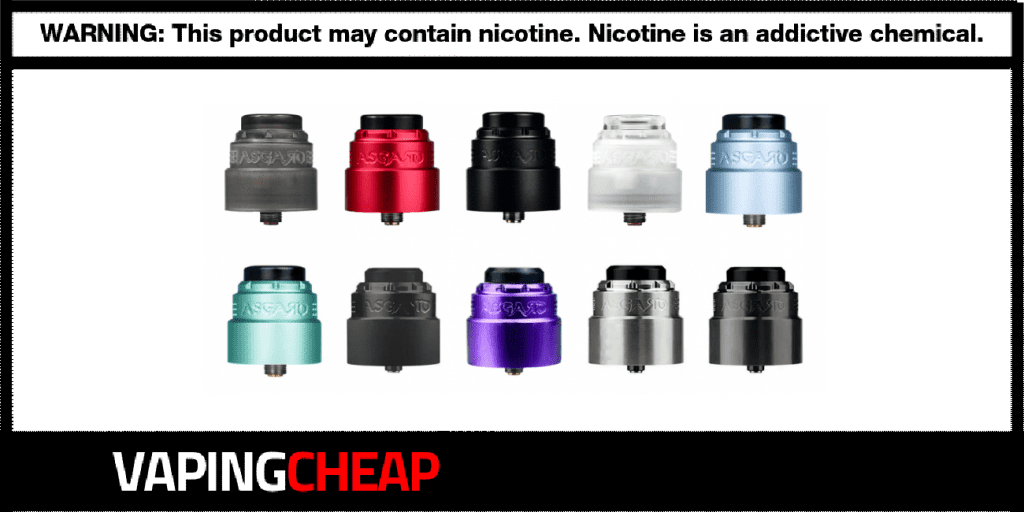 Here's a discount on the popular Vaperz Cloud Asgard Mini RDA. Buy yours from a USA based shop for only $40.50 with coupon "HARDWARE10". Free shipping is included over $80. There's a wide variety of color options that's back in stock including Matte Black, Matte Gunmetal, Smoked Out, Iced Out, Green, Electric Blue and many more.
Vaperz Cloud Asgard Mini RDA is primarily constructed out of stainless steel material. However, the top cap is constructed of either acrylic or metal. This depends on which color you go for. Additionally, it sports an overall diameter of 25mm. Included, you'll get a 28mm beauty ring, perfect if you prefer the look of larger attys.
The primary reason as to why the Vaperz Cloud Asgard Mini RDA is different from other RDAs is the build deck. It utilizes a unique semi-postless build deck. Since this is the case, it's super easy to guild on and even has a 6mm deep juice well! On top of that, the deck has a 24k gold-plated positive pin and post, ensuring excellent conductivity.
Another great feature is definitely airflow system. It sports an adjustable top airflow design, which helps reduce leaking. That's not it though, it does have an airflow diffuser and chamber reducer, so you won't only get a smooth draw, but insane flavor production. You can use the Asgard Mini on a squonk mod as well if you desire. Lastly, the top cap does lock in place, so you know when it's in the right position.
Easily, this is a favorite amongst many vapers. It simply performs that well, and for this price, it's definitely worth it. Don't miss out on getting your hands on the Asgard Mini 25mm RDA by Vaperz Cloud!
Vaperz Cloud Asgard Mini 25mm RDA Features:
Overall diameter: 25mm
Includes a beauty ring to extend it to 28mm
6mm deep juice well
Semi postless build deck
Gold plated positive pin and post
510 connection pin
510 BF Pin
Adjustable top airflow
Airflow diffuser
Chamber reducer
Locking top cap and rail system
Stainless steel construction
Tons of color options
What's Included:
Vaperz Cloud Asgard Mini RDA
28mm Beauty Ring
Airflow Diffuser
Chamber Reducer
Spare Parts
Gold Plated Squonk Pin
Check out the review for the Vaperz Cloud Asgard Mini RDA...