VapeOnly Space Mod Pod Kit $29.69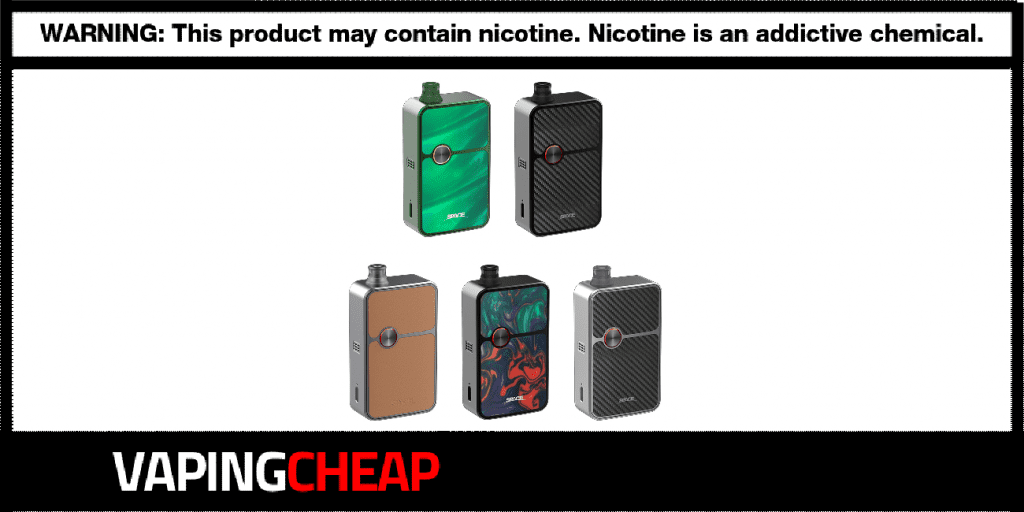 Here are cheap deals and discounts for the VapeOnly Space Mod Pod Kit. Grab this 60w device for just $29.69 using coupon code "Vapingcheap" and logging into your account. You're able to choose from multiple color options which include Carbon Fiber, Resin and Leather Panels.
The VapeOnly Space 60w Pod Mod Kit follows the trend of many other pod vapes being released within the past couple of months. It's very similar to an AIO (all in one) kit, just like what we saw with the dotMod dotAIO, which isn't a bad thing whatsoever.
With that being covered, the VapeOnly Space is powered by a single high drain 18650 battery. Additionally, it has an adjustable wattage output between 5w and 60w.
There is a small 0.69 inch OLED display screen as well which will show you the current wattage setting and more. As with a lot of other devices, it all comes down to the actual coil system when it comes to flavor and vapor. The VapeOnly Space Pod Kit features a replaceable coil system with an optional RBA section, allowing you use to utilize your own coil heads. For you vapers wanting simplicity, there are multiple other coils that can be used.
The first two coils are catered to direct lung vaping with a 0.4 ohm, and 0.6 ohm resistance. For MTL vapers, there's a 1.2 ohm coil option. What's even better is that the VapeOnly Space Mod Pod has a precise airflow adjustment system. This allows you to really dial in the airflow for both a mouth to lung, and direct lung vape. Lastly, the Space Pod Cartridge has a 3.5ml maximum e-juice capacity.
If you enjoy all in one pod kits, then you'll definitely want to add the VapeOnly Space Mod Pod Kit 60w to your collection. It's versatile thanks to the various coil options, and offers precise airflow adjustments, allowing to you get the exact vape you want.
VapeOnly Space 60w Pod Mod Kit Features:
Requires Single High Drain 18650 Battery (Not Included)
Wattage Output: 5w - 60w
USB Type-C Charge Port
0.69 Inch OLED Display Screen
Aluminum Alloy Construction
Intelligently Able To Adjust Power To Match Coils
Simple, Power & Voltage Modes
Refillable Pod Cartridge

3.5ml Maximum E-Liquid Capacity

Replaceable Coils
5 Color Options (Resin, Leather & Carbon Fiber Panels)
What's Included
VapeOnly Space Pod Device
Space Pod Cartridge with 0.6 ohm Coil Installed
Spare 0.4 ohm Coil
USB Type-C Cable
Warranty Card
User Manual