Uwell Valyrian 2 Replacement Coil $7.80 + FS!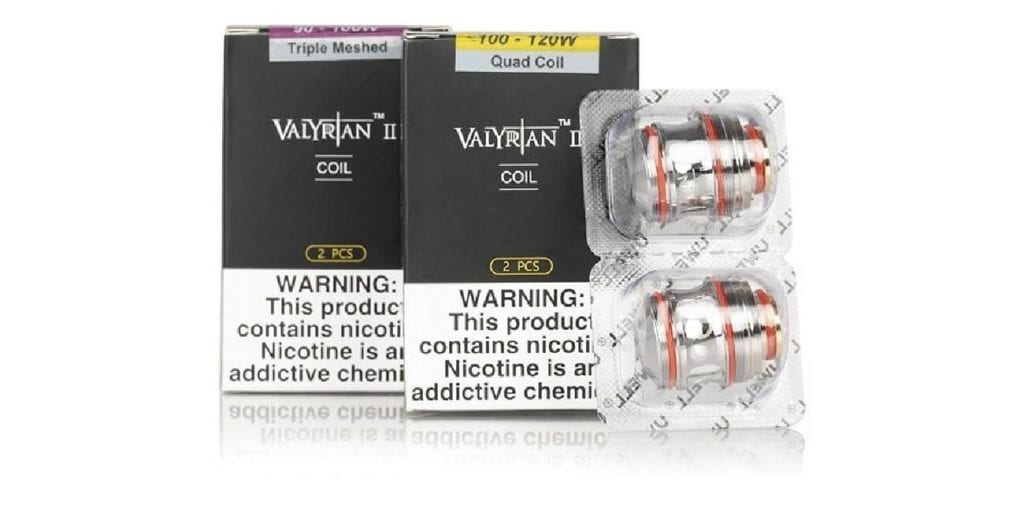 Here's a great deal on the Uwell Valyrian 2 Replacement Coil two pack! Get it from only $7.80 plus free worldwide shipping! It's also in stock at a US shipper from only $9.95 with free shipping on USA orders over $50.
Buy Cheap Uwell Valyrian 2 Coils
This 2 pack of replacement coils are compatible with both the standard Uwell Valyrian 2 Tank, and the Project Sub Ohm Edition version. With that said, there's a bunch of different Valyrian 2 Coils available, and covers different vaping styles with each option.
The standard coil is the 0.32 ohm UN2 mesh coil which is rated between 90w and 100w. There's also the dual meshed UN2-2 coil head rated up to 90w, so it's better for those preferring a little bit less wattage when vaping.
The other two coils are the 0.16 ohm triple mesh coil (UN2-3), which can be vaped up to 100w, and the 0.15 ohm Quad Meshed Coil which has a resistance of 0.15 ohm. Now, this specific coil is perfect for you vapers who enjoy vaping above 100w, as this one could handle up to 120w. Each Valyrian II (2) coil does feature organic cotton wicking alongside a traditional threaded coil design, so they're very easy to replace, and install into your vape tank.
If you're looking to stock up on coils for the Valyrian 2 for cheap, then this is a deal for you! Regardless of your vaping style, there's a coil that'll certainly fit your needs.
Uwell Valyrian 2 Replacement Coils Features:
Pack of 2 Coils
Organic Cotton Wick
Threaded Coil Design
Coil Options

0.32 ohm UN2 Mesh
0.14 ohm UN2-2 Dual Mesh
0.16 ohm UN2-3 Triple Mesh
0.15 ohm QUAD Mesh

Compatible with Uwell Valyrian 2 Tanks Only
More Great Vape Deals...
---
Horizon Magico Kit $24.96
For a limited time only, the new Horizon Magico Kit is now in stock and on sale from only $24.96! It's[...]