Keep It 100 Salts 30ml $5.95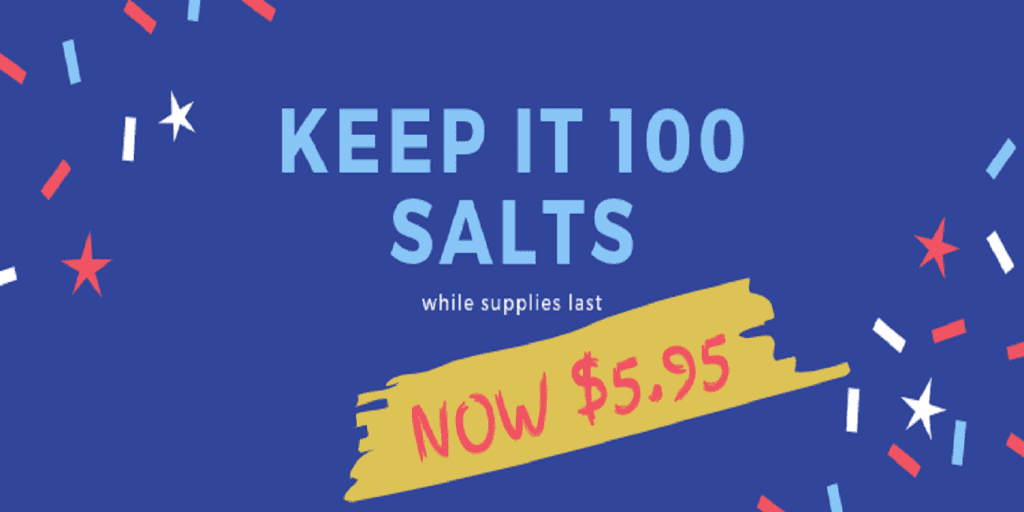 Here's an awesome deal on the Keep It 100 Salts e-juice line! Get a 30ml bottle for only $5.95! No code needed!
During this sale on Keep It 100ml Salt e-liquid, you can get 30ml bottles for just under 6 bucks! This e-juice line does consist of four different flavor options which include Mint, Mango, Tobacco and Blue Razz. There's only one nicotine strength available which is 40mg, so these e-liquids are perfect for your pod vapes.
Do keep in mind, since these are higher nicotine salt vape juice, they're not made for sub ohm use. They're ideal for your low powered devices such as pod systems, and mouth to lung tanks. Lastly, each flavor option does come in a small chubby gorilla bottle, and trust us, these are much easier to use when filling up pod cartridges, and tanks.
All in all, this is an amazing deal on the Keep It 100 Salt E-Juice line. If you're looking for affordable e-juice for your pod systems, then look no further! Don't miss out, with a price like this, these bottles will go quick!
Keep It 100 Salt Nic E-Juice
30ml Bottle Size

Small Chubby Gorilla Bottle

VG/PG Ratio: 50VG/50PG
Nicotine Strength Option: 40mg
Best For Pod Systesm & MTL Tanks
Not For Sub Ohm Use
4 Flavor Options

Blue Razz
Mint
Tobacco
Mango
Check Out This Keep It 100 Salt Nic Review