Starss Defender Kit 80w $39.90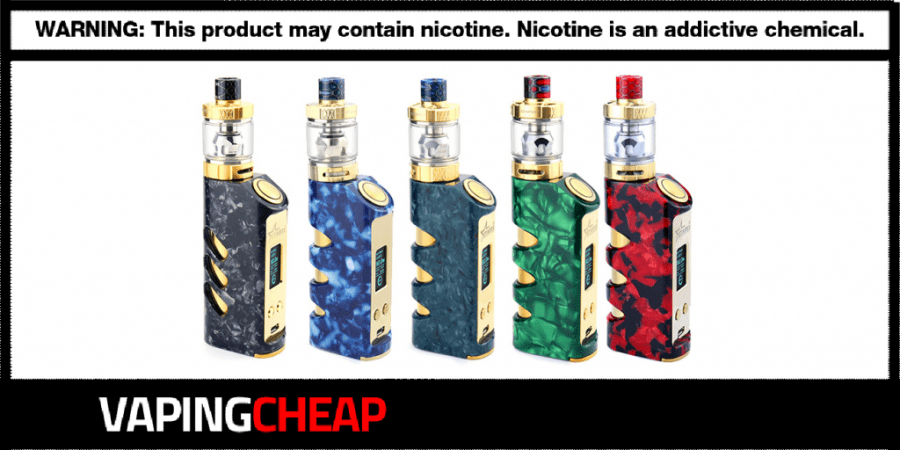 Here's a cheap deal and discount for the Starss Defender Kit 80w. Get yours for just $39.90 when applying the code "StarDK". There are four unique color options that you can buy which include Black, Blue, Green and Red.
The Defender 80w Kit by Starss includes both the Defender Mod, and Defender Mesh Tank. This device sports a unique exterior design which is not only eye-catching, but comfortable in the hands too. It does require a single high drain 18650 battery for operation, and can output between 5w to 80w.
Additionally, it has a large 0.99 inch LCD display screen right up front. There's a few different firing modes available as well including temperature control (Ni200, Ti, SS), bypass and power turbo.
The included Starss Defender Tank sports an overall diameter of 26mm. Also, it holds a maximum of 5ml, and features a top fill design. In the packaging, you will get a V8 mesh coil, which has a resistance of 0.5 ohm. With its higher resistance, you won't be needing a ton of wattage to get a great vape experience, which is a good thing when considering the Defender Mod is a single battery device. Airflow does come in from the bottom like most other sub ohm tanks, and there's a wide bore drip tip up top.
If you're looking for a unique looking kit, then you'll want to check out the Starss Defender Kit for sure. It's unique exterior is one of a kind, and has a bunch of features to satisfy most vapers. However, keep in mind this vape starter kit deal is valid for a limited time only, so don't miss out saving some cash.
Starss Defender 80w Starter Kit Features:
Starss Defender Mod

Requires Single High Drain 18650 Battery (Not Included)
Wattage Output: 5w - 80w
Minimum Firing Resistance: 0.1 ohm
Temperature Control (Ni200, Ti, SS)
Bypass & Power Turbo Modes
Unique Exterior Design
0.99 Inch LCD Screen
Spring Loaded 510 Connection

Starss Defender Tank

26mm Overall Diameter
5ml Maximum E-Juice Capacity
Top Fill
Adjustable Bottom Airflow
Wide Bore Drip Tip
V8 Mesh Coil (0.5 ohm)
What's Included
Starss Defender 80w Box Mod
Defender Mesh Tank by Starss
0.5 ohm Starss V8 Mesh Coil (Pre-Installed)
Micro USB Cable
Battery Warning Card
User Manual