Smok Nord 2 Pod System $17.91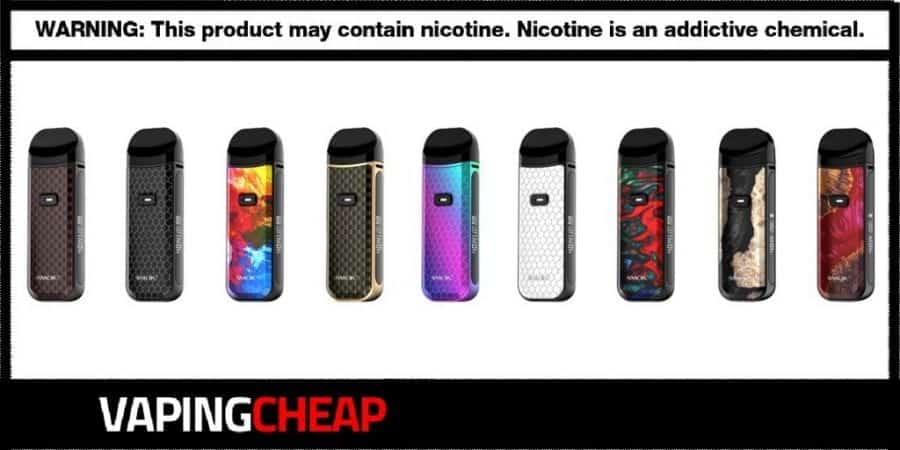 Here are cheap deals, discounts and sales for the brand new Smok Novo 2 Pod System. Get one for just $17.91 when using the code "HOT10". It's in stock at a USA based store for only $25.15 with code "HM10". There are 9 different color options you can choose from.
The Smok Nord 2 Pod System Kit is a huge improvement over the original Nord Pod that was released. It starts with the battery. The Nord 2 has a larger 1,500mAh internal battery, and charges via a micro USB port. Additionally, it can now provide the vaper with up to 40w of power. It doesn't stop there either.
You can fully control the output wattage by simply clicking the firing button three times. After, you can hold down the firing button to change the wattage. On the side of the Smok Nord 2, there's an 0.69 inch OLED display screen, which does show you various information.
Another great feature when comparing the Nord 2 versus the Nord is the fact that it's compatible with multiple coils. Included in the packaging, you'll get both the Nord 2 Nord Pod, and the Nord 2 RPM Pod. The first cartridge can utilize Nord Coils while the other can use RPM Coils. You can fill either from the side. Also, the maximum e-liquid capacity is a whopping 4.5ml. Check out the image below for a in-depth comparison between the Nord and Nord 2.
If you enjoyed the original, or looking for a new vape pod that's compatible with various coils, then you'll definitely want to check out the new Smok Nord 2 Pod System Kit. Just like the original, it's destined to be one of the better pod vapes to be released this year.
Smok Nord 2 Vape Pod Kit Features:
Internal 1,500mAh Battery
0.69 Inch OLED Display Screen
Adjustable Wattage Output: 5w - 40w
Smart Detection
Multiple Safety Protections
Minimum Firing Resistance: 0.3 ohm
Single Firing & Adjustment Button
Compact & Ergonomic Design
2 Pod Cartridges

Nord 2 Nord Pod
Nord 2 RPM Pod
Maximum E-Liquid Capacity: 4.5ml
Side Filling Slot

9 Color Options
What's Included with Nord 2 Pod Kit
Smok Nord 2 Pod Mod
Nord 2 RPM Pod with 0.4 ohm RPM Mesh Coil Installed
Spare Nord 2 Nord Pod Cartridge with 0.8 ohm DC Coil Installed
Charging Cable
User Manual
Check Out The Smok Nord 2 Review