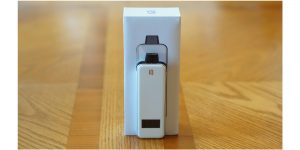 IQ 3SECS Pod System Review
In this review, we'll be taking a look at one of the newest pod systems to hit the market, the IQ 3SECS Pod System. These type of devices have become incredibly popular as of late due to the their portability, performance and the release of e-liquid with nicotine salts. This one specifically features an ultra sleek design, and offers an easy to use plug and play pod system, so it's great for both the beginner and advanced vaper.
This vape kit is currently offered in two different colors which are White and Black. We'll be covering our first impressions, usage, performance, pros and cons, and conclude with whether or not we recommend it!
[button color="red" size="big" link="https://vapingcheap.com/likes/VapeIQ/IQ-3SECS-Pod-System-Review" ]Purchase Here![/button]
First Impressions
The first thing I noticed when I received this product was the classy packaging. It's all white with an image of the device itself right on the front, and on the back you'll see some more information about the device itself and what's included. On the sides you'll see the IQ logo and on the other you'll see "Vape Smart. Vape IQ." which is what I'm assuming is their catch phrase or something of that nature. The packaging itself looks more "high end" and is something I like to see. First impressions are definitely important, and looking at their packaging, I was certainly impressed.
Once you slide open the box, you'll see the IQ 3SECS Pod System without the actual pod installed, which is a good thing. My first impression of the device is that it's very sleek looking. The color I received was White, but there is a black color option available as mentioned previously. The white color option is more of a shiny color rather than matte, but it looks great. It is a bit of a finger magnet as expected, but you can't really see it too much. The sides of the device are a matte silver color though and it does match up well, and the pod itself is like a smoked black color, which is pretty standard with pod systems.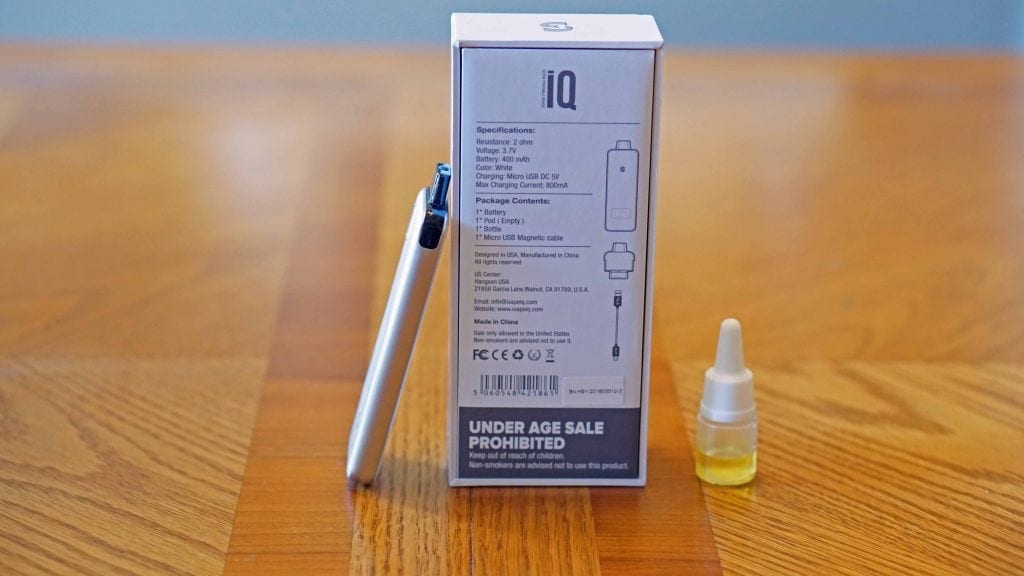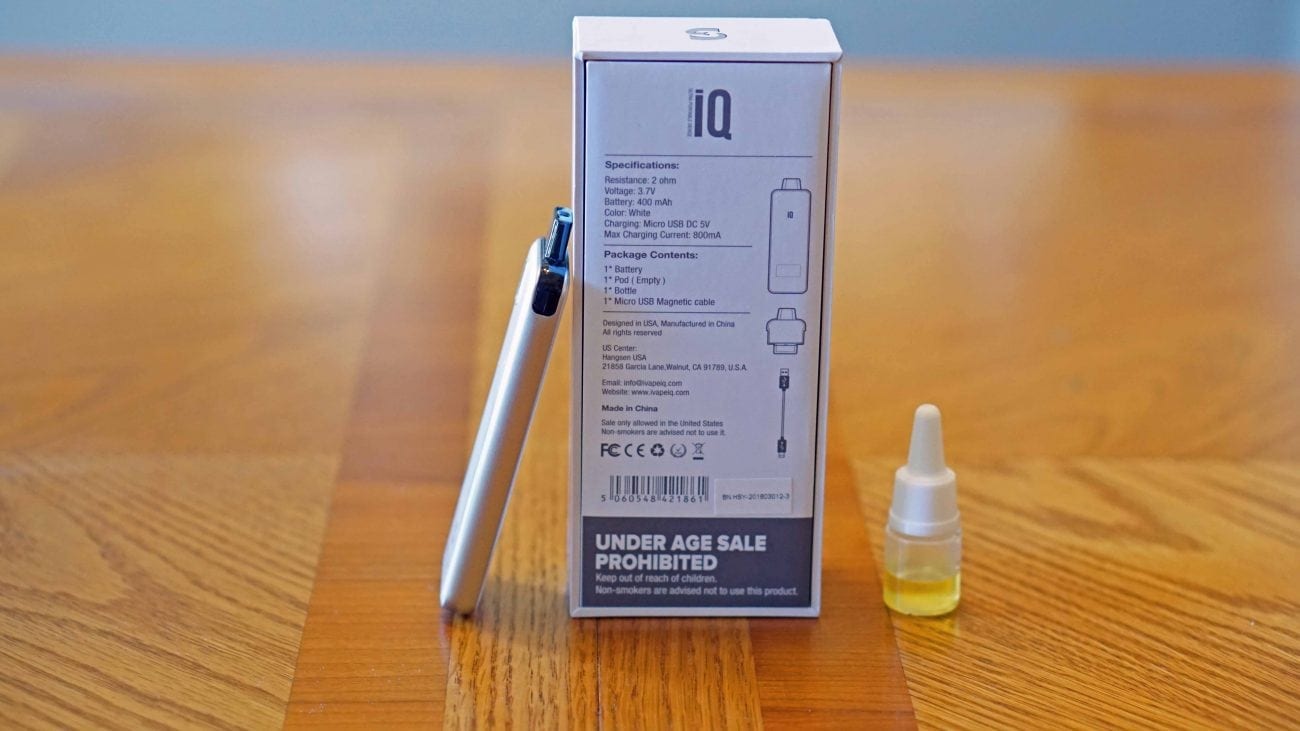 What sets this apart for me is the small screen located at the bottom. It's not touch screen nor can you make any adjustments, but it does show information such as the battery life and a puff meter. I'll get into this more specifically later on into the review.
Underneath the device is where you'll find all of the extras included which is the pod itself, a 5ml needle refill bottle, a USB charging cable, a warning card and a user manual. The pod itself is on the larger side, and the fill port is just off into the corner; hence is why they include this bottle. With thicker bottles such as unicorn bottles and chubby gorilla bottles, it'll be pretty difficult to fill, but with the included bottle it's much easier. The warning card basically tells you to saturate the cotton with e-liquid before use and let it sit for a minute. It also states you should replace the pod after 3 refills.
All in all, my first impressions of the IQ 3SECS was great! I loved the look of the device itself, and was surprised to see there's a screen, as this is not something you see with pod systems at all.
Usage
When you see most pod system, they're very small and discrete. Although this one is not very large, it is bigger than some other pod systems on the market. However, it's pretty thin, making it very pocket friendly. With pretty much any pod system, you won't have any issues carrying them in your bag, pocket or purse either.
The IQ 3SECS Pod System is very comfortable to hold though. All of the edges are smooth and rounded out so there's no sharp edges to be found whatsoever. The charging port is located at the bottom, which is also pretty standard with most pod systems available. Speaking about charging, this device does have a 400 mAh internal battery, and it doesn't take very long to charge.
It takes maybe an hour at the most to charge if it's completely depleted, and that's using my computer to charge it. Although it only has a 400 mAh battery, the battery life is pretty good with this device. If you're chain vaping, then of course it won't last as long, but I could get through most or all day with a single charge. I do want to mention there is pass through charging, so you can vape while charging.
With any pod system, it's highly recommend to let the pod sit for 10 to 15 minutes before taking a vape. Filling this pod can be difficult at times, especially if you're not using the included bottle since the port is right alongside the bottom corner. There's not a lot of room to really stick a unicorn tip in there, but it can be done. I wouldn't recommend using a dropper bottle either as the fill port is quite small.
If you have a thin unicorn bottle with a very narrow tip, then I would say that's fine, but I do recommend using the included needle tip bottle. The included bottle is easy to fill, but it's quite hard to press or squeeze.
When you're filling with the included bottle, you can fill this pod fully within a few seconds, just be sure to squeeze the bottle with some effort though. I do with the bottle was a bit softer, but it's not the biggest issue in my opinion. The pod itself does hold 2ml, which is a respectable amount, and you won't be plowing through e-juice since this is a mouth to lung device. The atomizer resistance is 2.0 ohm as well.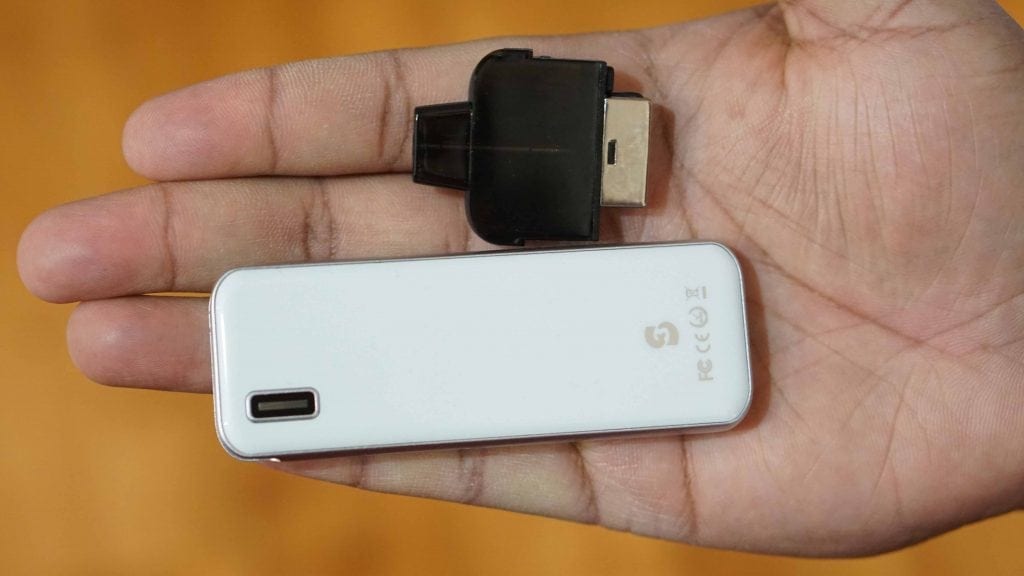 What's great about these pods is that the drip tip is built in, so every time you switch pods, you get a clean drip tip. It's a small thing to look at, but it's appreciated, especially with pod systems where you're not going to really be using your own custom drip tip. It is a proprietary connection as well, so you can only use these specific pods or any built specifically for this pod system.
Once you filled your pod, and it's good to go, simply slide the pod into place. You'll know right away when it makes a connection, because the screen turns on automatically. The screen itself is really nice, and bright. It's very easy to see as well in pretty much any situation. It does display your current battery life and a puff counter. It doesn't count how many seconds, but while you're vaping you'll see a small animation happening, which is a nice touch.
It's really simple to get this ready to be vaped, just fill your pod, let it sit for a short amount of time, insert the pod into the device, and you're ready to vape! This makes it great for both the new vaper who just switched from smoking, and the advanced vaper looking for something where they can just grab and go without having to worry much.
Overall, using the IQ 3SECS Pod System is very easy, which is definitely a good thing! The only annoyances I had while using it was that the included refill bottle was a bit stiff, and some e-liquid bottles such as thicker unicorn bottles or dropper bottles aren't the greatest to use when filling this pod.
[button color="red" size="big" link="https://vapingcheap.com/likes/VapeIQ/IQ-3SECS-Pod-System-Review" ]Purchase Here![/button]
Performance
I will say right away that with a mouth to lung vape, I prefer the draw to be on the tighter side. With that being said, the draw on this pod system is wonderful. It's pretty tight, but very smooth, making it an excellent mouth to lung vape experience. It does feature a draw activated firing system, so you don't have to worry about pushing a button to vape. Simply take a draw and you're vaping!
The IQ 3SECS does have a maximum voltage output of 3.7v, and the atomizer resistance is 2.0 ohm. Although it doesn't sound like much, this device does perform really well and it's very consistent. The vapor production is good considering it's a mouth to lung setup. Don't expect to blow tons of clouds with a device like this.
The flavor on this device is very good, but it does take a little bit for the pod to break in. I would say it does have about a quarter fill or so breaking period where you won't get full flavor. However, once it's fully broken in, the flavor is spot on and definitely better than some of the other pod systems I've used in the past. With these style of devices, I do recommend higher nicotine strengths such as 12mg or 18mg, or e-liquids with nicotine salt at 25mg, 35mg or 50mg. I was personally using a 35mg e-liquid with nicotine salt, and the performance was fantastic. I was satisfied with each and every vape.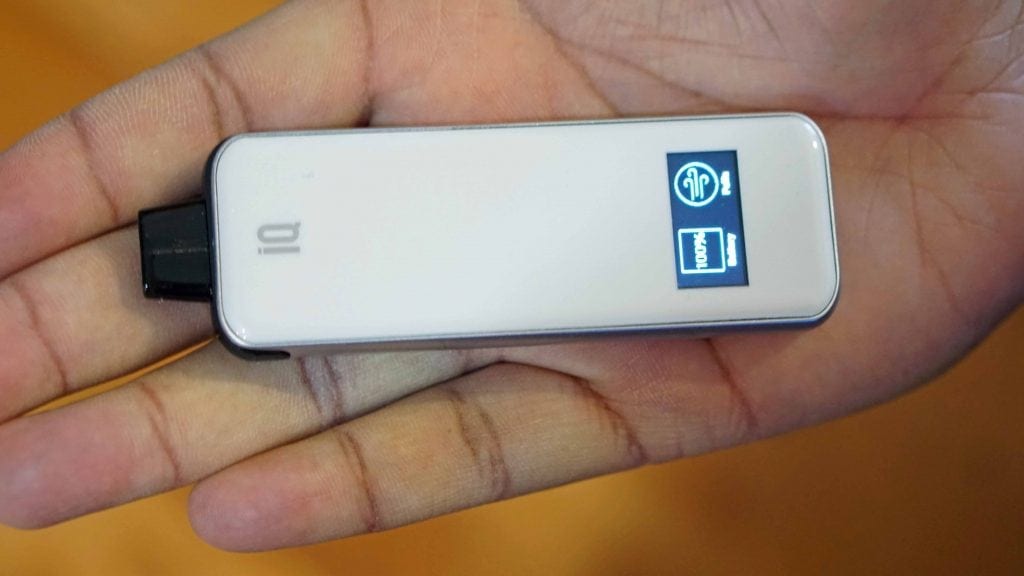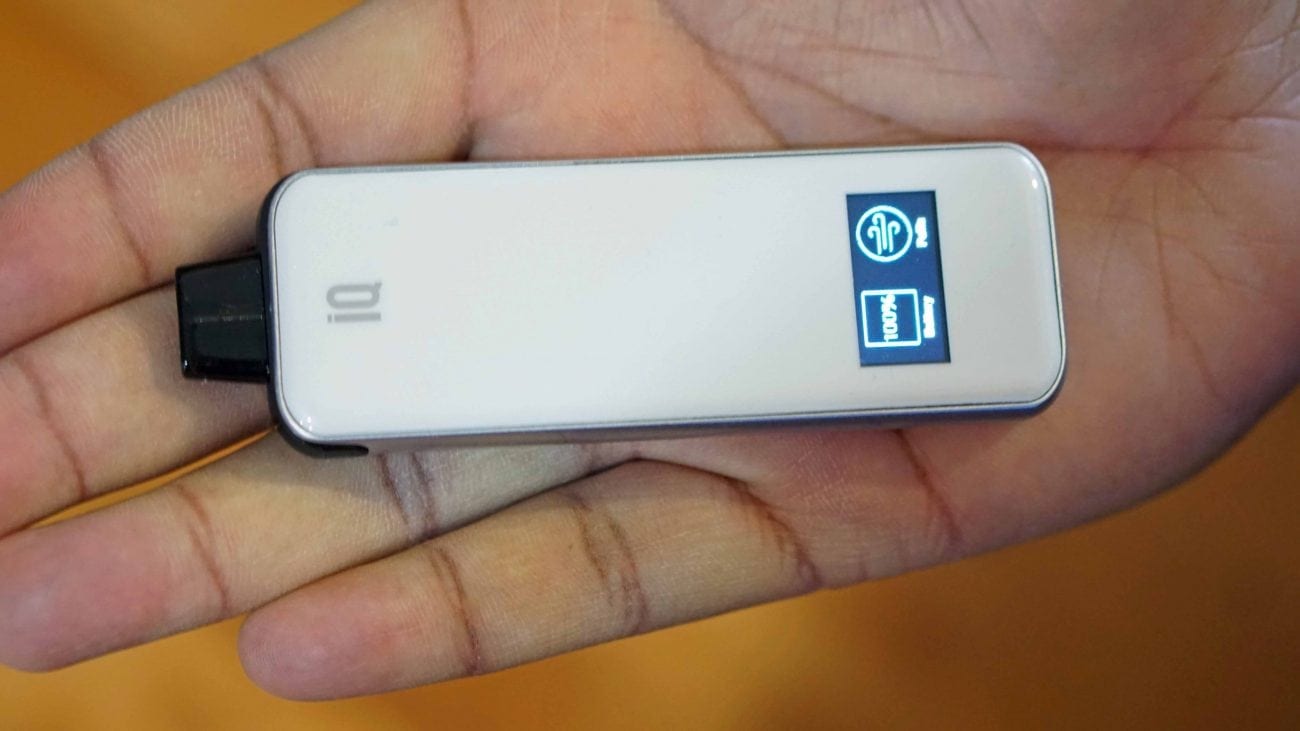 As mentioned previously, the warning card mentioned that after 3 refills it's recommended to use a new cartridge or pod. I think you could probably get away with more than that, especially if you're vaping on an e-liquid with little to no sweetener. However, you'll probably notice a small lack in performance in flavor once the pod hits its 3rd refill and more so after. A con to be mentioned is that it only includes 1 pod. I think all pod systems should at least come with 2 just in case the one it comes with happens to be a bad pod or coil and plus it just gives the overall package more value.
With its 2ml e-liquid capacity, I could easily get a full day of vaping. If you're chain vaping often, you're probably going to go through that full pod in 4 to 5 hours or so. This is subjective really as sometimes a full 2ml pod will last me a couple days if I'm using other devices alongside it.
All in all, the performance of this pod system is excellent. The draw is pretty tight, and very smooth which is what I personally prefer with devices like this. Not to mention, the flavor was great!
Pros
Excellent Build Quality
Sleek Design
Smooth MTL Draw
Good Flavor
Easy to use
Cons
Includes only 1 Pod/Cartridge
Fill Port is small
Included e-juice bottle is hard to squeeze
Conclusion
In conclusion, the IQ 3SECS Pod System not only looks good, but it performs great as well! This is definitely one of the best looking pod systems on the market in my opinion, and the screen is something that's much different and sets it apart. Now, not everyone will care for a screen on a device like this, but I like it, especially since it displays your battery life.
There were some cons to be mentioned though such as the inclusion of only 1 pod and the fill port. This is something that can be fixed with future pods, but it's not a major issue for me, especially since I've been using the included refill bottle. That does lead into the final con, the included bottle is pretty stiff and hard to squeeze. However, you can always purchase other bottles if necessary with these types of tips for pretty cheap.
All in all, if you're looking for a new pod system that performs as good as it looks, then I do recommend checking out the IQ 3SECS Pod System. It's definitely staying in my rotation of pod systems.
We hope you find this review helpful in finding the right vaping device to fit all of your vaping needs! Feel free to leave any questions or comments down below! Thanks for reading!
[button color="red" size="big" link="https://vapingcheap.com/likes/VapeIQ/IQ-3SECS-Pod-System-Review" ]Purchase Here![/button]
Product Description:
All In One System
400 mAh Internal Battery
Micro USB Charging (Includes USB Charging Cable)
Draw Activated Firing System
Maximum Voltage Output: 3.7v
0.96 Inch Display Screen
Plug and Play Design
2ml E-Liquid Capacity
Atomizer Resistance: 2.0 ohm
Includes 1 Pod, User Manual, 5ml Needle Tip Refill Bottle, & Warning Card
Colors Available: White, Black