Dovpo TopSide Lite Mod $36.71 | Kit $48.27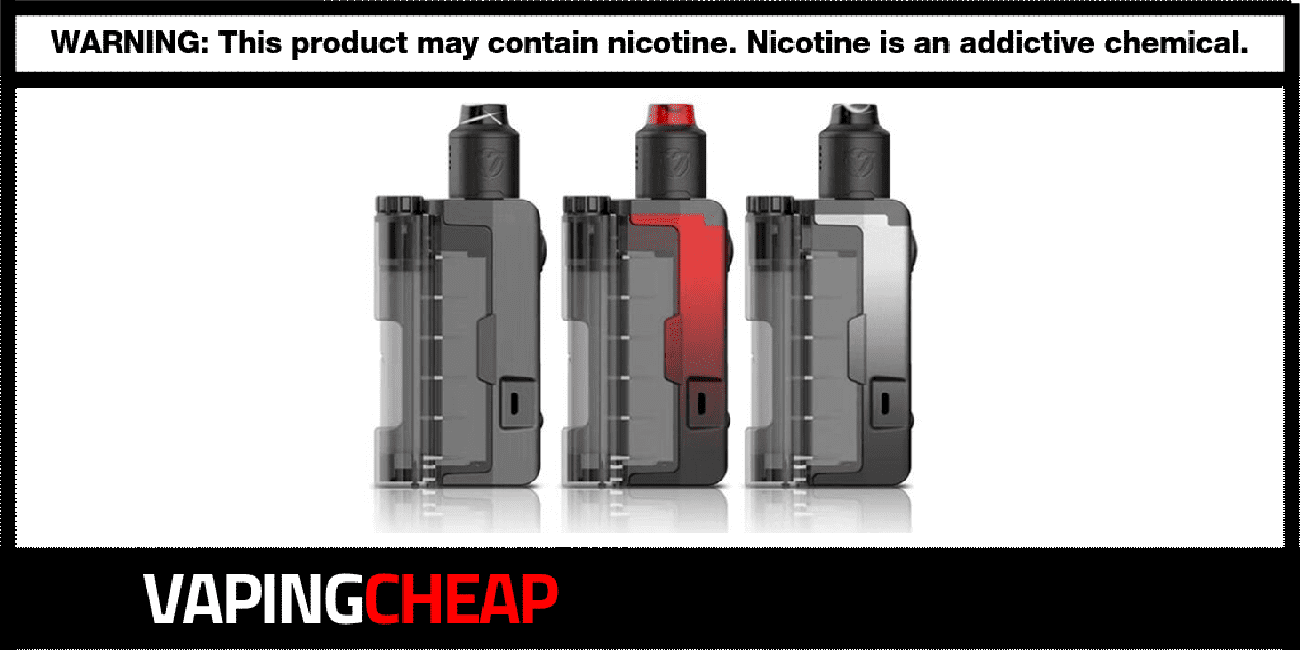 The new Dovpo TopSide Lite Mod and Kit in collaboration with TVC (The Vapor Chronicles) is now in stock and on sale. Get the mod for only $36.71 using the code "LITEM". The full kit is also on sale from a USA based shipper for $68.36 with code "NEW5". There are currently 3 color options which include Black, Red and Silver.
The Dovpo and TVC TopSide Lite Kit includes both the TopSide Lite Mod and Variant RDA. While, the TopSide Lite sports a similar design to the original, it's completely different. Unlike the TopSide Dual, this one requires a single high drain 20700 or 21700 battery for operation.
In addition, it can provide up to 90w of power, or a maximum voltage output of 8.5v. Although it doesn't have a premium chipset like the TopSide Dual Carbon, Dovpo's chipset is actually performs quite good.
Now what makes the Dovpo TopSide Lite unique is the ability to change it from a squonk mod to a regular box mod. This can be done by changing out the back module, so it's quick and easy process. What's even better is the construction. The TopSide Lite is constructed of Polycarbonate and PCTG material, making it both durable and super lightweight.
When using this device as a squonker, it still has that awesome top filling feature. This is one of the main features as to why vapers loved the original, so we're glad they kept it. Some other features include temperature control for multiple wire materials, and a leak resistant 510 base. Lastly, it can fire down to 0.08 ohm, and has a 0.96 inch display screen.
As mentioned earlier, the Dovpo Topside Lite 90w Kit does include the Variant RDA. It features a raised postless styled build deck, which makes coil installs a breeze. What's great about this deck is that you can use either a single or dual coil build.
Additionally, it has a fully adjustable airflow control system, and a deep juice well. The actual top cap does lock into place, so you can easily take it off the TopSide Lite Mod. Lastly, at the top is a pre-installed wide bore drip tip that'll match the color chosen.
Fans of the original TopSide Mods will surely want to grab this new version. It's definitely an upgrade, and what's even better is that you can change it from a squonker to a regular box mod. So you'll be able to use this device with any atomizer.
Dovpo TopSide Lite 90w Kit Features:
Dovpo Topside Lite Box Mod

Requires Single High Drain 21700 or 20700 Battery (Not Included)
Wattage Output Range: 5w - 90w
Maximum Voltage Output: 8.5v
Minimum Firing Resistance: 0.08 ohm
Polycarbonate & PCTG Construction
Modular Design

Can Swap Between Squonk Mod & Regular Mod

0.96 Inch OLED Display Screen
Leak Resistant 510 Base
Temperature Control
Top Fill System (Squonk Mode)
Ergonomic Design

Variant RDA

Stainless Steel Construction
Adjustable Airflow System
Raised Postless Style Buil Deck
Wide Bore Drip Tip
Locking Barrel Section
What's Included
Dovpo & TVC Topside Lite Mod
Dovpo Variant RDA
Squonk Battery Cover
Plain Battery Cover
Battery Adapter Sleeve
Bag of Accessories
USB Cable
2x User Manuals
Warranty Card
Check Out The Dovpo TopSide Lite Review