COTN Lace Premium Cotton $5.40 (USA)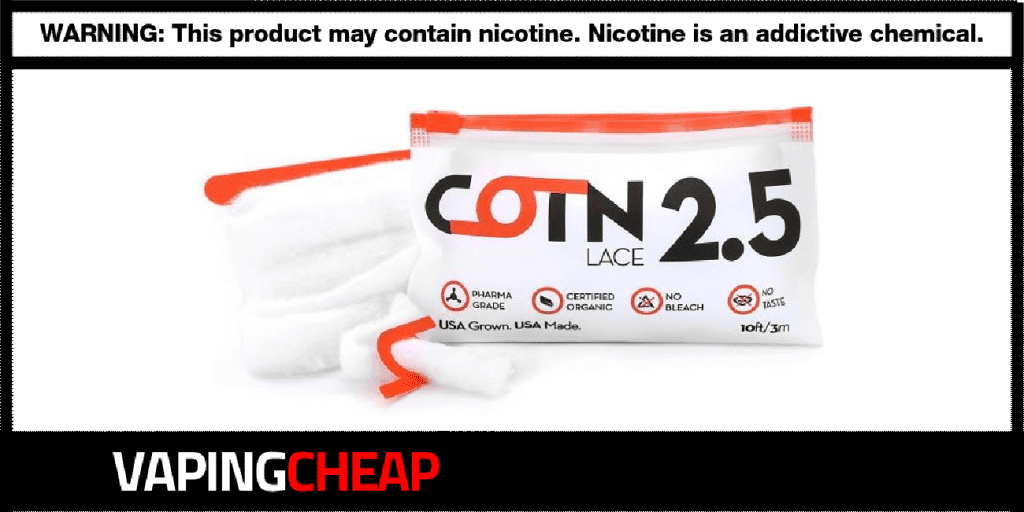 Here's a cheap deal and discount on the COTN Lace Premium Cotton. Get one for just $5.40 using coupon code "vapingcheap10"! Free shipping applies to orders over $50.
COTN Lace Premium Cotton is one of the latest releases from this brand, and they've made this one even better than before. Like the originals, it's very easy to use, and makes wicking a total breeze. It's the same great quality as you'd expect too. This includes a pharmaceutical grade cotton, that's certified organic. Each pack includes a whopping 10 feet, and it's available in three different size which are 2.5mm, 3mm and 3.5mm. They've covered all the bases with this one.
Now, what makes Cotn Lace Premium Cotton so easy to use is the fact that it has plastic tube end. Additionally, it comes in a resealable travel bag, so it's very easy to store, and organize. Since this vaping cotton is already sized, all you need to do is cut your preferred length, and install into your coil, that's it! After you're done, put the cotton back into the travel bag.
If you've used their products in the past, then you know they've got some of the best. There's little to no break in time, and they make the entire wicking process so much faster. Now, if you haven't had a chance to try out COTN, we highly recommend grabbing a bag, you won't be disappointed.
COTN Lace Vape Cotton Features:
Comes In Travel Sized Resealable Bag
Includes 10ft of Cotton
3 Sizes Available (2.5mm, 3.0mm, 3.5mm)
Pharmaceutical Grade Cotton
Plastic Tube End
Easy to Use
Certified Organic Cotton
Made In USA