Circus Cookie Review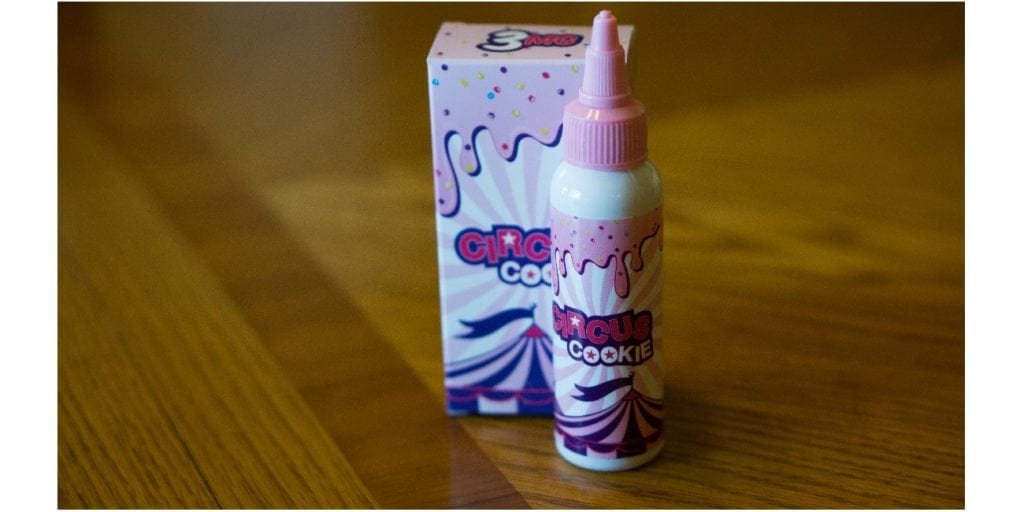 E-Juice Review
Cookie flavors have been popular for some time now, and with the tons of cookie flavors on the market, it can be quite difficult to pick one that fits exactly what you want. Circus Cookie E-Liquid brings you a dessert flavor that has a cookie base, and is surrounded by strawberry and sprinkles. This e-juice comes in a 60ml bottle with a twist top for the price of a standard 30ml premium e-liquid bottle. The nicotine strengths available are 0mg, 3mg and 6mg.
Before getting any further, I would like to thank Breazy for sending this e-juice for the purposes of this review. I will give you my overall thoughts about Circus Cookie, and conclude with whether or not I recommend this flavor! Remember, taste is subjective so what I may like you may not like, and what you may like I may dislike. Next, I will go over the specific mods and atomizers used to test this e-juice.
Mods & Atomizers
First Setup:
HCigar VT167 with Hop N Vape Roshomon RDA
Build: Dual Clapton Coils (24GA Kanthal/36GA Kanthal)
Resistance: 0.23 ohm
Second Setup:
Sigelei 213 TC Box Mod with Wotofo Serpent Alto RTA
Build: Single Clapton Coil (26GA Ni80/36GA Kanthal)
Resistance: 0.68
Flavor Review
Flavor Description: The same beloved flavor of a circus cookie drenches your wicks and produces a smooth dessert vape flavor that is for the ages. Rich cookie flavor with strawberry frosting and a perfect level of sprinkles. Goes perfect with coffee or any time of day.
Nicotine Strength: 3mg
VG/PG Ratio: 80VG/20PG
Inhale: Cookie flavor
Exhale: Cookie flavor mixed with hints of strawberry and sprinkles
Throat Hit: Smooth
Overall Thoughts:
This is a very solid cookie flavor and has turned into one of my favorites. I'm a big fan of dessert flavors, and Circus Cookie did not disappoint. On the inhale, I get a nice cookie flavor and its pretty tasty. On the exhale is where this flavor shines, you do get the same cookie flavor and it is the dominant flavor throughout the entire exhale. However, you do taste a hint of strawberry and on the tail end of the exhale, you do get a sprinkles flavor.
The throat hit of this e-juice is smooth, and I did not experience any stinging or burning through the nose. Also, the vapor production is excellent, and is what you would expect with an 80VG/20PG e-juice. I do want to mention that this e-juice was great right out of the mail, and I did not find any need to steep it.
All in all, this is an excellent cookie flavor, and this is easily an all day vape for me. Also, it's a huge pro in my book that I taste exactly what it says in the flavor description. The cookie flavor is done really well, and the entire flavor blends together perfectly. In addition, there's just the right amount of sweetness that makes you want to come back for more. If you're a fan of cookie or dessert flavors, I can easily recommend Circus Cookie!