Augvape Tuglyfe Pod System BOGO Sale! $19.99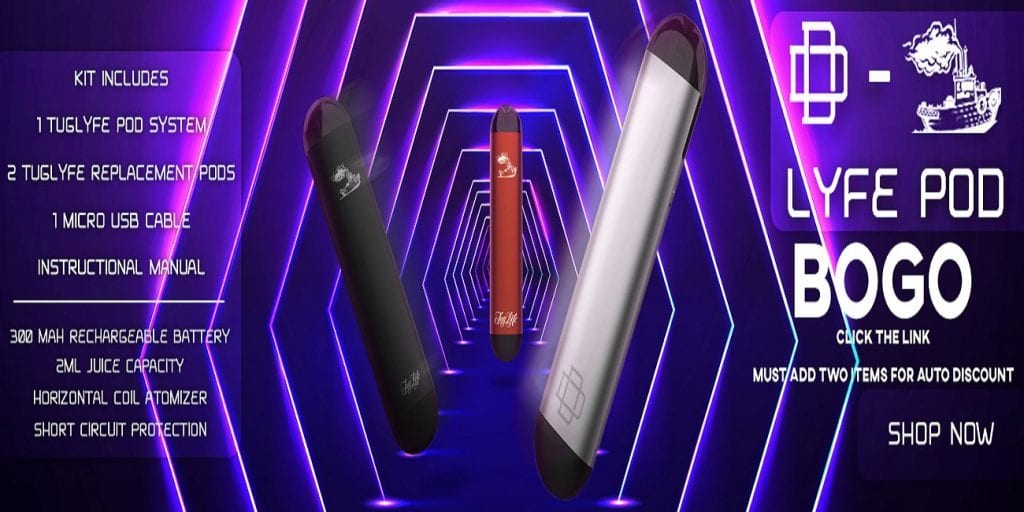 For a limited time only, Flawless Vape Shop is having a BOGO sale on the AugVape Tuglyfe Pod System where you can get TWO Augvape Tuglyfe for only $19.99! All you need to do is add two pod systems in your cart and the discount applies!
The Augvape Tuglyfe Pod System has a unique design, making it comfortable to hold and easy to travel with. In addition, this device has an internal 300mAh battery, which can be charged via USB cable. The Tuglyfe Pod System has a LED light indicator.
This pod kit does include two replacement pod cartridges. Each pod utilizes a horizontal coil, so they'll wick great and provide great flavor. Also, each replacement cartridge does hold about 2ml of vape juice. Lastly, each replacement pod has a resistance of 2.0, which is perfect for your nic salt e-juices.
All in all, this is a excellent deal for the Augvape Tuglyfe Pod System! If you're a fan of Augvape and looking to get a pod system for cheap plus get an additional pod system for FREE then this is a vape pod deal you cannot pass up on! Be sure to check out this deal at Flawless Vape Shop where you can get TWO Augvape Tuglyfe Pod System for only $19.99!
Augvape Tuglyfe Pod Vape Features:
300 Mah Battery
Maximum Wattage: 7.6w
Maximum voltage output: 4.2v
Maximum e-juice capacity: 2ml
Includes 2 refillable pods
Ergonomic oval design
1.8ohm resistance
LED indicator light
Multiple safety features