Asmodus Minikin Kodama 21700 Mod $226.09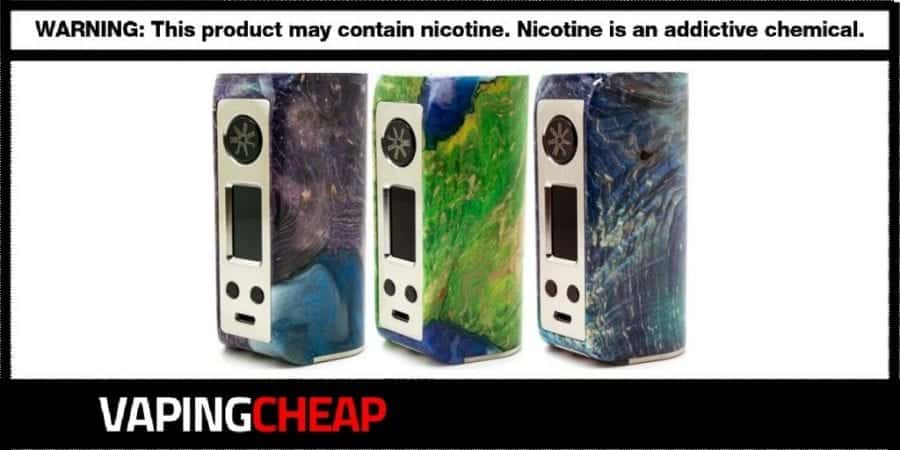 For a short time only, the Asmodus Minikin Kodama 21700 Mod is on sale starting from $226.09 after logging in and using the code "3A15". You can also find it on sale at another China based store for only $238.95 plus free shipping. color options available which are Blue, Green and Purple.
This new Asmodus Minikin Kodama Mod is powered by two high drain 21700 batteries. Although this is true, it's incredibly comfortable to hold thanks to its ergonomic form factor. Additionally, it uses the GX-180TC-2 Chipset and has a maximum wattage output of 180w.
Like a lot of luxury mods, the Minikin Kodama 21700 is constructed out of stabilized wood and has a head turning resin finish.
One notable feature about this mod is the actual packaging. It comes in a custom wood box, which is definitely a nice touch. This makes it easy to store while not in use, and you can use utilize it for other devices or accessories.
The Minikin Kodama 21700 by Asmodus has various user modes such as TC, TCR, Curve and TFR. The temp control mode supports most TC compatible wire such as Ni200, SS and Ti. Additional features include Eco and Stealth modes. You can also upgrade the firmware as well.
Another great feature is the large 0.96 inch HD display allowing you to see the battery life, wattage output and resistance clearly with no issues. Lastly, as you'd expect, it has a ton of different safety features built in.
If you enjoy high end mods or stabilized wood devices, then you'll definitely want to check out the new Asmodus Minikin Kodama 21700. There's not many mods that's both stab wood and houses 21700 batteries.
Asmodus Minikin Kodama 21700 Mod Features:
Requires Two High Drain 21700 Batteries (Not Included)
Maximum Wattage Output: 180w
Powered By GX-180TC-2 Chipset
Temperature Control (Ni, Ti and SS)
TCR, Curve and TFR Modes
Stabilized Wood Construction
Resin Finish
Multiple Safety Features
Firmware Upgradeable
Large HD Display Screen
What's Included With The Asmodus Minikin Kodama 21700 Box Mod
Asmodus Kodama 21700 Mod
USB Cable
User Manual