Vaporesso OSmall Pod Kit $6.90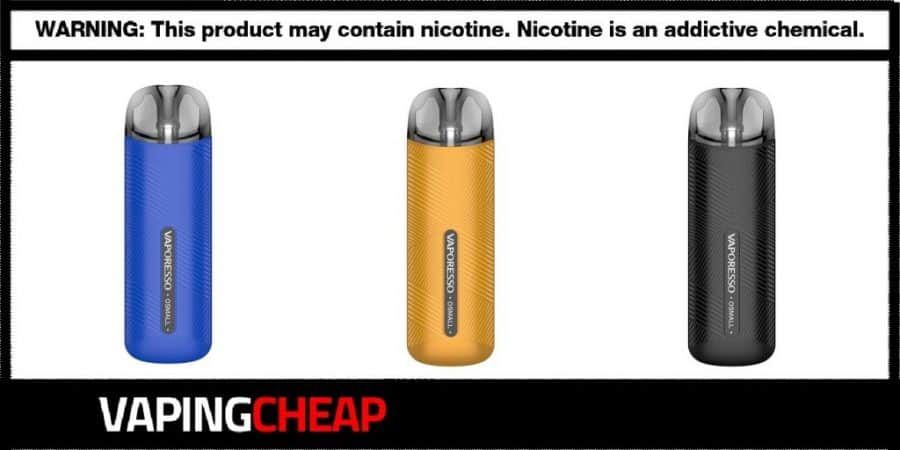 Here are some cheap deals on the Vaporesso OSmall Pod Kit. Get yours at a discount, for only $6.90 with code "OSMALL". It's back in stock and on sale at a USA shop for just $7.18 using coupon "VC15". There are various color options available including Blue, Black, Rose, Gray and others.
The new OSmall Vape Pod by Vaporesso has a textured and compact design making it super comfortable to hold in your hand. With its overall size, and construction, it's perfect for when on the go and stealth vaping. It has a built in 350mAh battery alongside a maximum wattage output of 11w. You can charge this pod by using the included micro USB cable, and this wouldn't take long whatsoever.
Vaporesso's OSmall Pod Kit does use a pull to fire mechanism (draw activated), just like we've seen with some of the best pod vapes on the market. This makes it simple and easy to use. The best part about the OSmall pod mod is that it features the Omni Board Mini Chip which provides the vaper with a smooth smooth vape and five different safety features.
Included in this kit is a 2ml refillable pod, that can be filled from the side. Lastly, it does have a 1.2 ohm resistance, ideal for a mouth to lung vape, and pairs perfectly with your nic salt e-juices.
If you're looking for yet another cheap, but solid performing pod device, then you'll want to check out the Vaporesso OSmall Pod Kit. For the sale price it's going for, you just can't go wrong.
Vaporesso OSmall Pod System Features:
Internal 350mAh Battery
Maximum wattage output: 11w
Powered by Omni Board Mini Chipset
Multiple safety features Built In
Textured design
Osmall Refillable Pod

2ml e-juice capacity
Side fill design
1.2 ohm coil resistance

Pull to fire design (draw activated)
What's Included
Vaporesso OSmall Battery
1.2 Ohm Refillable Pod
USB Cable
User Manual
Warranty Card
Check Out The Vaporesso Osmall Pod Vape Review