Vandy Vape Kylin M AIO Pod Kit $25.50 (USA)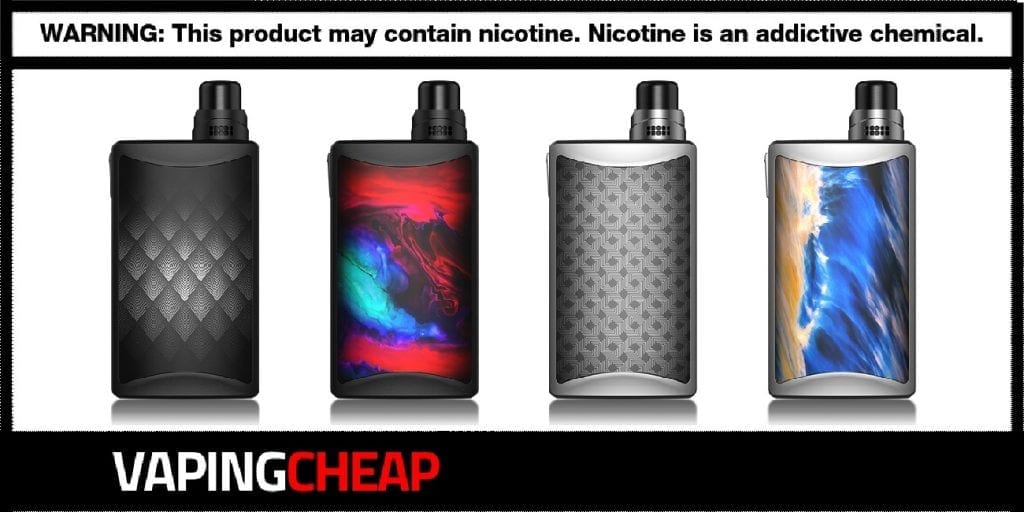 Here's a great discount for the Vandy Vape Kylin M AIO Pod Kit. It's on sale for a limited time only from a USA based store for only $25.50 plus free shipping over $80 when applying the coupon "USA15". There are four vibrant color options to choose from including Wormhole, Fantasy Forest, Silver Moonlight and Polar Phantom. However, only 2 options are left in stock at this cheap price.
The Vandy Vape Kylin M AIO Pod System requires a single high drain 18650 battery for operation. In addition, this all in one device has a maximum wattage output of 70w and is powered by the Vandy Chip.
What's great about this device is that it is waterproof just like their previous release, the Vandy Vape Jackaroo Kit. So not only does the Kylin M AIO vape pod look good, but it's quite durable too. There's a ton of safety features built in as well including short circuit, reverse polarity and others.
Now what makes this unique, and not like most other pod vapes is the multiple user modes including variable wattage, variable voltage and even temperature control for stainless steel wire. The hidden display screen gives the Kylin M pod system a clean overall look. Inside the panel, you'll also find two wattage control buttons and a USB Type-C port.
What's even better than the features is what's included in the packaging. Firstly, the Vandy Vape Kylin M AIO Pod Kit includes two different refillable pod cartridges. The first pod cartridge is a 5ml rebuildable pod, so you can DIY or use the included sets of pre-built coils.
With the second Kylin M pod cartridge, you can use the pre-built 0.3 ohm coil head. However, it does hold half the capacity, a maximum of 2.5ml. Either way, they're easy to fill with the side filling ports. Last but not least, the adjustable side airflow is quite similar to a RDA airflow, giving you tons of flavor.
If you're looking for a one of a kind AIO or pod style kit, then you'll definitely want to check out Vandy Vape's Kylin M pod system kit. With all of its features, and coil options, including DIY, it'll satisfy pretty much all vapers.
Vandy Vape Kylin M Pod Mod Kit Features:
Requires a single high drain 18650 battery (Not Included)
Maximum wattage output: 70w
Powered by the Vandy Chip
PCBA Waterproof material
Multiple user modes

Variable Wattage
Variable Voltage
Temperature Control: SS

Hidden Display Screen
Large fire button
Two refillable pod cartridges

5ml rebuildable pod cartridge
2.5ml replacement coil pod cartridge
5 different coils

Side airflow design
What's Included:
Vandy Vape Kylin M AIO Pod Mod
5ml Rebuildable Pod Cartridge
USB Type-C cable
2.5ml Replacement Coil Pod Cartridge
M Wire Rod
Kylin M AIO o.3 ohm coil head
Various pre-built coil heads
Lead Guide
Cotton Lace
Accessories
Steel Wires
Wire-heating Tool
Instruction Manual
User Manual
Check Out The Vandy Vape Kylin M AIO Review