ThunderHead Creations Tauren Max Mech Mod $42.06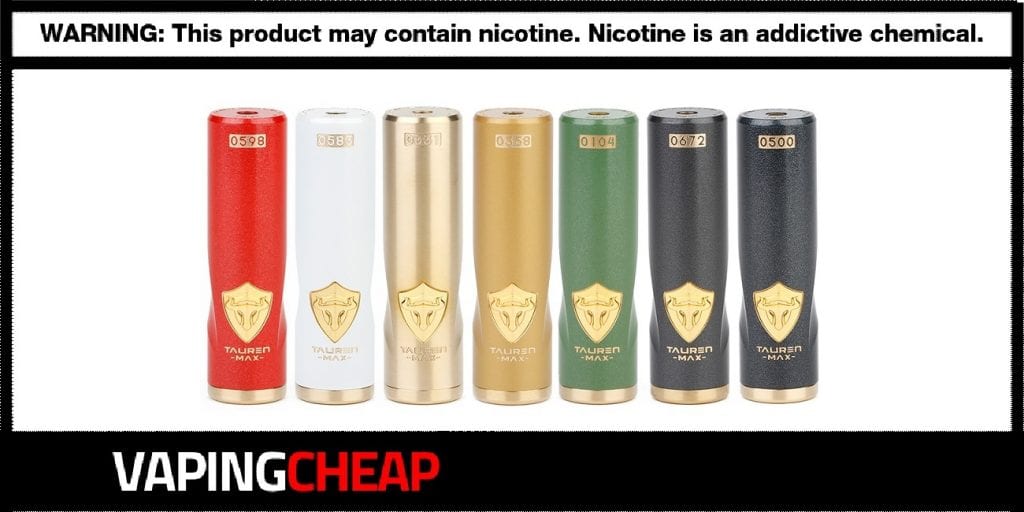 For a limited time only, the Thunderhead Creations Max Mech Mod is now on sale for only $42.06 using code "TTM". It's also available from another China based store for only $49.88 with free worldwide shipping. There's various color options you can choose from.
ThunderHead Creations new Tauren Max Mech Mod sports a similar overall design to the original, but offers the user many new and updated features. Firstly, it features a unique and lockable ball fire button with 360 degree contact allowing for minimal voltage drop. It's also waterproof, shockproof and dustproof! Another great feature of the firing switch is that you can easily lock or unlock it. The overall diameter of the Tauren Max Mech Tube Mod is 26mm.
However, it tapers at the top to 24mm in diameter, so atomizers up to 24mm will fit with no overhang. At the top is also where you'll find the hybrid 510 connection, so it's incredibly important to only use RDAs with a protruding 510 pin. We also highly recommend fully understanding ohms law and battery safety before vaping with it as it is fully mechanical.
The THC Tauren Max Mech is compatible with three battery sizes which are 18650, 20700 and 21700, which is definitely a good thing! Lastly, it features an ergonomic "handshake" outer design, so it's very comfortable in the hands.
All in all, this is an excellent vape mod deal! If you're looking for an affordable tube mod that's compatible with 21700 or 20700 batteries, then you might wanna add the Tauren Max to your collection. With its unique switch and hybrid 510, it's definitely gonna be a hard hitter!
THC Tauren Max Mech Features:
Overall Diameter: 26mm
Top Diameter: 24mm
Height: 95mm
Requires Single High Drain 21700, 20700 or 18650 Battery (Not Included)
Hybrid 510 Connection
Unique Firing Switch

Lockable Ball Fire Button
360 Degree Full Contact
Minimal Voltage Drop
Lock & Unlock System

Waterproof, Dustproof, Shockproof
Ergonomic Handshake Design
Color Options: Brass, Black, Gunmetal, Gold, Brass White, Red, Green