Syiko Galax Pod System Kit $11.49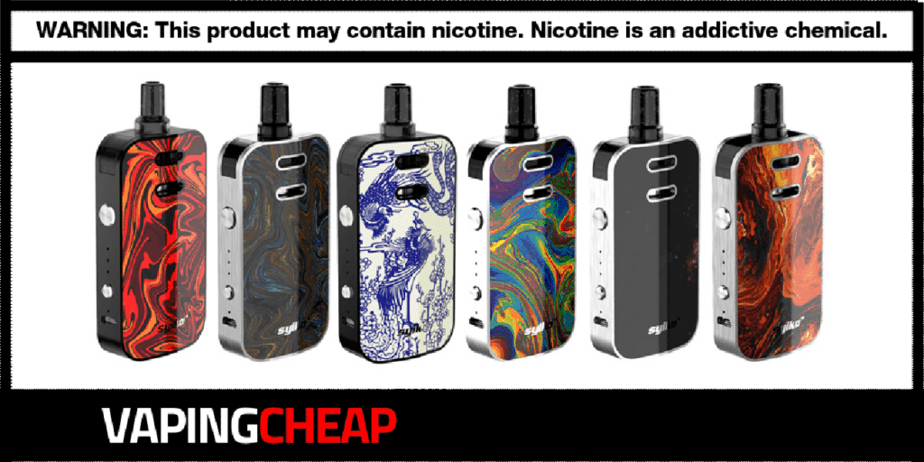 Here's a cheap deal and discount for the Syiko Galax Pod System Kit. Buy one on sale for only $11.49. No code required. There's a bunch of different color options available including Coral, Rainbow, Star, Volcano and more.
The Syiko Galax Pod Kit is powered by an internal 1,200mAh battery, and has a maximum wattage output of 25w. Like some of the newer pod vapes we've seen released, this one does have adjustable wattage. There's two different buttons which include the firing button and mode button. Simply click on the mode button to swap between three different power levels (low, medium, high). Also, there's an LED light indicator that displays which mode you've selected. It's overall size is quite compact and slim too, which is always a good thing.
The Syiko Galax pod cartridge holds 2ml e-juice, and features an easy to use bottom fill design. Take out the silicone plug, fill with your favorite e-liquid and seal the filling port with the plug, and you're done. Another great feature of the Syiko Galax Pod System is that it does utilize replaceable coils. So, when the coil burns out, you'll just need to change it out rather than the entire cartridge.
In addition to that, there's two different coil options. One catered to direct lung vaping (0.6 ohm mesh), and the other for MTL vaping and nic salt e-juices (1.2 ohm regular). On top of that, the airflow is adjustable, so you're able to fine tune the draw to your liking.
If you're looking for a backup vape kit, or simply looking to try out your first pod without breaking the bank, then you'll want to grab the Syiko Galax Pod System Kit. At under $12, it's a steal.
Syiko Galax Pod Vape Kit Features:
Built In 1,200mAh Battery
Maximum Wattage Output: 25w
3 Power Levels (Low, Med, High)
LED Light Indicators (Battery & Mode)
Firing Button & Mode Button
Adjustable Airflow
Refillable Pod Cartridge

2ml E-Liquid Capacity
Bottom Fill

Replaceable Coils

1.2 ohm Regular (MTL)
0.6 ohm Mesh (DTL)

Many Unique Color Options
What's Included
Syiko Galax Pod Mod
Galax Pod Cartridge
0.6 ohm Mesh Coil
Spare 1.2 ohm Regular Coil
Charging Cable
User Manual
Warranty Card
Check Out The Syiko Galax Vape Pod Review