OBS Alter Pod Kit $10.75 (USA)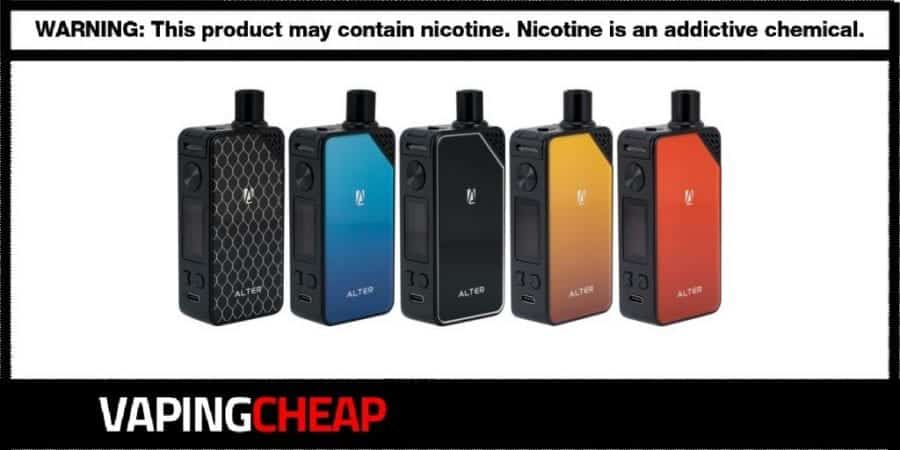 Here's a cheap deal and discount on the OBS Alter Pod Kit. Buy yours for a limited time only for $10.75 using discount code "MFS10". Also, there's five different color options for each variant which are Black, Original, Red, Yellow, Blue.
The OBS Alter Kit is powered by an internal 2,500mAh batter, so you'll be able to get through most, if not all of the day on a single battery charge. In addition, it has a wattage output range of 5w to 70w, making it one of the most powerful pod vapes on the market today. There's a large OLED display screen right up front which displays your wattage setting, coil resistance and more. OBS' Alter Pod Kit is constructed of zinc alloy, and features 2.5D toughened glass, so it is quite durable.
As mentioned earlier, there's two different options you're able to choose from. The OBS Alter High Power Version caters more towards higher wattage vaping and lower resistances. With that being said, it's better for regular freebase e-juices. Another difference is the Alter refillable pod cartridge. It holds either 2ml or 3.5ml of e-liquid.
Now, the biggest difference is the replaceable coils that's included. The first is the M1 0.2 ohm coil rated between 50w and 70w. Secondly, is the M3 0.15 ohm coil which is also rated up to 70w. A sub ohm base is required to utilize these specific coils. So, if you're a sub ohm vaper, then you'd definitely want this version.
For you vapers who prefer lower wattage, and higher nicotine e-liquids such as nicotine salt vape juices, the low power OBS Alter Pod System will be your preference. The refillable pods for this version can hold either 2ml or 5ml of e-liquid. Like the high power version, the major difference is the replacement coil heads. There's a 1.4 ohm coil rated between 8w and 12, and a 0.15 ohm coil best vaped between 20w, and 25w. Lastly, a NicSalt base is needed to utilize these coil heads.
If you're looking for a new pod system kit that's not only powerful, but is capable of delivering multiple vape experiences, then you'll definitely want to check out the OBS Alter Pod Kit. This is definitely one of the more versatile, and by far the most powerful vape pod to come out in the past year.
OBS Alter Pod System Kit Features:
Internal 2,500mAh Battery
USB Type C Charging Port
Wattage Output Range: 5w - 70w
Minimum Firing Resistance; 0.1 ohm
Large OLED Display Screen
Zinc Alloy Construction
2.5D Toughened Glass
2 Versions Available
High Power Version

2ml/3.5ml Refillable Pod Cartridge
Top Fill
Sub Ohm Base
0.15 ohm M3 Coil
0.2 ohm M1 Coil

Low Power Version

2ml/5ml Refillable Pod Cartridge
Top Fill
NicSalt Base
Adjustable Airflow
1.4 ohm NX Coil
0.15 ohm SX Coil

5 Color Options Available
What's Included (OBS Alter Pod Kit High Power Version)
Alter Pod Mod by OBS

2 Alter Pod Cartridges

Extra Coil

Charging Cable

User Manual

Warranty Card
What's Included (Low Power OBS Alter Kit)
OBS Alter Pod Mod

2 OBS Alter Refillable Pod Cartridges

Extra Coil Head

USB Type-C Cable

User Manual

Warranty Card
Check Out The OBS Alter Kit Review
More Great Vape Deals...
---
Asmodus Lustro Box Mod $25.99
Temperature Control Box Mod The Asmodus Lustro Box Mod is now in stock and on sale right here for only $36.00 using coupon[...]