Lost Vape Thelema Solo Mod $27.99 | 100w Kit $33.99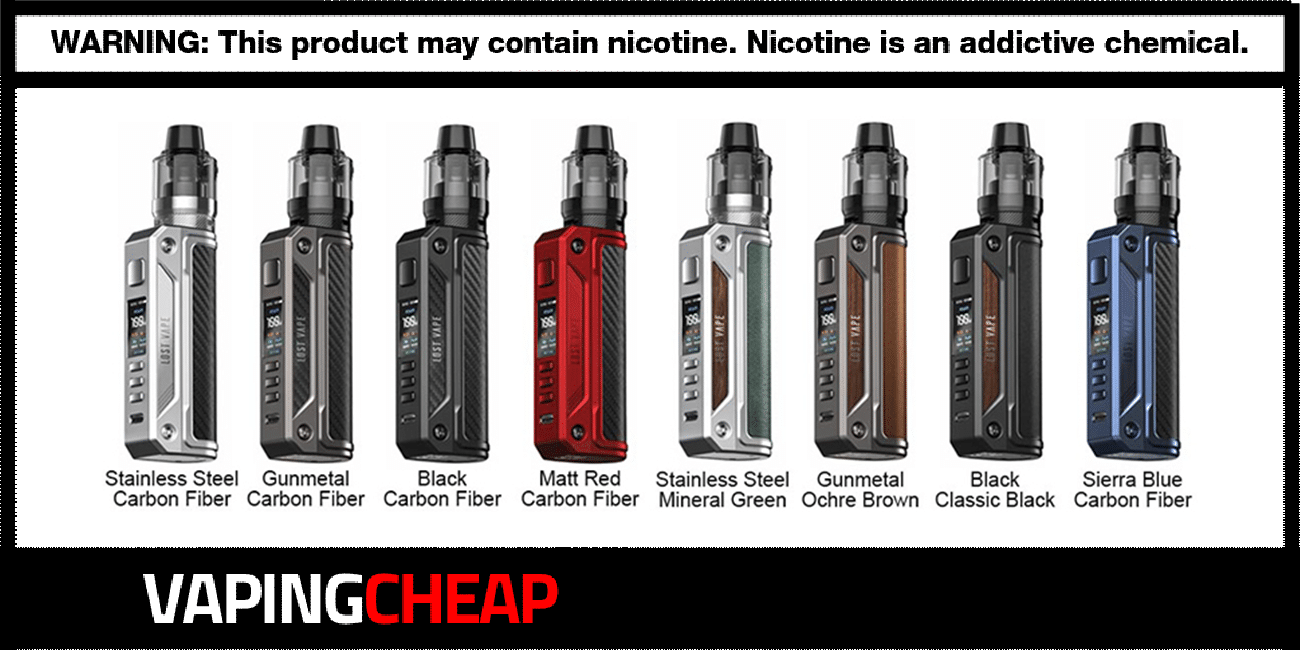 Here's the best deals and discounts for the Lost Vape Thelema Solo Mod and Full Kit. Grab the 100w box mod for just $27.99 after using discount code "SOLOM". The 100w vape starter kit is also on sale from a US shipper for only $38.24 with coupon "VC15". You can choose from eight different color options.
The Thelema Solo Mod is a much smaller version of the popular Lost Vape Thelema Quest. With its smaller size, it requires just a single battery, but is compatible with both 18650s and 21700s. You can charge it via the USB-C cable and maximum wattage output comes in at 100w.
Outside of standard wattage mode, there are also multiple vaping modes you can use with the Thelema Solo Box Mod. This includes VPC, bypass, voltage and temperature control. There are even 3 different user records for normal coils, TC coils and an RBA setting.
The Thelema Solo 100w Kit includes the Lost Vape UB Pro Pod Tank. This vape tank (or pod tank) has a maximum e-juice capacity of 5ml and fills from the side. In the box, you'll also get two different coils. The first coil has a resistance of 0.15 ohm, while the other has a resistance of 0.3 ohm coil. Lastly, it features a triple adjustable bottom airflow design.
Fans of single battery devices will definitely want to check out the Lost Vape Thelema Solo Box Mod and 100w Kit. They're slim and compact yet packs a punch thanks to the 21700 battery compatibility. Not to mention, the tank that's included in the kit vapes amazingly!
Lost Vape Thelema Solo 100w Kit Features:
Lost Vape Thelema Solo Mod

Requires single, 21700 or 18650 batteries (Not Included)
Maximum wattage output: 100w
User Modes: Wattage, Bypass, VPC, TC, Voltage
Three Records: Normal Coil, TC Coil, RBA Setting
Large display screen
Tons of safety features

Lost Vape UB Pro Pod Tank

Maximum e-juice capacity: 5ml
Side fill design
Compatible with the UB Pro Coils
Adjustable triple bottom airflow
What's included:
Lost Vape Thelema Solo Mod
UB Pro Pod Tank by Lost Vape
18650 Battery Adaptor
0.15 ohm coil
Accessory Bag
0.3 ohm coil
USB Type-C Cable
User Manual
Warranty Card