Innokin Podin Pod System $19.65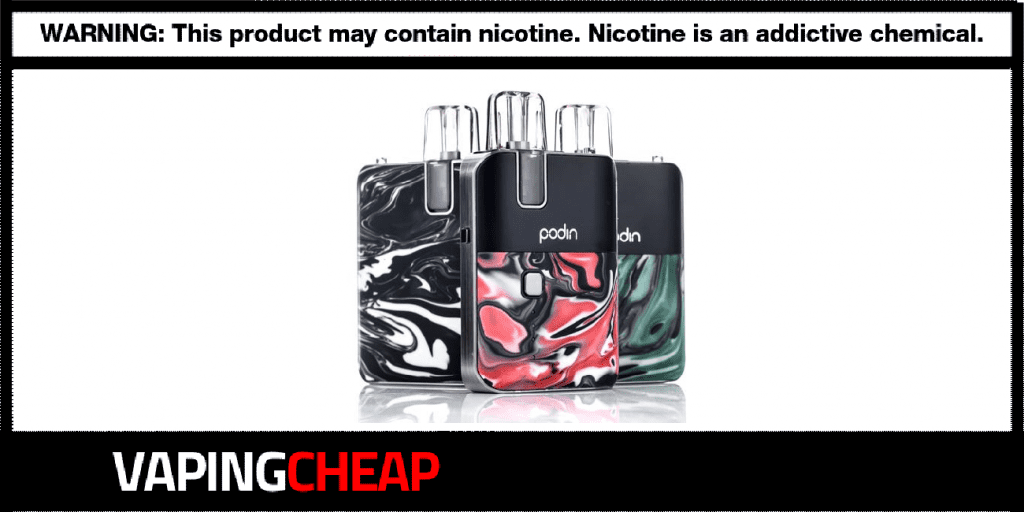 Here are cheap deals and discounts for the Innokin Podin Pod System. Get yours for just $19.65 with code "vapingcheap". It's also on sale at a USA store for only $25.20 using coupon "VC10"! Various colors available for purchase.
The Innokin Podin Pod System is pretty similar to an all in one (AIO) kit. It has a super small and portable design yet packs a large 800mAh built in battery. Additionally, it has two different wattage outputs, 8w or 9w. To change the output wattage, simply turn off the device with three clicks. After, hold the firing button and the wattage mode will change. There's an LED battery light indicator, which will display one of three colors depending on the current battery state.
Now, what actually makes the Innokin Podin like an all in one kit is that it features a replaceable coil system. However, like a lot of the other pod vapes, there's a refillable pod cartridge which is where the coil is inserted. The Podin's refillable cartridge does hold 2ml, and fills from the side. When it comes to the coil, it has a 1.3 ohm resistance, and designed for mouth to lung vaping. Since this is the case, we'd recommend either a higher strength freebase e-liquid or nicotine salt vape juices. Either way, you'll get a true MTL vape. Lastly, there is adjustable airflow, so you're able to fine tune the draw.
If you're a fan of Innokin, or simply looking for a new all in one kit that's tiny, and designed for MTL vaping, then you'll definitely want to add the Innokin Podin Pod System to your collection. We're impressed by not only its overall design, but the fact that it houses such as large battery in a small form factor.
Innokin Podin AIO Kit Features:
Internal 800mAh Battery
Micro USB Charge Port
Single Firing Button
Wattage Output: 8w or 9w
Battery Life Indicator Light
3 Click On/Off
Aluminum Alloy Construction
Portable Size
Refillable Pod Cartridge

2ml E-Liquid Capacity
Side Fill
Smoked Tank Section

Replaceable Coils

1.3 ohm Resistance
MTL Vaping

Adjustable Airflow
Various Unique Color Options
What's Included
Innokin Podin Pod Device
Podin Pod Cartridge
Spare Coil Head
Lanyard Charging Cable
User Manual & Warning Booklet
Check Out The Innokin Podin Review