Geekvape Aegis Nano Pod System $12.00 (USA)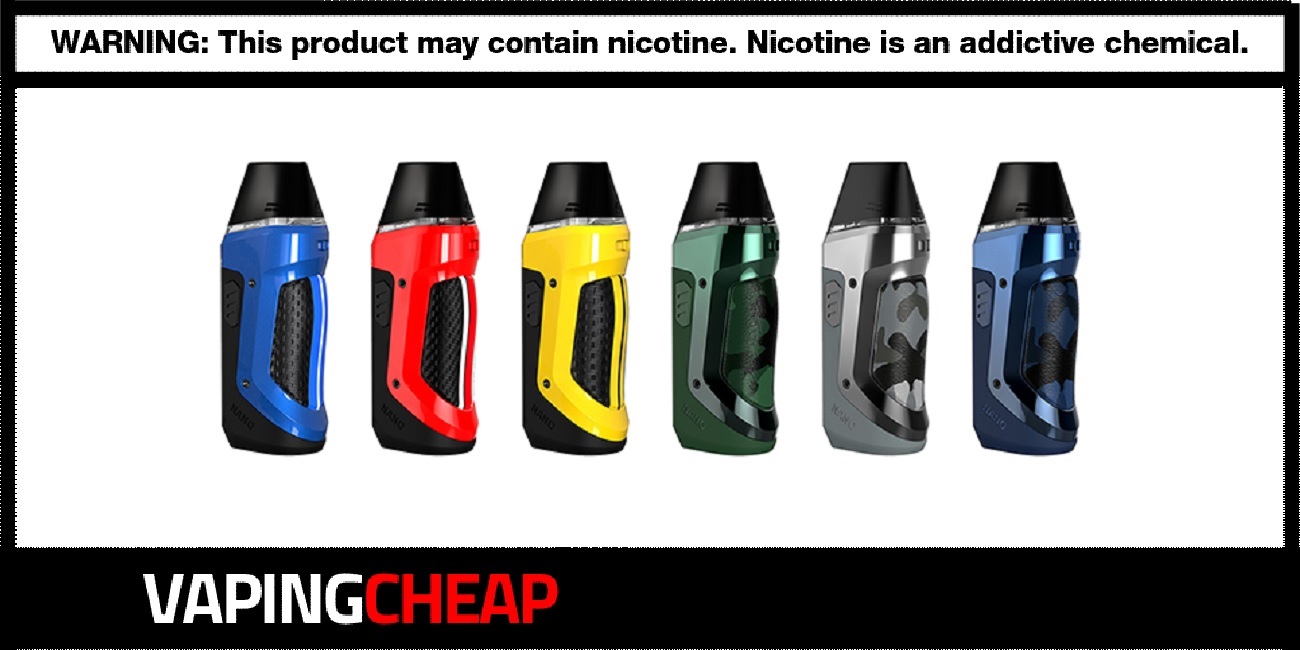 Looking for the best deals and discounts for the Geekvape Aegis Nano Pod System? Then you've come to the right place! You can buy one of these devices from a USA based store for only $12.00 after the code "GEEK40". It's also on sale at a China based shipper for $19.99 with the code "AGNANO". There's six different color options you can pick from including Camo Silver, Red, Yellow, Camo Blue and more.
The Aegis Nano Pod Kit By Geekvape is both pocket friendly and durable as you'd expect since it's part of the popular Aegis lineup. Its IP67 tri-proof shell is what makes it incredibly durable.
Powering the Aegis Nano is a built-in 800mAh battery. Additionally, it has 30w maximum output, which is quite surprising given its tiny size. An awesome feature of Geekvape Aegis Nano is the automatic output adjustment. What this allows the pod mod to do is automatically detect a new pod cartridge and change the wattage to best suit the coil. That's a crucial feature, especially if you're newer to using these style devices.
In the box, you'll find two new Aegis Nano Pod Cartridges. This replacement cartridge has a maximum e-juice capacity of 2ml and has an easy top fill design. On top of that, each pod has a different coil resistance.
The first is a 0.6 ohm coil and the second is a 1.2 ohm coil head. Lastly, below the Aegis Nano pod is an airflow switch that allows you to adjust the vape to just how you want.
Whether you're a fan of the series or simply looking for an ultraportable pod device that delivers excellent performance, you'll want to check out the Geekvape Aegis Nano pod system kit, that's for sure.
Geekvape Aegis Nano Pod Kit Features:
Internal 800mAh battery
IP67 Tri-Proof Shell (Waterproof, Dustproof and Shockproof)
Maximum wattage output: 30w
Automatic output adjustment feature
Large display screen
Adjustable airflow switch
Fire button
Compatible with the Aegis Nano Pods

Maximum e-juice capacity: 2ml
Top fill system
1.2 ohm coil or 0.6 ohm coil
What's Included:
Geekvape Aegis Nano Device
1.2 ohm Pod Cartridge
Lanyard
Spare Parts
0.6 ohm Pod Cartridge
USB Type-C cable
Be sure to check out the Geekvape Aegis Nano Kit video review