Geekvape Aegis Boost Pod Mod Kit $22.46 (USA)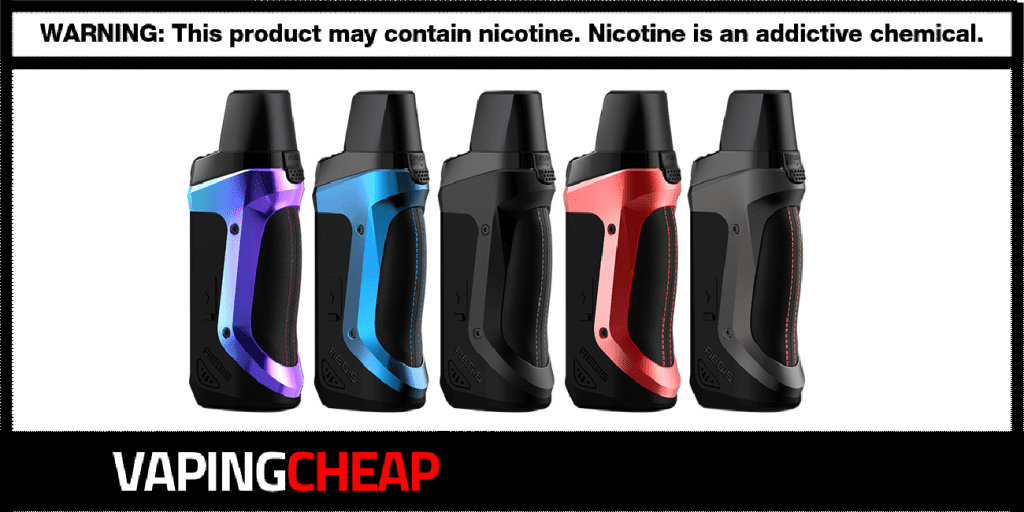 Here's an excellent discount for the Geekvape Aegis Boost Pod Mod Kit. Buy yours from a USA based store for only $22.46 when using code "VAPOR25". There are multiple unique color options available including Space Black, Devil Red, Almighty Blue and more.
The Geekvape Aegis Boost is completely different than their original pod device, the Frenzy. However, staying true the Aegis line, it's similar in regards to actual construction to their latest Aegis X Mod. With that being said, the Geekvape Aegis Boost Pod Mod Kit is waterproof, dustproof and shockproof, so it's definitely one of the most durable pod vapes on the market today. The Aegis Boost Pod Kit by Geekvape sports an internal 1,500mAh battery, and depending on usage, can last up to 36 hours. In addition, it can output up to 40w, and it's fully adjustable allowing you to fine tune your vape experience.
At the front of this pod device, you'll notice a small display screen, which does show your wattage setting, battery life and coil resistance. Similar to an AIO (all in one) kit, the Aegis Boost does utilize replaceable coils alongside a refillable pod cartridge. Depending on the version, it can hold up to 3.7ml of vape juice. Filling the Geekvape Aegis Boost is easy, as there's a large filling port with a silicone stopper.
What's great about this cartridge is that it does have a fully adjustable airflow control system. You can open it all the way for a direct lung vape or close it off, and get a mouth to lung vape. To cater even further to these two different vaping experiences, the Aegis Boost Pod Mod includes both a MTL and DTL drip tip.
Moving onto coils, there's two coil heads that's included. Firstly, there's the 0.4 ohm GV Boost Coil rated between 25w and 33w. Secondly, you'll get the 0.6 ohm GV Boost Coil, rated between 15w and 25w. There will also be an RDTA section or RBA available allowing you to use your own coils. Lastly, since the Geekvape Aegis Boost Pod Mod Kit is powered by the AS Multi-Mod Chipset, you can expect solid performance, and multiple safety features.
If you're in the market for a pod system that's not only incredibly durable, but packed with features such as adjustable wattage control, and the ability to get both an MTL and DL vape, then you'll definitely want to check out the Aegis Boost Pod Kit by Geekvape. At this limited time price, you simply cannot go wrong with this one. We can see why they call it the mighty pod mod, that's for sure. For you vapers wanting the latest, check out the Aegis Boost Plus.
Geekvape Aegis Boost Pod Kit Features:
Powered By AS Multi-Mode Chipset
Internal 1,500mAh Battery
IP67 Rated (Dustproof, Shockproof, Waterproof)
Maximum Wattage Output: 40w
Maximum Voltage Output: 6v
Minimum Firing Resistance: 0.2 ohm
Ergonomic Design
Refillable Pod Cartridge

3.7ml E-Liquid Capacity
Easy To Fill
Adjustable Airflow Control

Replaceable Coils

0.6 ohm GV Boost Coil
0.4 ohm GV Boost Coil

Small Display Screen
Fast Firing Speeds
Multiple Unique Color Options
What's Included
Geekvape Aegis Boost Pod Mod
Aegis Boost Cartridge
0.4 ohm Coil (Pre-Installed)
Spare 0.6 ohm Coil
Charging Cable
Coil tool
Drip Tip
User Manual
Promotion & Warranty Card
Check Out The Geekvape Aegis Boost Review