Fat Cloud Vape 3,000ml Holiday Giveaway!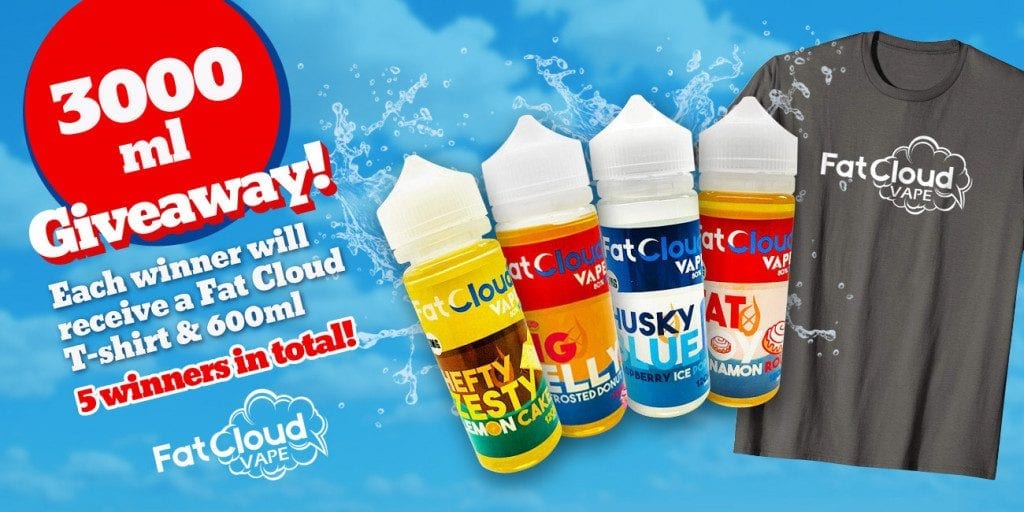 Sponsored By Fat Cloud Vape!
During the Fat Cloud Vape Holiday Giveaway, Vaping Cheap readers have a chance to score some new e-juice and a t-shirt! There will be a total of 5 winners. Each winner will receive 5x120ml (600ml) and a Fat Cloud T-Shirt. There are various entry methods available, some are daily, so be sure to come back and increase your chances of winning!
Giveaway Prizes:
Total of 5 Winners
Each Winner Receives 5x120ml (600ml) & Fat Cloud T-Shirt
Enter Below…
Fat Cloud Vape Holiday Giveaway!

Must be at least 21 years old or the legal minimum age to purchase tobacco products in your jurisdiction.
No purchase is required to enter nor does a purchase increase your chances of winning.
Make sure you enter with a good e-mail address that you check often. We've have had a number of winners who never respond to the winning e-mail and lost their prize. Please use your primary e-mail address to enter. Thanks.
Winners are listed in the Giveaway Box listed above within 1 week of the Giveaway end date.
Winners will be notified via Email and have 72 hours to claim the prize. Last day to enter is December 20th, 2018 at 11:59 pm EST. Winners will be drawn and notified within 1 week of giveaway closure.
This giveaway is open to Vaping Cheap and Fat Cloud Vape subscribers only. Be sure to confirm your email subscription in the followup email.
Vaping Cheap reserve's the right to disqualify contestants. Contestants shall not enter multiple times or use multiple accounts to enter. Fraudulent activities will be monitored and will lead to exclusion of all current and future sweepstakes/giveaways.
Due to FDA Regulations a requirement of a small payment via PayPal from each prize winner or the prize winner(s) will be disqualified.