Eleaf iStick T80 Kit $31.39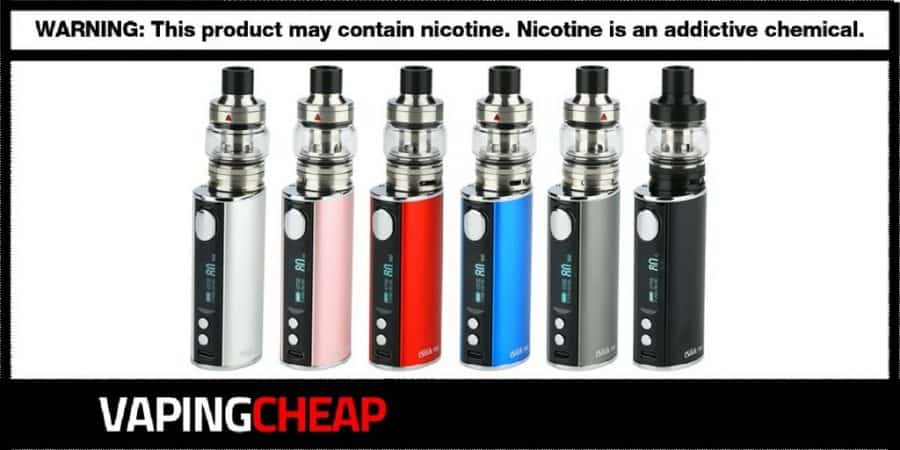 Here's a great deal on the new Eleaf iStick T80 Kit! Buy yours for only $31.39 when using the code "IT80". It's on sale at another store in China for only $34.59 when applying code "T80KIT". For color options, there's quite a few available including Red, Grey, Pink, Black, Blue and more.
The Eleaf iStick T80 Starter Kit comes with both the iStick T80 Battery Mod and the Pesso Tank. When it comes to the iStick T80 device, it does sport a compact form factor yet manages to fit a large 3,000mAh battery inside of it. Charging can be done pretty quickly since it charges via USB Type C. As far as wattage output, it can deliver up to 80w, and provides temperature control for three wire materials (Ni200, Ti, SS).
There's a manual mode as well for you vapers wanting to customize your vape even further with 3 settings (M1, M2, M3). As expected with the Eleaf iStick T80 Kit, there's many safety features implemented including atomizer protection, short circuit protection and low voltage protection.
When it comes to the Pesso vape tank, it has a few features that we've seen before with other Eleaf tanks, but has new coil heads. These new EF coil heads are available in two options which include a 0.6 ohm (pre-installed) and a 0.3 ohm. You won't be needing to fill this sub ohm tank often too as it can hold up to 5ml of e-liquid with its bubble tank section, or 2ml (TPD compliant) with its regular straight glass tank.
The airflow does come in from the bottom, but it's fully adjustable. Lastly, the Pesso Tank has a wide bore delrin drip tip, so it won't get hot even when vaping at higher wattages.
If you're a fan of past Eleaf devices, or simply looking for a vape setup that's easy to use, and cheap, then this is a vape starter kit deal you don't wanna miss out on. The Eleaf iStick T80 Kit simplicity makes it a perfect option for those vapers looking to take the next step up in their vape.
Eleaf iStick T80 Starter Kit Features:
Eleaf iStick T80 Battery

Internal 3,000mAh Battery
USB Type C Charging (1.5 Hour Charge Time)
Aluminum Alloy Construction
Wattage Output Range: 1w - 80w
Minimum Firing Resistance: 0.05 ohm
Temperature Control (Ni200, Ti, SS)
M1, M2, M3 Modes
Multiple Safety Protections
Compact Size
Variety of Color Options

Eleaf Pesso Tank

Stainless Steel & Glass Construction
2ml or 5ml E-Liquid Capacity
Top Fill
Adjustable Bottom Airflow
Delrin Drip Tip
Compatible with Eleaf EF Coils

0.6 ohm EF-M Coil Head (18w - 35w)
0.3 ohm EF Coil Head (30w - 60w)
What's Included
Eleaf iStick T80 Mod
Pesso Tank
EF 0.3 ohm Coil
EF-M 0.6 ohm Coil
USB Type C Cable
2 User Manuals
Bag of Spare Parts
Check Out The Eleaf iStick T80 Kit Tutorial Video
More Great Vape Deals...
---
Vapefly Holic MTL RDA $6.99
For a limited time only, the Vapefly Holic MTl RDA in silver is now available for pre-order right here for only $14.31 using coupon code "vapingcheap10"![...]