Dovpo Peaks Pod System Kit $26.28 + FS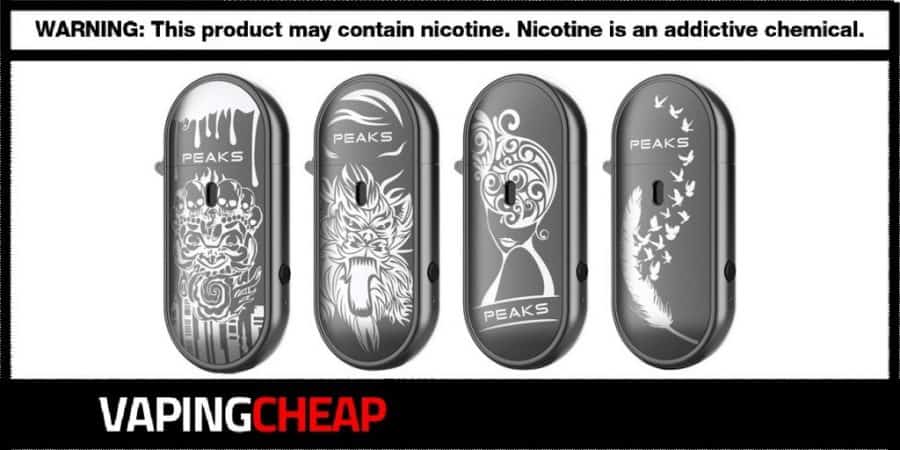 The new Dovpo Peaks Pod System Kit is now on sale! Get it for only $26.28 when using code "vapingcheap". Free shipping is included with this purchase! There's four color options available which are Pixiu, Princess, Feather and Lion.
The Dovpo Peaks Vape Kit sports a familiar design that we've seen before with another pod mod, but offers a few unique features that takes it to the next level. Regardless, with this type of form factor, it's incredibly comfortable and pocket friendly, making it a great option for when on the go. Packed inside of its small size is a 650mAh battery, and you can charge it via its type C charge port, allowing for a super quick charging time. The Dovpo Peaks Pod Mod is primarily constructed of zinc alloy, so it can definitely take a beating.
Aside from its unique look and feel, it has another feature that allows you to customize your vape experience, and this feature is adjustable output. There's two different modes, a flavor mode and a cloud mode. Depending on which coil is installed will determine which mode you'd want to vape with. There's a smart LED light indicator as well which not only displays your current battery life, but will let you know exactly which mode the pod device is in.
Moving onto the coil options, there are two different coils available, which are a 0.8 ohm mesh coil and a 1.4 ohm ceramic coil. The mesh coil option is best for the cloud mode, and direct lung vaping while the 1.4 ohm ceramic coil will be best for mouth to lung vaping and flavor mode. Either coil can be installed in the Dovpo Peaks refillable cartridge. Thankfully, it's clear so you can see how much e-juice is inside, and it holds about 2ml and can be used with both regular and nicotine salt vape juice. Filling is easy to do since it has a top fill design, which is definitely a huge pro.
By the looks of it, and the features the Dovpo Peaks Pod System Kit packs, it can definitely be one one of the best pod vapes of this year. If you're a fan of this style of device, then definitely check out this pod mod kit, it's certainly one of a kind.
Dovpo Peaks Pod Kit Features:
Zinc Alloy Construction
650mAh Internal Battery
Flip Top Cap Design
Unique & Slim Form Factor
Wattage Output Range: 7w - 15w
Smart LED Light Indicator
2 Adjustable Output Levels
Refillable Pod Cartridge

2ml Capacity
Top Fill Design

Compatible with Dovpo Peaks Coil

0.8 ohm Mesh Coil
1.4 ohm Ceramic Coil
What's Included
Dovpo Peaks Pod Mod Device
Peaks Refillable Pod Cartridge
0.8 ohm Mesh Coil
1.4 ohm Ceramic Coil
USB Type-C Charging Cable
User Manual
Lanyard