Digiflavor Z1 SBS Mod $35.22 | 80w Kit $57.99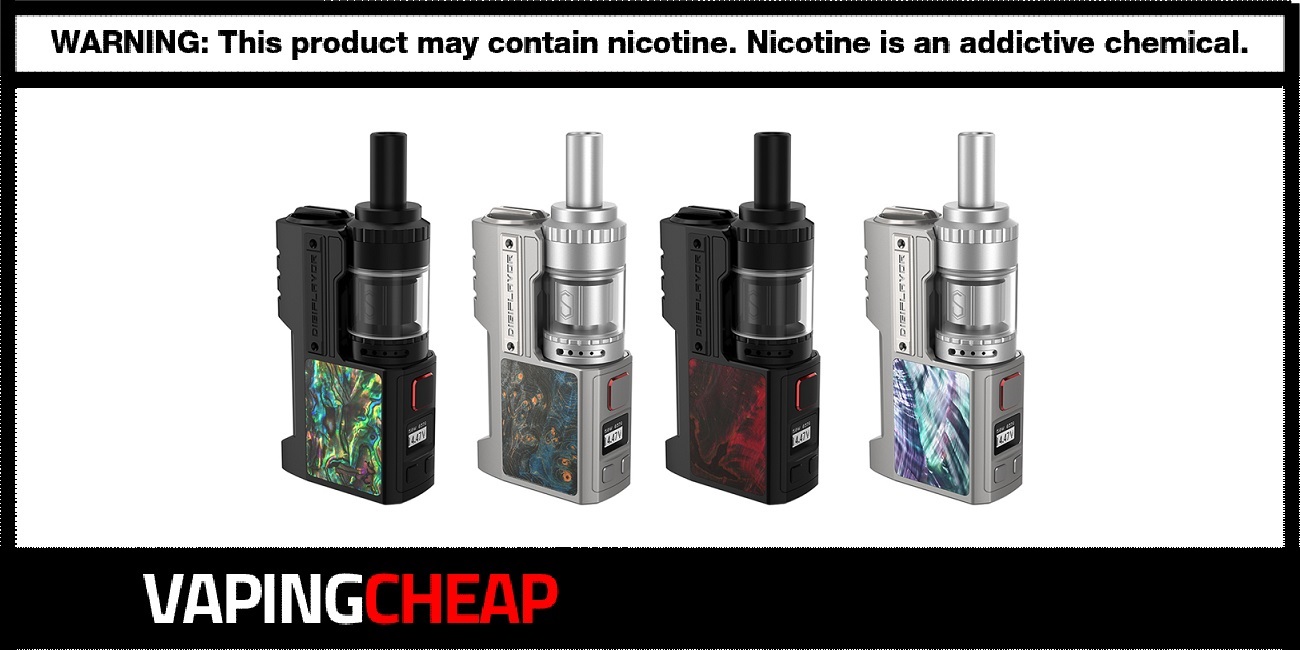 The Digiflavor Z1 SBS Mod is now on sale for the cheap price of $35.22 after using the code "2021". The full 80w kit, which includes the Siren 3 MTL RTA is also on sale for $57.99 after applying the discount code "Z1SBSK". You can pick from four different color options which are Black Abalone Shell, Black Stabwood, Silver Gray Scallop Shell and Silver Gray Stabwood.
Digiflavor is finally back and brings a brand-new side by side mod to the market called the Z1 Box Mod. It is powered by a single high drain 18650 battery and has a maximum wattage output of 80w. It's a highly compact device that's great for portable vaping, especially with its SBS design.
The Z1 SBS has three different user modes which are wattage, variable voltage and bypass, making it simple and easy to use. However, unlike some other SBS mods like the Aspire Mixx, the display screen is on the front rather than bottom.
If you're interested in the full 80w starter kit, it comes with the new Digiflavor Siren 3 MTL RTA. This tank atomizer has an overall diameter of 24mm and holds a maximum e-juice capacity of 4ml. Filling this RTA is a breeze thanks to the two large fill ports at the top. One of the best features on this tank has to be the build deck. It has a single coil two post build deck, which makes installing coils easy. Lastly, it has an adjustable bottom airflow design.
All in all, if you are a fan of side by side kits or want to pick up a new MTL starter kit, then be sure to check out the new Digiflavor Z1 SBS 80w Starter Kit. Even if you just wanted an SBS mod that can accommodate taller tanks, this is definitely a great option for you.
Digiflavor Z1 SBS 80w Kit Features:
Digiflavor Z1 SBS Mod

Requires a single high drain 18650 battery (Not Included)
Maximum wattage output: 80w
Three user modes: Wattage, Voltage and Bypass
Large fire button
Small display screen
Compact design

Digiflavor Siren 3 MTL RTA

Overall diameter: 24mm
Maximum e-juice capacity: 4ml
Top fill design
Single coil dual post build deck
Gold-plated 510 connection pin
Adjustable bottom airflow system
What's Included:
Digiflavor Z1 SBS Mod
Siren V3 RTA
USB Type-C Cable
Triangular Tool
Spare Parts Pack
Extra Tank Section
4 in 1 Wire
User Manual
Be sure to watch the Digiflavor Z1 SBS review video
More Great Vape Deals...
---
Mechlyfe Slatra RDA $8.91
The new Mechlyfe Slatra RDA in collaboration with AmbitionZ VaperR is now in stock and on sale for just $8.91. To get[...]