Digiflavor Drop Solo RDA $25.59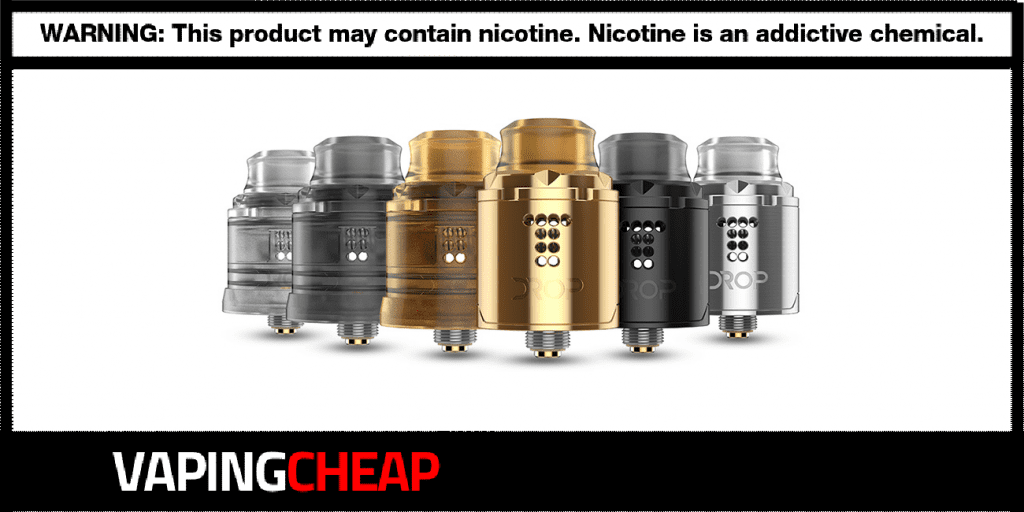 Here are cheap deals and discounts for the Digiflavor Drop Solo RDA in collaboration with TVC. Get yours for just $25.59. No code needed for this sale price. There's currently one color in stock which is Black.
The Drop Solo RDA is a collaboration between Digiflavor and popular Youtuber The Vapor Chronicles. It sports an overall diameter of 22mm, matching most devices perfectly. Also, it's primarily constructed of stainless steel material. However, an additional PMMA top cap is included, which is perfect when vaping at a higher wattage. These style caps provide less heat transfer to the drip tip, and looks great. You'll also get two wide bore drip tips as well alongside a beauty ring.
What's great about the Digiflavor Drop Solo is that it does keep a similar airflow style to the original. It's a stepped airflow, which provides you with the ability to fine tune the draw. Not to mention, the air will hit pretty much the entire coil, bottom, middle and top.
Digiflavor and TVC's Drop Solo RDA sports a raised 2 post single coil build deck. With this deck design, coil installs are a breeze. Although it does cater to single coils, you can definitely fit two if you want to. Another great feature is that it does come with both a standard and BF 510 pin, so you are able to use this atomizer with squonk mods if desired.
Overall, the Digiflavor Drop Solo RDA is still a stellar performer up to today, even when comparing it to some other RDAs that are newer. With its airflow design, build deck and performance, it's a solid addition to your collection.
Digiflavor x TVC Drop Solo RDA Features:
Collaboration Between Digiflavor & The Vapor Chronicles
Base Diameter: 22mm
Stainless Steel Construction
Stepped Airflow Design

Fully Adjustable
Honeycomb Airflow Slots

Deep Juice Well
Raised 2 Post Single Coil Build Deck
Gold Plated 510 Connection
What's Included
Drop Solo RDA by Digiflavor & TVC
BF 510 Pin
PMMA Top Cap
Extra Wide Bore Drip Tip
Allen Key
Beauty Ring
Spare Parts
Pre-Built Coil
User Manual
Check Out The Digiflavor Drop Solo RDA Review