Aspire Nautilus Prime Pod System Kit $34.15 (USA)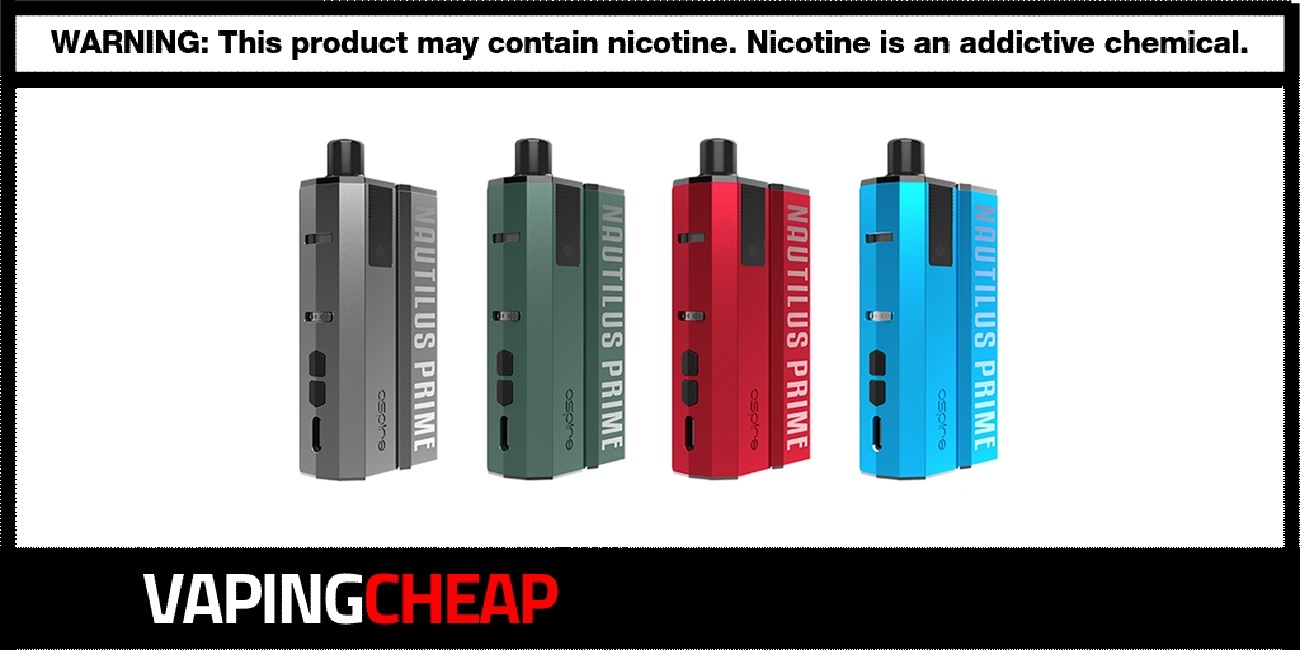 For a limited time only, the new Aspire Nautilus Prime Pod System Kit is now on sale. Get yours for only $34.15 when using the code "MFS10". It's in stock at a China based store for only $37.59 using discount code "vapingcheap". There's six color options you can choose from including Space Grey, Peacock Blue, Jet Black and others.
Aspire's latest pod system, the Nautilus Prime Kit utilizes a large 2,000mAh battery and can be charged using a USB Type-C cable. Alongside the large battery, it can provide a maximum output of 60w. Like some other pod mods, this device has three output modes which are variable wattage, variable voltage and bypass.
On the front of the Nautilus Prime Pod System by Aspire is an airflow hole and two adjustment buttons. You can adjust the airflow hole giving you a tighter draw or keep it open for a restrictive direct lung.
While on the side of it, there's an OLED display screen, that shows your wattage and battery life. In the top left hand corner on the side of the mod is where the fire button is located. It's placed ergonomically though, so it's incredibly comfortable to use.
This kit includes the Nautilus Prime Pod. This refillable pod holds a maximum e-juice capacity of 3.4ml. You can quickly fill it by removing the silicone plug from the side. In the box, you also get two different coil heads.
One is a Nautilus 2S 0.7 ohm Mesh Coil while the other is a Nautilus BVC 1.8 ohm coil. Lastly, it's also compatible with other coils from the Nautilus BVC and Mesh lines, so you do have plenty of options.
All in all, if you are in the market for a new compact pod system or AIO that has a large internal battery, is powerful and can be used with your favorite free base or nicotine salt e-juice, then definitely check out Aspire Nautilus Prime.
Aspire Nautilus Prime 60w AIO Kit Features:
Internal 2000mAh battery
Maximum wattage output: 60w
Three output modes: Wattage, Variable Voltage and Bypass
Small OLED display screen
Large fire button
Adjustable Side Airflow
Zinc alloy construction
Two adjustment Buttons
Compatible with the Nautilus Prime Pod

Maximum e-juice capacity: 3.4ml
Side fill design
Compatible with the Nautilus BVC series and Mesh coils
What's Included:
Aspire Nautilus Prime Pod System
Refillable Pod
Nautilus 2S 0.7 ohm Mesh Coil
USB Type-C Cable
Nautilus BVC 1.8 ohm Coil
User Manual
Be sure to check out the review for the Aspire Nautilus Prime Pod System Kit...