Yachtvape Meshlock RDA $9.00 (USA)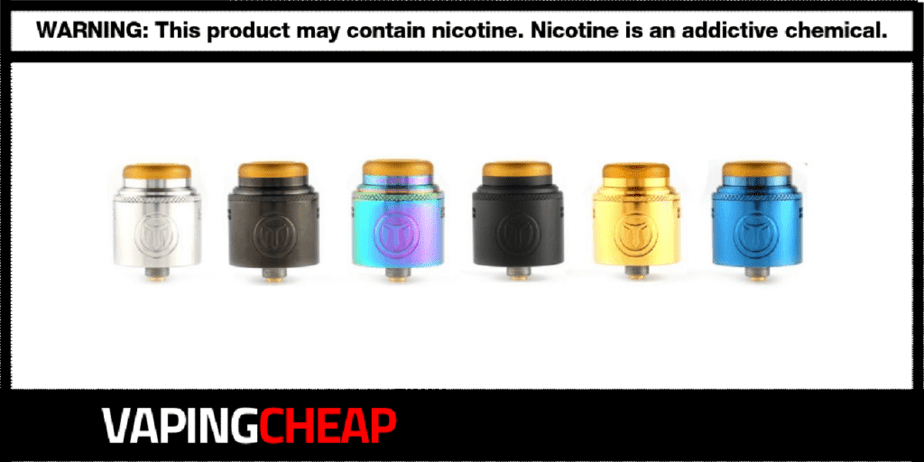 The brand new Yachtvape Meshlock RDA is now on sale for just $9.00 from a USA based shipper with code "MFS10". Free shipping applies to USA orders over $75. There's many different color options you can choose from.
The Meshlock RDA by Yachtvape is a new atomizer designed specifically for mesh coil builds, and is offers a unique feature to make life easier when it comes to these style coils. However, let's cover some of the basics first for the Meshlock. It sports a base diameter of 24mm, and an overall height of only 26.6mm, giving it a low profile look. At the top is a wide bore 810 drip tip, perfect for vaping at higher wattages and cloud chasing. An extra drip tip is included as well.
Now, the most unique and probably best feature to the Yachtvape Meshlock RDA is its build deck. It features push to open terminals, which makes the mesh coil installation process super quick and easy to do. This type of design means no tools are required when building! Another awesome feature is the three juice inlet hole, which not only prevents flooding, but ensures that your wick and coil is saturated fully since one inlet is right in the center, pushing e-liquid right to your coil. You can tell this RDA atomizer was designed with squonking in mind by looking at this feature alone.
The airflow design is also ideal for squonking as it is coming in from the top and angled towards your mesh strip coil. It is a honeycomb design, so you know you're getting a super smooth draw, and it is adjustable as well, so you can fine tune it.
If you enjoy vaping on mesh coils, then this is a must have. The Meshlock RDA is definitely a contender this year when it comes to best RDA for mesh style coil builds. Looking at all of its unique features, it's a winner in our book that's for sure.
Meshlock RDA by Yachtvape Features:
Stainless Steel Construction
24mm Base Diameter
26.6mm Height
810 Wide Bore Drip Tip
Unique Build Deck

Push to Open Terminals
No Tools Needed
Designed for Mesh Coil

3 Hold Juice Inlet

Prevents Flooding
Injects E-Liquid Straight to Coil

Fully Adjustable Honeycomb Top Airflow
Color Options

Stainless Steel
Black
Gunmetal
Rainbow
Blue
Gold
What's Included
Meshlock RDA Atomizer
Extra 810 Drip Tip
Japanese Cotton
2x Mesh Coils
Accessory Bag
User Manual
Check Out The Yachtvape Meshlock RDA Review