Vapefly Jester Pod Kit $25.75 + FS!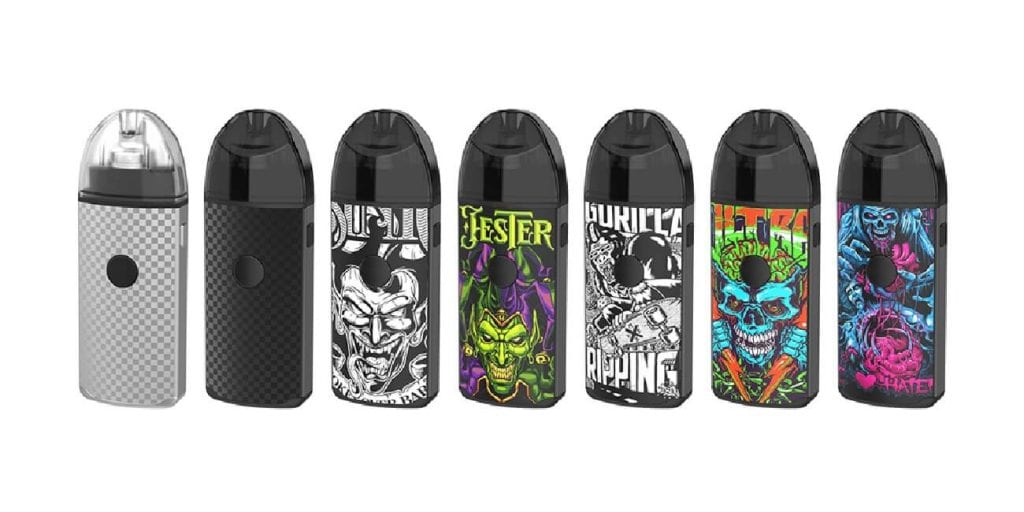 For a limited time only, the Vapefly Jester Pod Kit is now available in stock and on sale in the Meshed Edition for only $25.75 plus free worldwide shipping! The DIY Edition is also available for an additional $4. It's also in stock at a US shipper from only $26.06 using code "FALL10" with free shipping over $50. There are various color options available including Black, Joker, Skull, Silver, Zombie and more.
VapeFly's Jester Pod System Kit is the first ever rebuildable dripping pod system! We'll cover exactly what that means, but first let's go over the basics of this pod kit. Firstly, it houses a large 1,000mAh internal battery. In addition, the included cartridge has a 2ml e-liquid capacity, and features an easy to use top fill design. With its top fill system, it makes filling quick and easy. Not to mention, there are three levels of voltage output which are 3.3v, 3.8v and 4.8v. There's a child lock as well.
As mentioned previously, there are two different versions available. The first, and cheaper option, includes a 0.5 ohm mesh coil. In addition, it does have adjustable airflow as well, allowing you to fine tune the draw to your liking. Not to mention, you'll get amazing flavor! Also, a 1.2 ohm coil is included, which is perfect for mouth to lung vaping.
Now, the second and slightly more expensive option is the Vapefly Jester Pod Kit DIY Edition. Similar to the Smoant Pasito Pod Kit, this is the version that allows you to build your own coil! The recommended coil resistance to build is between 0.8 ohm and 1.5 ohm. Included with this kit, you do receive a Jester Cartridge, a Jester Dripping Cartridge, two 1.0 ohm coils, and the 0.5 ohm mesh coil.
If you're looking for a vape pod deal that's not only affordable, but comes with a ton of extras, then this is a deal you can't miss out on! Not to mention, with the DIY edition, you'll be able to build your own coils for it! For the few extra bucks, it's definitely worth the upgrade.
VapeFly Jester Pod System Kit Features:
Internal 1,000mAh Battery
Child Lock
Mouthpiece
Single Power Button
Multiple Voltage Outputs
Refillable Cartridge

2ml E-Juice Capacity
Easy Top Fill Design

Compact & Ergonomic Design
VapeFly Jester Pod Meshed Edition

Includes 0.5 ohm Mesh Coil & 1.2 ohm MTL Coil
Adjustable Airflow

VapeFly Jester DIY Edition

Includes Jester Cartridge & Jester Dripping Cartridge
0.5 ohm Mesh Coil
Two 1.0 ohm Coils
FireBolt Cotton
Can Build Your Own Coils

Color Options

Black
Gorilla
Jester
Joker
Skull
Silver
Zombie
Check Out The Vapefly Jester Rebuildable Pod Kit Review