Uwell Caliburn G Pod System Kit $12.49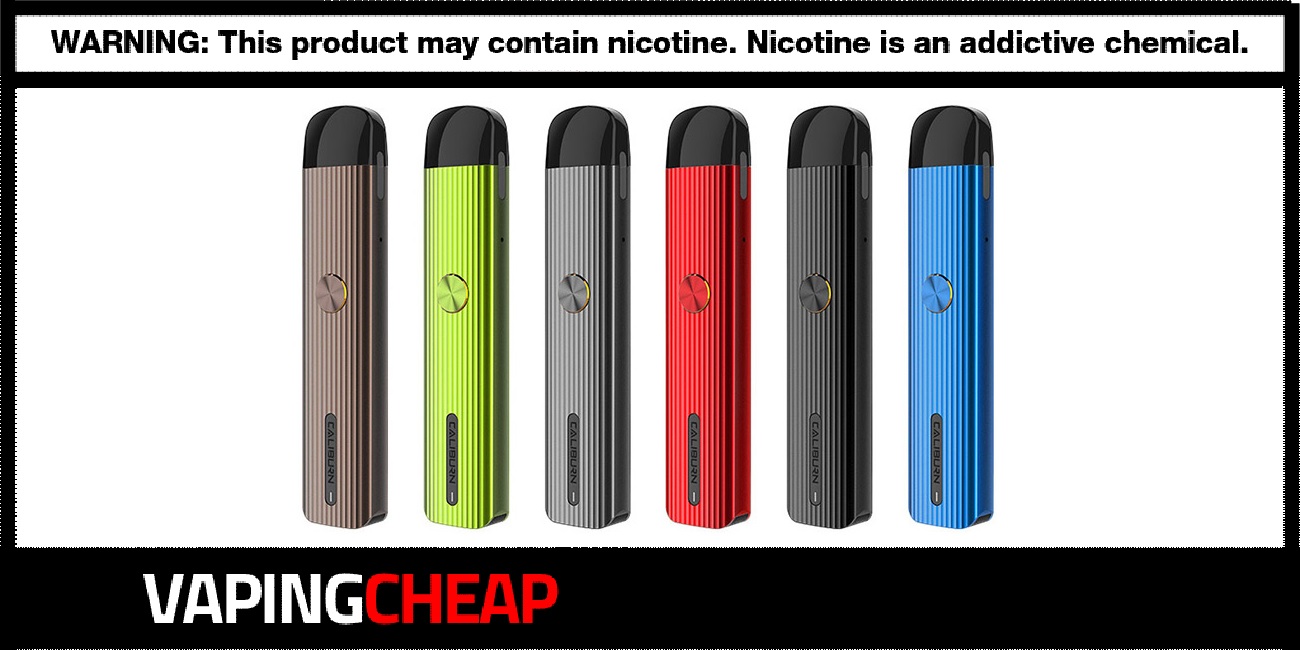 Here are cheap deals and discounts for the highly anticipated Uwell Caliburn G Pod System Kit. It's now in stock and on sale from a China based store for only $12.49 after logging into your account. You can also get it from a USA based store for $19.49 after the coupon code "VAPOR25". There's six different color options available for purchase.
Uwell's Caliburn G Kit, is another great addition to the popular Caliburn line. It has an internal 690mAh battery that can be quickly recharged using a USB Type-C cable. Although it shares a name with the original and beloved Uwell Caliburn, it does offer some key differences like the charging as example. However, just like the previous, it still keeps the slim and highly portable design.
If you're wondering about the power, the Caliburn G offers a maximum wattage output of 15w. Great for both mouth to lung or restrictive direct lung vaping. On the body of the Caliburn G Pod Kit, you will find a large circular firing button.
One of the many great features this pod has is that if you press the firing button 5 times, it locks and prevents any auto firing. Besides the button, it also has draw activation.
The Uwell Caliburn G Pod System Kit comes with one refillable pod. This pod has a maximum e-juice capacity of 2ml and has a top fill design. This makes the fill process quick and easy.
It's compatible with the new Uwell Caliburn G coil heads and two of them are included in the box. The unique airflow design is where this kit differs from other pod systems, that's for sure.
There's a small airflow hole on the bottom of the pod and on the side of the device. If both holes are matching, it's a restricted direct lung vape. If you prefer a mouth to lung airflow style, simply take the pod out and turn it the other way. Lastly, the Caliburn G pod cartridge features an ergonomic mouthpiece.
Fans of the original will definitely want to get their hands on the Uwell Caliburn G Pod System. It's definitely an upgrade from the original, but quite different when comparing it to the Caliburn Koko. That one was definitely an update, where this version is the next step up. Either way, it'll be a favorite by many vapers.
Uwell Caliburn G Pod Kit Features:
Internal 690mAh battery

Charge using a USB Type-C cable

Maximum wattage output: 15w
Aluminum alloy construction
Large button
LED battery indicator light
Locking mechanism
Draw activation or button activated firing
Compatible with the new Caliburn G Pods

Maximum e-juice capacity: 2ml
Top fill design
Compatible with the new Caliburn G Coil heads
Unique airflow system
What's Included:
Uwell Caliburn G Pod Kit
Refillable Pod
Two Caliburn G Coil Heads
USB Type-C Cable
User Manual
Here's a Uwell Caliburn G Review
More Great Vape Deals...
---
Aspire Nautilus GT Kit $49.90
Here are cheap deals, discounts and sales for the Aspire Nautilus GT Kit in collaboration with Taifun. Buy one from[...]