Ripe Gold Series EJuice Review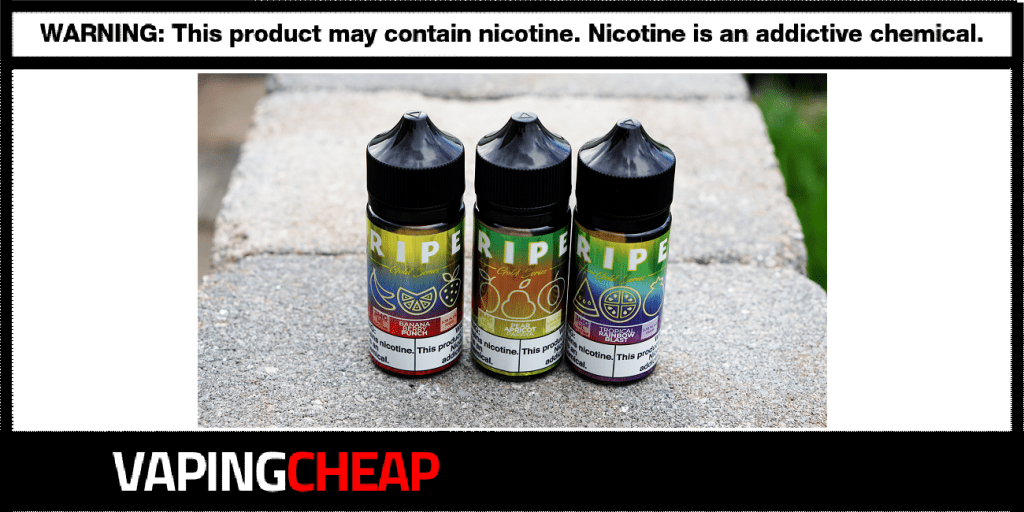 The Ripe Collection and Vape 100 e-liquid line by Savage has been incredibly popular since it's release. Whether it's the excellent quality, affordable pricing or flavor options, Ripe e-juice is coveted by many vapers. They've now released their newest addition to this popular lineup: the Gold Series. This line adds another three flavors to their vast selection. In our Ripe Gold Series EJuice review, we'll let you know if its a worthy addition or if it doesn't live up to the hype of the others.
Ripe Gold Series Vape Juice Review
Before jumping straight into the review, we'll cover a few important details:
Tropical Rainbow Blast By Vape 100
Flavor Description: Delicious array of wild berries infused with tropical rainbow sweets
Nicotine Strength Tested: 3mg
VG/PG Blend: High VG
Throat Hit: Smooth
Inhale: Mixture of berries
Exhale: Blend of berries with a tropical candy finish
When I first checked out the Ripe Gold Series, I immediately knew this was the first flavor I wanted to try. I mostly enjoy dessert, bakery and cream flavors, but I also like switching it up with different candy or fruit-flavored vapes. When vaping on Tropical Rainbow Blast, you'll first notice the slightly sweet blend of wild berries. It's blended quite well, but I could pull apart blueberry and possibly a light hint of grape.

The exhale is where this flavor truly shines. You taste the same mixture of berries, but as you breathe out you'll notice a tropical candy flavor. The end of the exhale is where you'll pretty much just taste the tropical candy. It's a great finish and slightly sweet, just enough to satisfy my sweet tooth. You'll find that no one flavor overpowers any other. Sometimes with berries this can happen, but I'm happy to report that that is not the case here.

Moving onto throat hit, it's exactly as you'd expect: silky smooth on both the inhale and exhale. There wasn't any burning or stinging out the nose either and the vapor production is also excellent. Indeed, there were plenty of clouds coming out of one of my favorite RDAs at just 50w.

Overall, I did enjoy vaping on Ripe Gold Series Tropical Rainbow Blast. You taste exactly as it's described and best of all, it's well-balanced. Something else I was worried about was the sweetness, which I was afraid would be over-powering, but as mentioned earlier, it's sweet enough. So if you enjoy berry and candy type e-liquids, I'd definitely recommend giving this one a shot. This is easily an all day vape for me.
Banana Berry Punch By Vape 100
Flavor Description: Ripe berries mixed with juicy pineapple and topped with fresh bananas.
Nicotine Strength Tested: 3mg
VG/PG Blend: High VG
Throat Hit: Smooth
Inhale: Mixed berries with a slight hint of banana
Exhale: Ripe berries followed by fresh pineapple and banana
Honestly, when I first read the name of this e-juice, I wasn't sure what to expect. Out of all the e-liquids I've vaped, I don't think I've had one blended with these flavors specifically. With that being said, this is a very interesting flavor and I did enjoy it more than expected.

On the inhale, you'll mostly taste the ripe berries in the flavor description with a very faint hint of banana. When you exhale is when this e-liquid starts to come together to bring forth that unique flavor. Up front, you will still get the authentic taste of ripe berries. However, in the background you'll notice the juicy pineapple and ripe banana. Both of those flavor notes are also authentic with no candy notes whatsoever. If you've vaped similar blends, then you know sometimes you'd notice more candy than the actual fruit.

Like the previous flavor, Banana Berry Punch is blended really well. Each flavor compliments one another and in this case, brings forth something totally different, but tasty. Additionally, no one flavor is dominant over the others, and each can be pulled apart as you continue to vape. When it comes to the throat hit on this e-juice, it's slightly stronger than the previous offering, but still very smooth. Vapor production is top-notch as well.

Savage did a wonderful job with this blend and I'm impressed. It has the perfect amount of sweetness and it delivers a one of a kind vape experience. Banana Berry Punch is refreshing and perfect for the spring and summer seasons. If you enjoy fresh fruit flavors or just looking for another awesome summer vape, then definitely check out this flavor. I don't think you'd be disappointed with it.
Pear Apricot Papaya By Vape 100
Flavor Description: Juicy apricot blended with sweet pear finished with notes of papaya
Nicotine Strength Tested: 3mg
VG/PG Blend: High VG
Throat Hit: Smooth
Inhale: Fresh apricot and pear
Exhale: Apricot followed by sweet pear with a papaya finish
The last flavor in the Ripe Gold Series EJuice review is Pear Apricot Papaya. These types of fruits aren't generally my favorites, so I wasn't sure if I'd like this flavor or not. If you're like me and don't enjoy apricot, papaya or pear then you might want to think twice about passing up this flavor as I was pleasantly surprised by this vape juice.

On the inhale, you'll notice fresh apricot and pear with the apricot flavor being more pronounced. Once you exhale, you essentially get the same apricot and sweet pear flavor notes, but it's finished with papaya, which helps round out the entire vape. Like the other two e-liquids, this one is well blended and each flavor can be savoured. However, the apricot was more noticeable than the other two, but not so much that it was overpowering. Additionally, all three fruit flavor notes were authentic tasting, which provided me with a very refreshing vape.

Just like the rest, I have no complaints with vapor or nicotine satisfaction with this flavor. Throat hit was also very smooth at 3mg. Vapor production was satisfying too, as expected with any high VG vape juice.

As I mentioned in the beginning, I wasn't sure if I'd like this flavor, but I ended up liking it quite a bit. While this isn't something I would vape all day, I'd recommend it to vapers who, once again, enjoy fresh fruit flavored e-juices. It checks all the boxes when it comes to these types of flavors, that's for sure.
Ripe Gold Series Review Conclusion
Savage did an excellent job with this new line. Ripe Gold Series by Vape 100 shows that awesome flavors doesn't necessarily need a high price tag. That's another reason why, aside from how great these flavors are, I'd recommend giving them a shot.

In the beginning I mentioned that I usually prefer dessert flavors, but I was surprised by the quality of each flavor offered in the Ripe Gold Series lineup as they were all mostly fruit based. Each was unique and had just enough sweetness to satisfy. I was honestly blown away by how well-balanced each flavor was and it's always great to be able to really pull apart each flavor note mentioned in the description.

For you vapers who enjoy nicotine salt vape juices and mouth to lung vaping, they are offered in those higher strengths. I do wish they offered higher strengths in freebase nicotine just to cater to all vapers, especially those who prefer to stay away from salt nic but either way, the quality of their nicotine is great based on my experience.

All in all, I recommend checking out Ripe Gold Series by Vape 100. For the money, you're getting quality flavors that's well blended and pretty unique. You can't really ask for more when it comes to vape juice.

If you've tried out these flavors before or any others available in the Ripe series, feel free to leave us a comment below and let us know your thoughts! Definitely check out our list of best e-juices as well for some other awesome flavor options. Thanks for reading!