Oumier Wasp Nano RDA Review: Blows Thick Clouds, Not Your Money!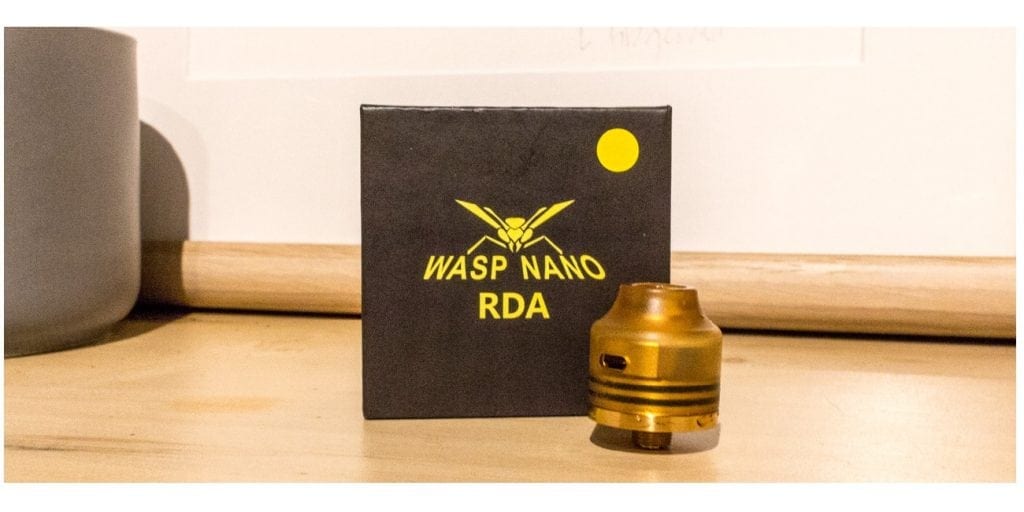 I have never heard of Oumier as a brand or manufacturer of vaping products until now. Upon doing some research, I found that they have been making vape products since 2016 and have a wide variety of them to choose from – mainly being atomizers. Their latest offering is called the Wasp Nano RDA, which is a tiny 22mm single coil RDA marketed for flavor. I would like to acknowledge Heaven Gifts for sending this to us for the purposes of this article.
What's in the box?
1x Wasp Nano RDA
1x Squonk Pin
1x Allen Key
2x Spare Grub Nuts
2x Spare O-Rings
1x Organic Cotton
Use Coupon Code ACHEAP15 for 15% Off!
Oumier Wasp Nano RDA Review
Out of the box
The black box is quite small and sports a logo of a wasp on the front, in yellow, along with the words WASP NANO RDA. The box has a foam insert which does a good job of keeping everything safe and secure whilst in transit. Underneath the foam sits the spares bag containing an Allen key, spare grub nuts, spare o-rings and some cotton. Upon removing the Wasp from it's resting place, I was impressed with how small and compact it was.
It sure is a nano-sized RDA and it looks quite smart. My initial thoughts were that this is going to be a great little atty for stealth vaping and mini mods. Both for the size of it and also the fact that it is single coil, which should maximize battery life on those mini mods that don't have heaps of mAh.
The Wasp Nano RDA is available in both gold and silver finishes, with the top cap the same color on each. The top cap is a translucent orange kind of color and is made from PEI, which is a recent addition to the vaping industry as we are starting to see it used on new products more and more. This sparked me to do some research into PEI as well. The ULTEM Resin family of amorphous thermoplastic polyetherimide (PEI) resins offers outstanding elevated thermal resistance, high strength and stiffness, and broad chemical resistance. So there you go!
The top cap is quite small, which I presume will add to the flavor abilities of this RDA and also the dome shape has proven to aid in this area too. I'm excited to give this a shot.
The Wasp breaks down into just two pieces, which makes things very convenient. After removing the top cap, which is super easy due to perfect tolerances on the o-rings, you are presented with a gold-plated build deck. There are two post clamps which utilize grub nuts as post screws that need to be adjusted with an Allen key. I personally am not a fan of Allen key post screws, however, this is definitely a subjective con that others may not see. The deck is similar to a Hadaly, however, the posts are a lot wider and take up more of the chamber.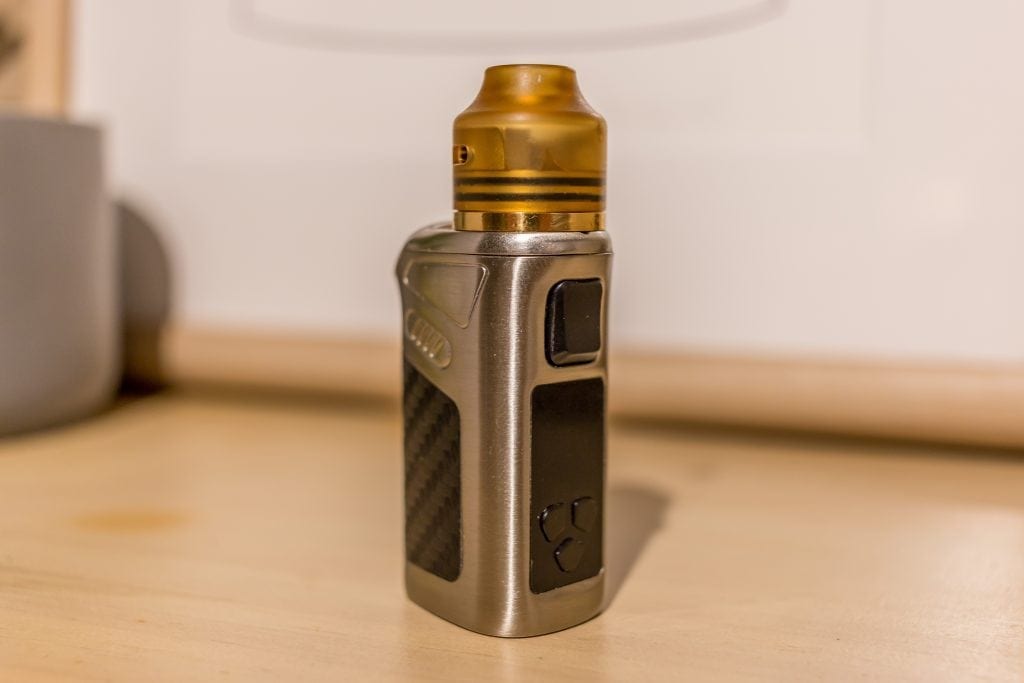 The side airflow mechanism comes through to the coil via large gaps in the posts, which I think is pretty smart and they are certainly wider than the gaps on the Hadaly RDAs. The airflow is adjusted by turning the top cap and it can be fully blocked off for transport if you are worried about leakage, which is a definite con in my book.
To expand the usability of the Wasp RDA, it also comes with a replaceable squonk pin. This screws into base and enables it to function with a bottom feeding mod, taking away the need to drip manually. Kudos on including this in the kit.
The build quality, for such a cheap authentic RDA, is top notch. There are no sharp or jagged sections and as I mentioned earlier the tolerances on the o-rings are perfect. There was no smell of machine oil, however, I gave it a quick bath before installing my coil and wick. The gold plating seems to be of high quality as there was no flaky parts or sections that came off during my inspection. Hopefully, that holds up over the usage of the atty.
Here's a quick overview video
Usage
Once the top cap is off, the deck is exposed for building purposes. Installing the single coil couldn't be simpler on the Wasp RDA. The post holes are designed to hold a wider coil, however, a narrower coil can be accommodated by adjusting the legs slightly. Once the Allen key post screws are backed out slightly, you can trap the wire underneath each one. There is a kind of angle to the bottom the posts, so the wire gets guided into where needs to rest with ease once you turn the screws back in.
This means that you can fit both narrow and wide gauge wire without any fitment issues. It's almost as if it does the work for you, with guiding the wire into the right place. Although you could probably squeeze a 3.5mm coil in, I would recommend that you would fit a 3mm in there comfortably. Width is no issue, so you could almost run a smaller diameter coil with more wraps if you so desired.
Wicking is delightfully easy given the wide posts act as a guide for your wick to follow. I simply cut my wicks to the base of the deck, fluffed them up and tucked them in neatly to avoid any touching the top cap. There is no need to overthink it, it's as simple as it sounds!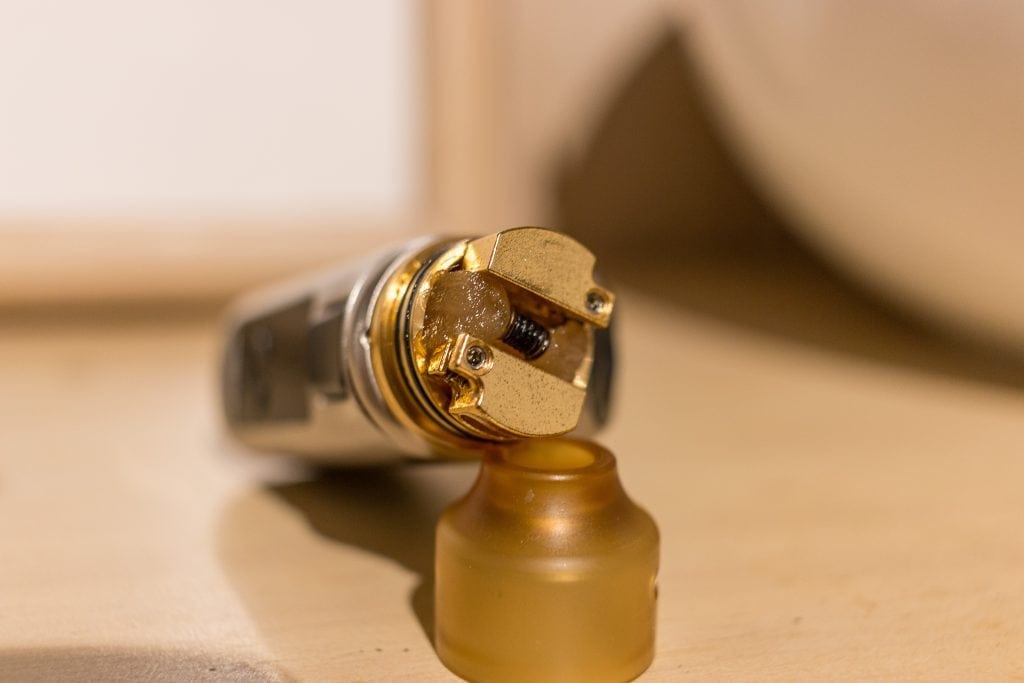 The airflow is adjusted by rotating the top cap and there is little resistance whilst turning so it's super simple. The airflow hits the coils from the side, through the entry holes in the posts. If you want to block off the airflow completely for transport or pocketing your device, you do so by turning the top cap so the airflow is shut off by the posts. You can only block it off one way, anti clockwise, as the other way you will have the screw mechanism showing and it won't be fully choked off. I doubt you would get much spillage anyway unless you dripped a tonne of juice in there without vaping it.
I'm super happy to say that you can drip down the top of the Wasp RDA, which is my preferred way of dripping. I admit that I'm a lazy RDA vaper and do not enjoy having the take the top cap off all the time to drip or paint my wick. There is plenty of room and you can visualize how much liquid you are dripping onto each side of the coil. This is a huge pro for me personally, but also a subjective one for others. The reservoir section at the bottom of the deck is quite accommodating so you can fit a fair amount of e-liquid in.
Use Coupon Code ACHEAP15 for 15% Off!
Performance
The various builds I put the WASP RDA ranged from simple spaced micro coils to claptons. Given the small chamber of the RDA, I honestly didn't find too much difference in the various coil builds. I found that a simple 24 gauge spaced Ti coil performed just as well as the others. This was a 2mm diameter coil, it fit perfectly and came in at 0.36 ohms. I ran this in TC mode on the Target mini and it ran flawlessly.
The flavor from this build was great, very condensed flavor and the vapor production was excellent for such a little atty. Running the Wasp RDA on fully open airflow provides a very satisfying vaping experience. Depending on where you have the airflow, it can get a little whistly. I found the sweet spot for me was fully open or just a hair closed.
With the airflow wide open, I had a dense warm vape. It wasn't too hot and the top cap doesn't heat up – probably aided by the Ultem material which doesn't carry heat. The top cap is comfortable on your lips, however, it will also fit an additional 510 drip tip of your choice if you want to add to the length. With the airflow backed off, you get a reasonably restricted lung hit definitely not suitable for MTL style vaping though.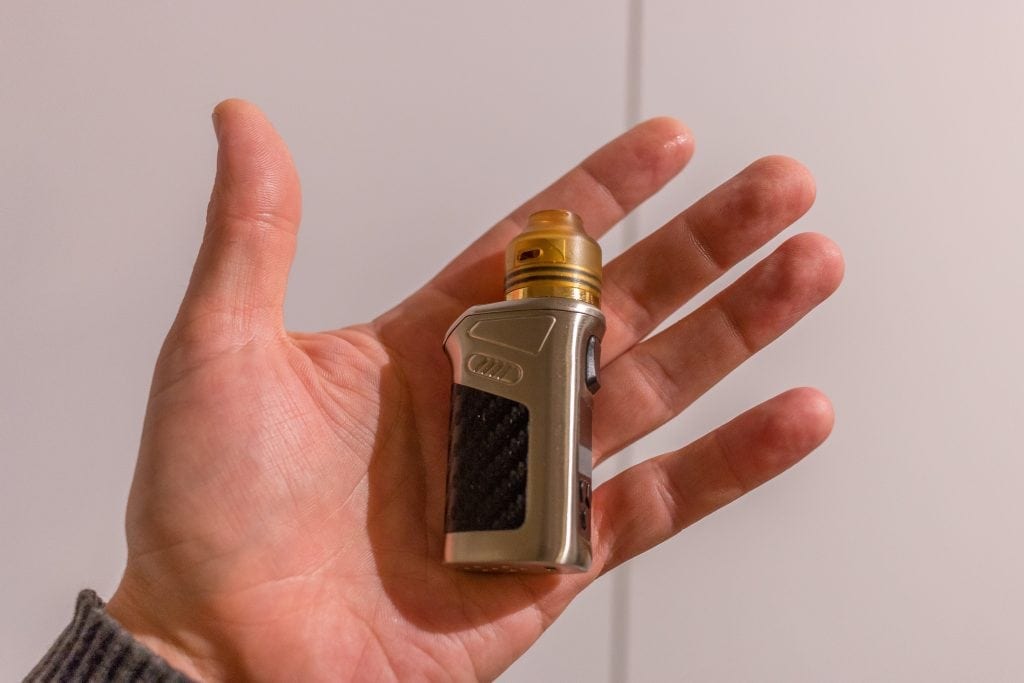 I found the Wasp RDA to fit well on all of the mods I tried it on and it didn't leave any gaps at all. As I mentioned earlier I was especially excited to use this RDA with my Target mini, to have a very small stealth RDA setup. I can say that I am extremely happy with this setup and it does exactly what I need it to do whilst maintaining a very small form factor. For such a small setup it is a very satisfying vape experience and entirely easy to carry around. No matter what mod you put the Wasp RDA on, the total size will be reduced making it very pocket-friendly.
I didn't get any ohm jumping or false readings on any of the mods I tried with the Wasp RDA. I wasn't able to try the squonk pin, as I have lent out my squonk mods. I don't foresee this to have any issues though as this is a sold performing RDA.
Specifications
Size: 22.5mm x 22mm
PEI Top Cap
Single Coil Deck
Pros
Small & Compact
Great Flavor
Squonk Ability
Cons
Wrap Up
The Wasp Nano RDA from Oumier is a stand out little performer for an authentic RDA. Given the price point and the ease of use versus the performance it puts out, I would highly recommend this RDA to anyone who is interested in trying it out. It packs a big punch for such a little unit, so don't be fooled by the small size factor. It puts out in both the flavor and the vapor department. It is easy to build on and forgiving with wicking.
The build quality is superior and looks like it will hold up over time. Again, I have no hesitation in recommending you add the Wasp Nano RDA by Oumier to your arsenal. I hope this article has helped in your quest for your next RDA. If you have any questions or comments, please don't hesitate to leave them below. We always love hearing from our dedicated followers.
Use Coupon Code ACHEAP15 for 15% Off!