MTerk Terk V2 RDA $49.50 (USA)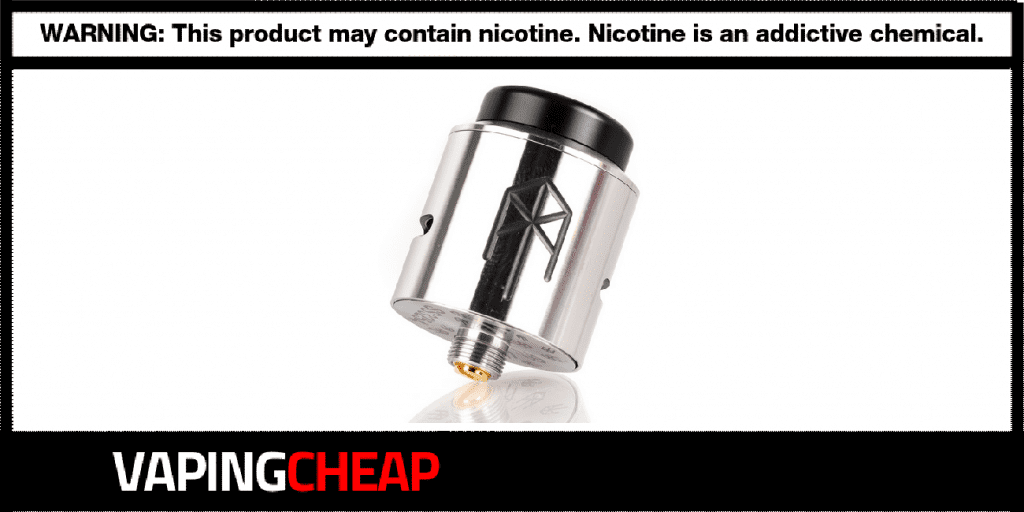 The MTerk Terk V2 RDA is now back in stock and cheaper than before. Get one from a US based shipper for only $49.50 with code "HARDWARE10" You'll also get free shipping when spending over $80. There's currently two color options in stock, which includes Stainless Steel and Black.
The Terk V2 RDA sports an overall diameter of either 24mm or 25mm, depending on which top cap is attached. This is definitely a huge pro as you'll be able to get it to sit flush on any mech mod you put it on. As with pretty much any RDA, this one is constructed of superior stainless steel.
At the top, you'll find a low profile wide bore delrin drip tip, which is another great feature. These style drip tips are heat resistant, and won't get hot even when chain vaping.
Building on the Terk V2 RDA by MTerk is pretty easy too. This is thanks to its simple two post clamp style deck. As expected, it's designed to accommodate larger exotic coils for flavor such as Aliens or Fused Claptons with little effort. Additionaly, the Terk V2 RDA features a dual slotted airflow built into the deck. The airflow is a direct to coil style airflow, ensuring maximum flavor production, while providing ample enough air for those direct lung inhales.
With that being said, you won't be having any issues getting tons of clouds from this atomizer. Lastly, it does have a deep juice well alongside a BF pin, allowing you to use it on any squonk mod you want.
If you enjoy cloud chasing, then you won't wanna miss out on the MTerk Terk V2 24mm/25mm RDA, that's for sure. With its airflow design, you'll get plenty of flavor too.
MTerk Terk V2 Squonk RDA Features:
24mm or 25mm Overall Diameter
Superior Stainless Steel Construction
2 Post Clamp Style Build Deck
Direct To Coil Side Airflow Design

Integrated Into Build Deck
Adjustable

Low Profile 810 Wide Bore Delrin Drip Tip
PEEK Insulator
Deep Juice Well
Manufactured By Twisted Messes
4 Color Options Available
What's Included
MTerk Terk V2 Squonking 24mm RDA
25mm Top Cap
24mm Top Cap
810 Wide Bore Drip Tip (Low Profile)
BF 510 Pin
Check Out The MTerk Terk V2 RDA Review