Innokin Coolfire Z50 Kit $33.20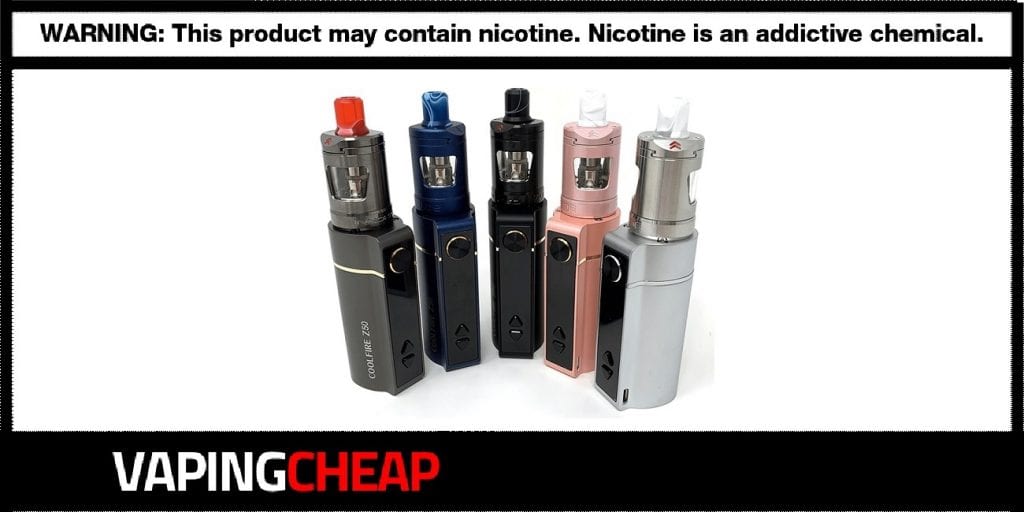 The Innokin Coolfire Z50 Kit is now in stock and on sale. Buy one of these kits for only $33.20 using the code "CNY10". You can choose between five different color options including Black, Gunmetal, Stainless Steel, Blue and Pink.
Innokin's Coolfire Z50 vape mod is an incredibly compact, and easy to use device. It's made of lightweight zinc alloy material, but offers solid construction. Inside of the Z50 box mod is a large 2,100mAh internal battery which can be charged quickly. The maximum wattage output you'll get is 50w, so it's a perfect match for you vapers who enjoy MTL and restricted direct lung vaping.
Moving back to why it's super easy to use, there's only two modes to choose from. This includes variable wattage, and voltage. Switching between the two is effortless with its simplistic 3 button design. You'll also find a OLED display between the buttons, which will show you all of the information you need to know.
Included with the Innokin Coolfire Z50 Kit, you'll get the Zlide Sub Ohm Tank. This atomizer sports an overall diameter of 24mm and holds a maximum e-juice capacity of 4ml. Like many sub ohm tanks, you can easily fill it from the top, so it's quick and easy.
Another awesome feature about this tank atomizer is that it's compatible with all the zenith and z-coil families. With that being said, you've got plenty of different coils to choose from. Lastly, you do get two inside of the packaging, and will get a leak free vape experience thanks to its top airflow design.
For you vapers wanting something super easy to use, and just convenient, you'll want to grab one of these. The simplicity is what makes the Innokin Coolfire Z50 50w vape starter kit so great.
Innokin Coolfire Z50 Starter Kit Features:
Innokin Coolfire Z50 Mod

Built in 2100mAh battery
Charge using a micro USB cable
Maximum wattage output: 50w
Two user modes: Variable wattage and Variable voltage
Three button design
Small OLED display screen
Ergonomic design

Innokin Zlide Sub Ohm Tank

Overall diameter: 24mm
Maximum e-juice capacity: 4ml
Top fill design
Includes two Z-Coil heads
Compatible with the Z-Coil and Zenith coil families
Adjustable top airflow
What's Included:
Innokin Coolfire Z50 Mod
Zlide Sub Ohm Tank
Micro USB cable
Spare Tank section
1.2 ohm coil head
O-Rings
0.8 ohm coil head
Replacement drip tip
User manual
Check out the Innokin Coolfire Z50 Kit review...