VapeWild Sample 4 Pack $15.29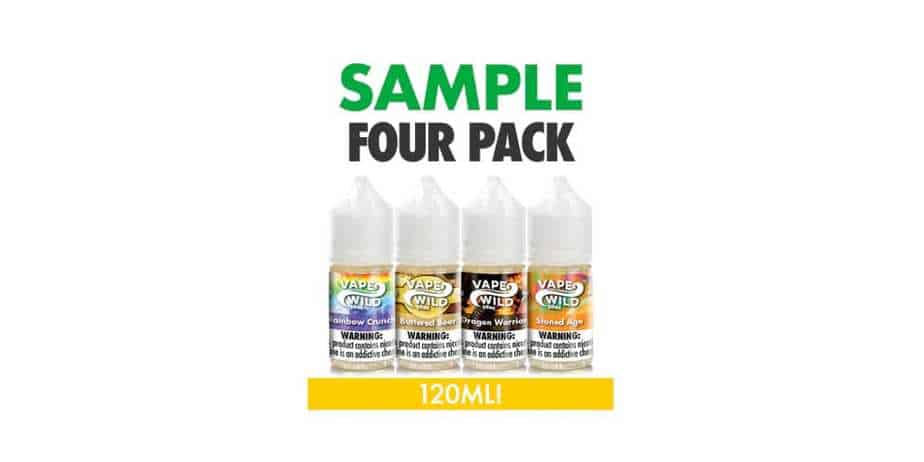 E-Juice Sale
For a limited time only, the VapeWild Sample 4 Pack is on sale right here for only $15.29! No coupon code required! Free shipping applies to US orders over $39.99!
The VapeWild Sample 4 Pack is currently available in 0mg, 1.5mg, 3mg, 6mg, 9mg and 12mg nicotine strengths. In addition, this pack comes with 4 different 30ml bottles making it a total of 120mls! T
here are over 100 different flavors you can choose from, so no matter what kind of flavor profile you're looking for, they'll have it! In addition, there are 3 different VG/PG Ratio options which are Max VG, 65VG/35PG and 50VG/50PG. With this many nic strengths and blends available, they cater to both vapers who enjoy mouth to lung and direct lung vaping. Lastly, they have 6 different flavor categories available which are Candy, Fruit, Menthol, Breakfast, Dessert and Tobacco.
All in all, this is an excellent deal for the VapeWild Sample 4 Pack! If you are a fan of VapeWild E-Juice or looking for new cheap e-liquid to try, then this is a deal you cannot miss! Be sure to check this deal out at VapeWild for only $15.29! Remember to act fast, this deal does end 1/6/19!
E-Juice Details:
4 Pack Sample

4 x 30ml Bottles (120ml Total)

Nicotine Strengths Up To 12mg
3 Different VG/PG Options
Over 100 Different Flavors To Choose From
6 Different Flavor Profiles Available