Dang RDA By Twisted Messes x OhmBoy $44.99 (USA)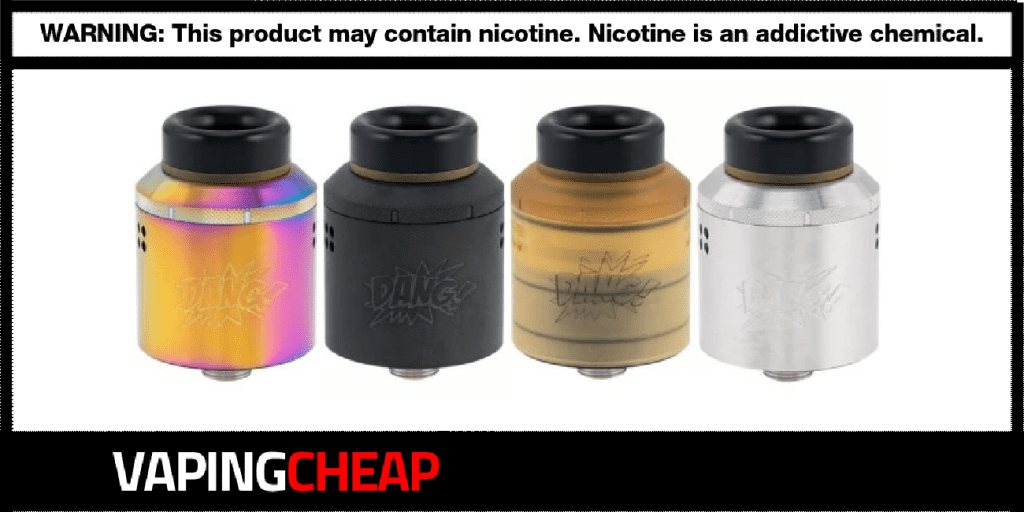 Here's a cheap deal and discount for the Dang RDA by Twisted Messes and OhmBoy OC. Grab yours for $44.99! No discount code required. This atomizer is available in four different color options including Rainbow, Black, Stainless Steel and Ultem. However, 2 are already sold out, don't miss out on this awesome atty!
Twisted Messes and OhmBoy's Dang RDA sports an overall diameter of 24mm, and is constructed of 304 stainless steel. Additionally, it has a locking top cap, which not only properly positions the airflow, but makes it easy to take it on or off a device.
Speaking of airflow, it has a fully adjustable top airflow design, which means zero leaking and awesome flavor. What's even better is that there are honeycomb airflow slots, ensuring a smooth draw with each and every vape.
Now, one of the most unique features of this RDA is the build deck. It's a postless clamp style deck with a 7mm deep zirconium clamp system. This is definitely one of a kind, and makes it incredibly easy to install coils. The Dang RDA by Twisted Messes and OhmBoy does come with both a BF and standard 510 pin, so you are able to use it on pretty much any vaping device, including your squonk mods. However, we'd say this is awesome for a squonker as it has a massive 11mm deep juice well, and completely saturates the coil and wick when you squonk.
If you're looking for a new RDA to add to your collection that offers some pretty innovative features, then you'll definitely want to check out the Dang RDA.
Dang RDA Features:
24mm Diameter
304 Stainless Steel Construction
Unique Postless Clamp Style Deck
7mm deep zirconium clamp system
11mm Deep Juice Well
Adjustable Top Honeycomb Airflow Design
Locking Top Cap
Wide Bore 810 Drip Tip
BF & Non-BF 510 Pins
PEEK Insulators
4 Color Options
What's Included
Dang RDA by OhmBoy & Twisted Messes
Spare O-Rings
BF 510 Pin
T-Handle Hex, Flat & Phillips Tool
Instruction Booklet
Check Out The Dang RDA Review