Wotofo STNG MTL RDA $11.99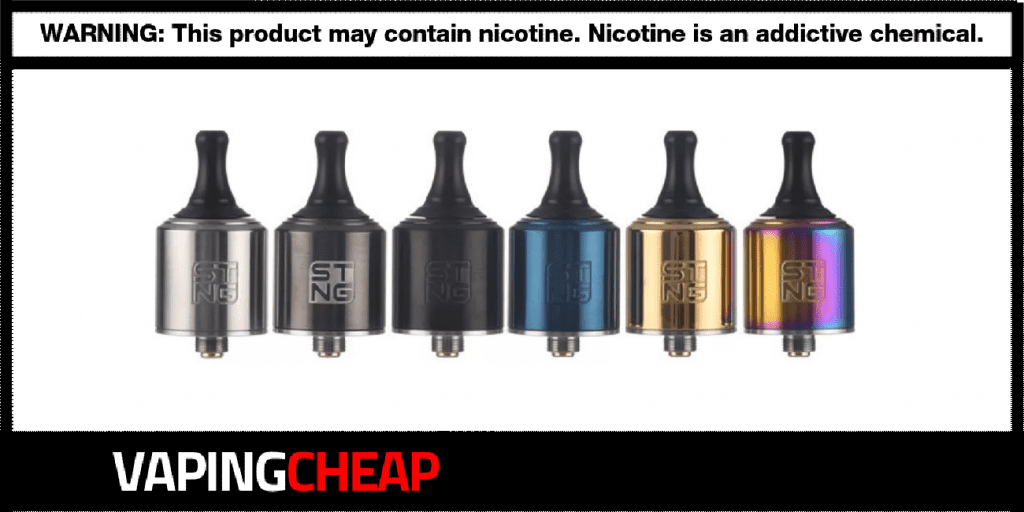 Here's a cheap deal on the Wotofo STNG MTL RDA. Purchase this atomizer from a China based store for only $11.99. No coupon needed, all you have to do is log in to your account to get this discount. There are many color options that's available for purchase including Black, Stainless Steel, Blue, Gunmetal, Gold and Rainbow.
The STNG RDA is a collaborative effort by Wotofo and Vapor Place. It sports a small 22mm diameter, matching perfectly on pretty much any device, but will look awesome on those smaller mini mods. As indicated by the name, it's designed for a mouth to lung vape experience, but you can tell this is the case as well with its MTL style drip tip. This allows for a proper mouth to lung vape, and it's constructed of delrin, meaning it won't get hot when taking those longer drags.
Another awesome feature is its airflow design. It's a single sided air inlet, but is integrated with dual channels. The airflow does down into the deck, then split back up underneath the coil, delivering a smooth and flavorful vape experience. Since being designed as a MTL vape, it can be used with both freebase and nicotine salt vape juices.
Moving onto building on the Wotofo STNG MTL RDA, it's incredibly easy to do. It features spring loaded clamps, so it's easy to trap your coil, and center it right above the airflow. What's great about this style of deck is that you don't need to completely take out the screws to install your coil, simply unscrew it just a bit to raise the clamps then slide your coil into place. With this design, it's perfect for both beginners getting into using their own coils, and the experienced vaper. Last, but certainly not least, you can use this RDA on your squonk mods as it does come with a BF 510 pin.
If you're a mouth to lung vaper, then you're definitely going to want to add the STNG RDA by Wotofo and Vapor Place to your shopping list. With all of its unique features such as the airflow system, and ease of building, it'll surely go down this year as one of the Best RDAs for this style of vape.
STNG MTL RDA By Wotofo Features:
Co-Designed by Vapor Place
Stainless Steel Construction
22mm Diameter
Spring Loaded Clamp Style Build Deck

Designed for Single Coils

Single Sided Air Intel Integrated with Dual Channels
Fully Adjustable Droplet Shaped Airflow
Mouth To Lung Drip Tip (Delrin)
Can Be Used As Squonk or Dripping RDA
Recommended Wattage Range: 5w - 30w
6 Color Options
What's Included With STNG MTL RDA
Wotofo x Vapor Place STNG MTL RDA
Extra Drip Tip
Dual Core Fused Clapton Coil
Single Strand Coil
Cross Head Screwdriver
User Manual
Allen Key
Cotton Strip
Spare O-Rings
Check Out The Wotofo STNG MTL RDA Review